Kebbi First Lady, Dr Zainab Bagudu, Reacts to Chimamanda Adichie's Controversial Interview With Hillary Clinton
Dr. Zainab Bagudu, the first lady of Kebbi state has reacted to Chimamanda Ngozi Adichie's controversial interview with former US First Lady, Hillary Clinton.
According to the award winning Nigerian author and feminist, she felt just a little bit upset that the first word that describes the former US presidential candidate is 'Wife' and not any of her achievements. This has earned Adichie a massive backlash from Nigerians home and abroad.
Reacting to this, Dr. Bagudu took to her official Instagram to also speak on the controversy saying she has never been a fan of Adichie, whose views she described as "tribal, stereotyped and one-sided."
Read her post below…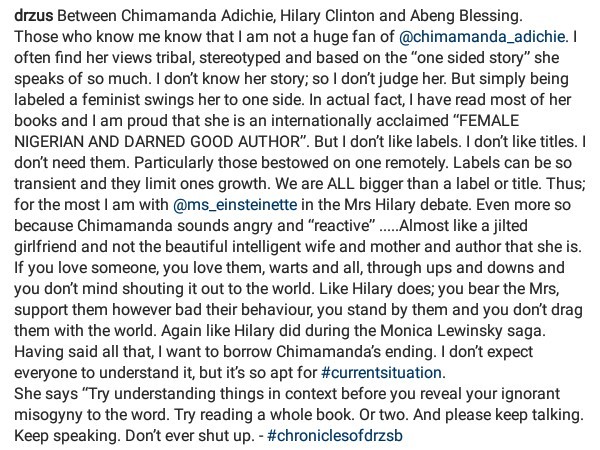 READ ALSO: "There's something fundamentally wrong with the way we've constructed what it means to be female in the world" – Chimamanda Adichie
Adichie and Mrs Clinton were talking at a PEN World Voices Festival lecture at the Cooper Union in Manhattan on Sunday when Adichie, a married mother of one asked Mrs Clinton while interviewing her:
"In your Twitter account, the first word that describes you is 'Wife.' And then I think it's 'Mom,' and then it's 'Grandmother.

And when I saw that, I have to confess that I felt just a little bit upset. And then I went and I looked at your husband's Twitter account, and the first word was not 'husband.'"
Former US president, Bill Clinton's Twitter bio reads thus; "Founder, Clinton Foundation and 42nd President of the United States."
There was no mention of his marital status, neither did he add that he's a father. Adichie wanted to know if it was Clinton's choice to first be identified in relation to her husband, and if so, why.
Responding to her question, Hillary, 70, said: "When you put it like that, I'm going to change it."
READ ALSO: 'I just did not get the memo that men and women are not equal' – Chimamanda Adichie
Hillary laughed, before adding that women should be able to celebrate both their personal and professional achievements. Hillary went on to quote the late former First Lady Barbara Bush, who said:
"At the end of the day, it won't matter if you got a raise, it won't matter if you wrote a great book, if you are not also someone who values relationships."
She continued:
"It shouldn't be either/or. It should be that if you are someone who is defining yourself by what you do and what you accomplish and that is satisfying, then more power to you.

That is how you should be thinking about your life, and living it.

If you are someone who primarily defines your life in relationship to others, then more power to you, and live that life the way Barbara Bush lived that life, and how proud she was to do it.

But I think most of us as women in today's world end up in the middle. Wanting to have relationships, wanting to invest in them, nurture them, but also pursuing our own interests."