John Cena's Vow to Undo Vasectomy Shows How Far a Man Can Go For the Woman He Loves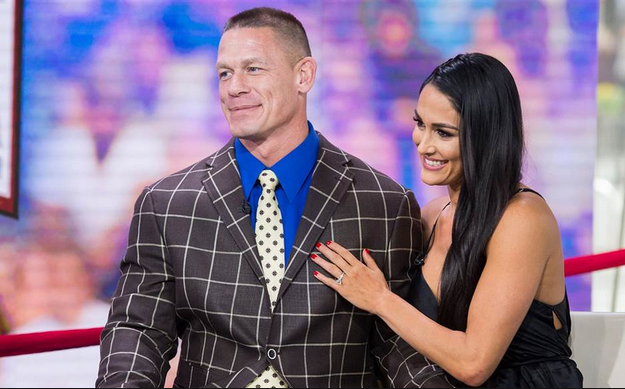 John Cena who had a vasectomy is ready to start a family. The wrestler agreed to make a life-changing decision to save his relationship with Nikki Bella in the midseason finale of E!'s Total Bellas.
The couple split in April just weeks before what would have been their wedding day. Sources revealed that Bella's decision to break up was due to their differing stances on marriage and having kids.
John Cena was so committed to never having children that he got a vasectomy — but he's willing to reverse the procedure to get Nikki Bella back and start a family.
The reconciled couple discussed having children, and the Blockers star told Bella that he was willing to undergo surgery to have a child with her.
"In a hypothetical universe, say we … have kids, and you find out that wasn't the real problem, and years from now, you look at me with resentment," Cena, 41, said in Sunday's episode of "Total Bellas" while discussing the split with Bella, 34, over dinner.

"I don't know if you're upset that you're not gonna be a mom or you've fallen out of love with me, because it kind of feels like both."

"I want to marry you, and relationship and marriage especially is about sacrifice, and I will make that sacrifice for you," Cena said. "I will give you a child."
READ ALSO: Ne-Yo's Ex, Monyetta Regrets Having A Vasectomy After He Dumped Her
Bella insisted that she was, in fact, still smitten with the strong-jawed wrestler-turned-actor, but remained dubious of his sudden desire for fatherhood — because Cena had had a vasectomy.
READ ALSO: Wife Falls Pregnant After Husband Had A Vasectomy, Husband Demands Answers
"I know," he said firmly. "I physically can't have kids. So I'm also telling you that I'm willing to have surgery and then still go through with being a dad."
Bella, visibly moved, immediately hugged Cena and told him he was the best, but she still had some reservations, asking if he was going to change his mind.
"I'm not going to change my mind. I would never, ever say something like this … Tell me you love me and you'll marry me," he said.
She obliged. In a confessional, Bella gushed, "I think I'm going to leave here as a fiancée … I am still the soon-to-be Mrs. Cena."
Cena has made a series of highly publicized pleas for Bella's heart since their split, most famously on "Today," where he announced he wanted a family with the "Total Divas" beauty.
Bella's twin, Brie, previously revealed that a reunion was likely for the toned twosome.
"They love each other really hard," she said. "They love each other a lot and they want to make it work."
However, there may still be trouble ahead. PEOPLE's exclusive look at the rest of the season showed Bella questioning if she needed to call off the wedding again due to "deeper problems."
READ ALSO: Man Has A Vasectomy To Keep 27-Year-Old Girlfriend Scared Of Pregnancy Nausea
According to Familyplanning.org,
Vasectomy is a surgical operation that cuts the tubes that carry the sperm from the testes (the vas deferens or the "vas"). After a vasectomy there are no sperm in your semen. Your testicles still make sperm but they are absorbed by your body. The goal of a vasectomy is to make a man sterile, that is, unable to father children naturally.
Is a vasectomy reversible?
It is not always possible to reverse a vasectomy. Many factors can affect the success rate of a reversal. On average, 50 percent of reversals result in a pregnancy.
Some men produce antibodies to their own sperm after a vasectomy. This may make pregnancy after reversal less likely. A second option after vasectomy is direct retrieval of sperm from the testicle, then in vitro fertilisation to achieve pregnancy.
Another option is to freeze some of your sperm so they can be used later. If this is something you would like to consider, talk it over with your doctor or vasectomy counsellor before your operation.
The possible complication;
Infection is uncommon and is not usually serious. Internal bleeding may cause swelling and pain.
A painful lump may form in the scrotum where the operation was done. The pain usually disappears in a few weeks.
Rarely, men may experience intermittent long term scrotal pain.
Photo credit: Getty Images