Janet Davies, Mom-of-7 Who Has Been a Caterer For 32 Years Shares Her Success Story To Encourage Aspiring Entrepreneurs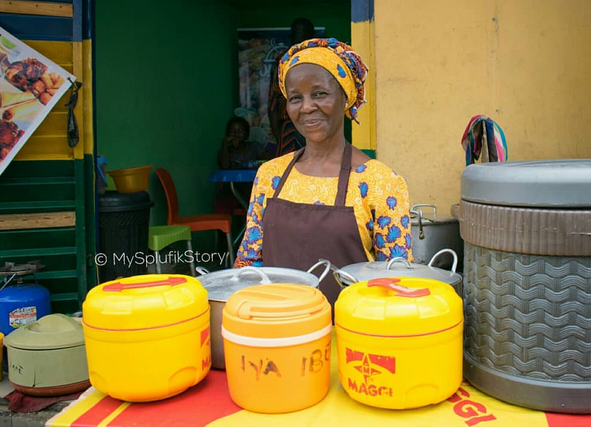 A Nigerian woman who has been catering for thirty-two years has narrated her success story to encourage aspiring entrepreneurs.
Janet Davies who is married with seven children, shared her story in an interview with Mysplufikstory   in which she recounted how her catering experience all began before moving to establish her own operations, working with the Ambodes how fulfilling her work is and benefits derived from her job.
READ ALSO: Mums In Business: 5 Valuable Tips Mumpreneurs Can Learn From Billionaire Oprah
She advised young entrepreneur to be patient and never be too money conscious. She further added that they shouldn't look down on low class customers because their turnout is usually higher than that of the upper class.
"My name is Janet and I've been a full caterer for almost 32 years now. I learned everything about the profession from a woman who was a trained caterer from Germany and after learning for a year, I left to establish my own.

I started at my house backyard with baking and was supplying the Nigerian Airways at local airport before the Idiagbon crisis which forced me to withdraw.

What I love most about this catering job is that it has connected me a lot. When I started, it was low profile but gradually as God would have it, I met Mrs. Ambode before she became the Governor's wife, I have been working with them for almost 20 years now.
READ ALSO: Mums In Business: How Woman Who Lost Both Legs Became a Successful Mumpreneur
Through this catering profession, I've been well connected with notable personalities like the Fashola's and people from the house of assembly. I really enjoy doing this job but the challenge now is we are now in a new dispensation, 'change'. It has affected us really, that was the reason I came out.

I opened this outlet in April because the orders from home have reduced so I decided to come out but I still do my job at home and on weekends. I'm happily married with 7 children, of which 2 are married.

Having experienced a lot, my advise to anyone who's just starting out with business is to be patient because if you don't have patience in business, it's very easy to fold up. Exercising patience, honesty and endurance will make you great. Whosoever must venture into this business must not be too money conscious.
READ ALSO: MIB Series: Meet Chartered Accountant Turned Professional Baker, Sikuola Adewuyi, CEO Cake n' Candy
People see this catering job as a way for them to make money, and to be honest, there is money in catering if you know what you are doing, but like I said before, don't be too money conscious and don't look down on customers, especially the lower class clientele because their turnout is usually higher than the upper class."