Young Mom, Aisha Yau's Act of Placing Her 3-Month-Old Baby In Front a Trailer's Tyres is a Cry For Help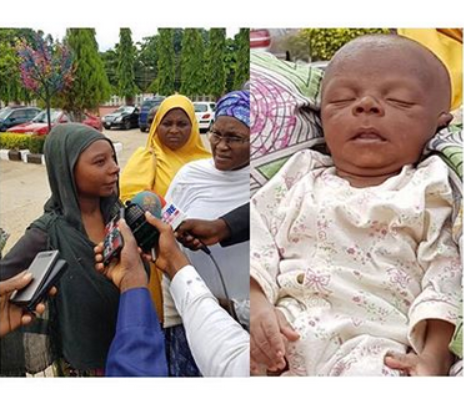 A 3-month-old baby boy, whose mother has been identified as Aisha Yau, was rescued from underneath a trailer where his mother had put him so that the trailer would crush him to death.
According to reports, Miss Yau, who stays under the popular Kawo bridge in Kaduna, was said to have purposely kept the baby under a trailer's wheel with the expectation that when the trailer moves, it would crush him.
But the lucky baby was rescued before that could happen, The Nation reports.
It was gathered that after the mother put her baby beneath the truck, she stood to one side and prevented people from carrying the baby while also persuading the driver of the truck to start the engine.
Fortunately, a passerby quickly called the attention of the Kaduna State Commissioner for Women Affairs and Social Development, Hafsat Muhammed, who then rescued the baby from Aisha.
Upon interrogation, the child's mother said she could not explain how she found herself in Kaduna. She hinted that it was the crisis in her state- Taraba, that scattered her family members and she hasn't seen any of them for over a year.
READ ALSO: Child Abuse? Mum Locks Kids at Home & Leaves for Work With the Keys Every Day
"I am 20 years old. I am from Taraba State but can't find any of my family after the crisis that occurred in our community sometimes ago.

I did not know how I got myself here in Kaduna. But when I came, one of my suitors though I don't know his name but I know his shop in Kasuwan Baici here in Kaduna, got me pregnant but he denied the pregnancy and refused to take care of me and the baby. So, I want to kill the baby to save myself from shame," she explained.
The commissioner, while speaking with newsmen said she has directed the social department in her ministry to take Aisha to the hospital for medical examination and treatment, before repatriating her and her child to Taraba State.
READ ALSO: Why Housewife Allegedly Threw Stepdaughters into a Well in Nasarawa State
"I was at a meeting when I got a distress call that a young woman was about to kill her own child. Fortunately for me, I have some people with me and that was how we rushed to Kawo.

But on getting there, she was still waiting for the driver of the truck to move so he can crush the baby. We have to tactically move her away while we rescued the baby.

We have both of them with us. We shall take her to hospital tomorrow for possible rehabilitation because she's not that bad in her sense of reasoning. By the time she is stabilised, we will communicate the Ministry of Women Affairs in Taraba State, to see her possibility of reuniting her with her family.

She wanted the child dead because the man she claimed to be responsible for the baby boy was not ready to take the paternity of the child, hence her plan to kill it and move on with her live which is quite unfortunate," she added.