Caroline Danjuma's Ex-Husband's Girlfriend Gets 'Bashed' For Flaunting Musa Danjuma On Social Media
In the mid 2000s, Caroline Danjuma was a household name as she starred in several notable Nollywood home videos. She also played the love interest in 2face Idibia's movie debut.
At the height of her fame, she got married to Nigerian billionaire, Musa Danjuma. The movie director's 10-year-old marriage to Musa however crashed in 2016, and according to sources, the marriage crashed because of 'outside interference' and 'Musa Danjuma's insatiable love for the opposite sex.'
Sources alleged that Caroline became tired of fighting her husband's many reported concubines. It was further gathered that Musa Danjuma's side chick, Maya was reportedly pregnant with the billionaire's child (read here).
The side chick was accused of claiming that whenever Caroline Danjuma is not in town, she sleeps on her matrimonial bed, and enjoys all her other benefits.
The marriage ended after the actress got into a nasty Instagram fight with another alleged mistress of her husband, Jyoti Matharoo. Caroline Danjuma made a post on Instagram which had cryptic messages for Jyoti.
READ ALSO: Caroline Danjuma Doesn't Care About Husband's Alleged Mistress…Here's What She Has to Say
"This is a direct message to all the mother fuckers #preferred mistresses #sluts #agents of hell…paying their useless bloggers to write shit about my husband and i….i am titanium, u can't break my home, not even the devil with its powers can…. My marriage is ordained by God…. N for your info I am fully behind my man #team musa.." she wrote.
This morning, Musa Danjuma made headlines again after an Instagram slay queen @badgyalkelly, shared a loved up photo of herself and Danjuma.
What caught people's attention in the photo, was that Kelly, disclosed she has been with Caroline Danjuma's ex-husband for 5 years and still counting.
"OTRTour!!!! RealLife5yrsStillcounting #DoingGoodonaLow," she captioned the photo.
Just as expected, some Nigerians went in on her so hard that she was forced to delete the photo.
However, after she suffered heavy backlash from her followers, and deleted the post, Kelly stated that people don't wish them well.
READ ALSO: Did Late Tagbo Umeike Father Caroline Danjuma's 3rd Child? | See Bombshell Allegations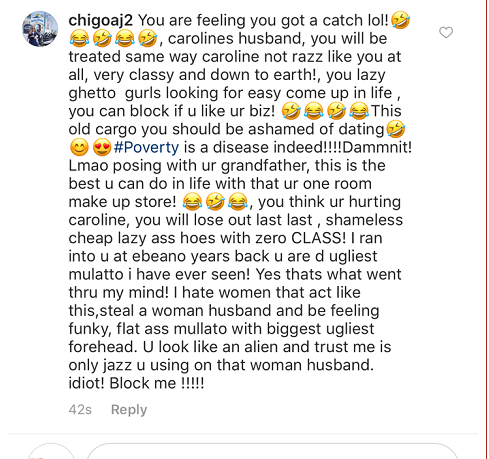 READ ALSO: Caroline Danjuma Goes Celibate as She Rededicates Her Life to Christ | See Photo
Caroline Danjuma was Musa Danjuma's third wife. His first wife was the late Dr. Nkiru Nzegwu-Danjuma. He married a second wife Pauline whom he later divorced.
After her came Nnenna Ukeje who gave him a child. Their relationship soon fell by the way side after he met and married Caroline Ekanem with whom he fathered three children.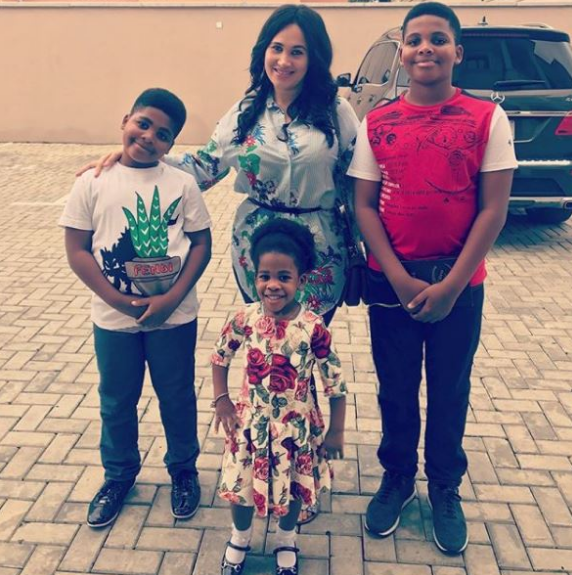 After their marriage ended, Caroline moved on to date a younger guy called Tagbo Umeike. Tagbo was a friend to Davido. He was found dead in Davido's car last year.