'I Will Look After Your Children' -Kimora Lee Simmons Pays Tribute To Her Darling Friend, Kim Porter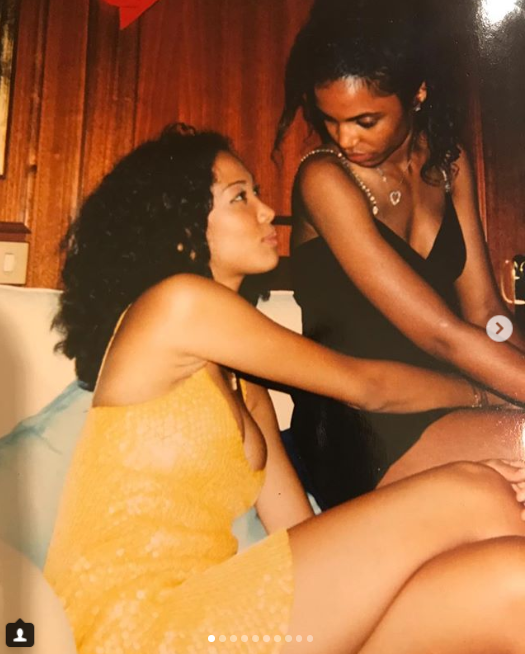 American model and fashion designer Kimora Lee Simmons took to her Instagram page to mourn the devastating loss of her darling friend,  Kim Porter and promised to look after her children following the sudden demise of the mother of four.
News of Porter's death hit the net on Thursday, November 15, 2018 with several celebrities reacting to her death on social media.
READ ALSO: A Mother's Prayer as Actress Remi Surutu Prays for Her Only Surviving Daughter
"On Nov. 16, an autopsy was performed on Porter. The cause of death was deferred pending additional tests. Porter's body has since been released from our facility," a spokesperson for the Los Angeles County Medical Examiner-Coroner said in a statement on Monday.
In a heartfelt Instagram post, Kimora Lee Simmons revealed that a homegoing celebration was held for Kim on Sunday, November 18, and also promised to take care of the four children she left behind.
Sharing series of photos with the late Porter, Kimora wrote:
At your homegoing celebration today it became all too real that you are not coming back. I cannot stop crying but I will be strong for you. Gone WAY too soon. Wtf. I am in shock. To my beautiful friend and sister, I love you.?? This is unbelievable. When I first heard the news, I was angry that someone would play such a stupid ass joke.

They said you were in your room sleeping. Aoki and I rushed to your house to tell you to 'get up and come your ass outside!' But soon as i arrived I realized you would not come.

Every room I walk into now I think, "ok, I will just go and get Kim." But I see that I cannot. This is all too close and too sad. Your light was a beaming beacon for so many. You are A WHOLE MOOD! You are a girls girl which is why we've stayed close always. We are so alike in so many ways, we shared clothes, food, attitudes, friends, enemies, the greatest happinesses and the worst sadnesses.

We've been married, given birth, raised families, gotten divorced, experienced death and everything in between-together. You are a great mama. Between us we have 8 kids who are all cousins. We are, and will always be-a family. I will look after yours and you will look after and guide us all.

What a beautiful, loving, sassy soul to have lost. We love you forever. May God bless your journey. We will never stop crying for you??
Porter is scheduled to be buried in Columbus, Georgia, according to the death certificate obtained by The Blast on Monday.