A Stich In Time: See How Timely Action Of A Nigerian Mum, Confi Chisom, Averted Danger From Her kids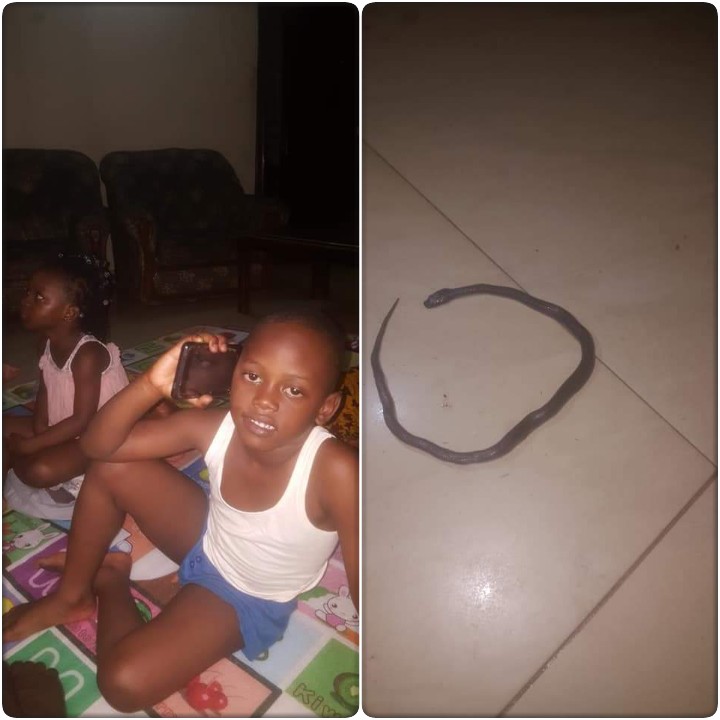 A Nigerian mum, Confi Chisom Chiedozie took to her Facebook account on Wednesday to express gratitude to God for saving her children from what could have been a sad occurrence.
The grateful mum who said she laid her children on a mat in the living room so they could sleep easily and avoid the heat in the bedroom, had moved them a short while before her startling discovery.
READ ALSO: Saved By The Bell! How Dad, Alfred Akunchukwu Nearly Crushed Own Son To Death Unknowingly
According to Chisom, the hot weather coupled with incessant outage of electricity in the country forced her to embrace sleeping on a mat with her children, but was shocked to see a snake, likely venomous within inches of the mat after she had just moved her sleeping kids to the bedroom.
She wondered with relief what could have been if she had not put on the generator that afforded her the opportunity to see the crawling animal before it could harm her kids or even make its way into a more cosy corner of the house.
READ ALSO: Moment Doctors Surgically Removed A Toy From Little Boy's Throat At UCH, Ibadan Highlights Safety Issues Around the Home | Photos & Video
Read  full account below:
"And you tell me there's no God abi?just few minutes ago I saw this snake inside our living room.

God has a way of saving his children,he is God and not man,this mat was on the floor few hours ago,

my kids was laying on it then my kids slept I took them to the their room to sleep,

what if the snake pentrated and bit them without me knowing since they are asleep,

what if the Gen is not on?what if I didn't see it and it crawls inside the bedroom and hide somewhere?

my girl was even on the floor few minutes before we saw it,what would I have told her people,so many what if I swear, lately I enjoy sleeping on the mat cos of the hot weather,

God saved me and my family,I can't thank you enough father.he that dwelleth in the secret place of the most high shall abide under the shadow of the almighty."
There is a lesson in her experience for other mums; always have a source of illumination around at night if there is an outage of power and be sure to check on your sleeping or quiet kids intermittently,  you may be able to avert some danger or salvage a bad situation just in the nick of time.