President Buhari Makes Double Sure His First Lady, Aisha Is Loyal In Viral Election Video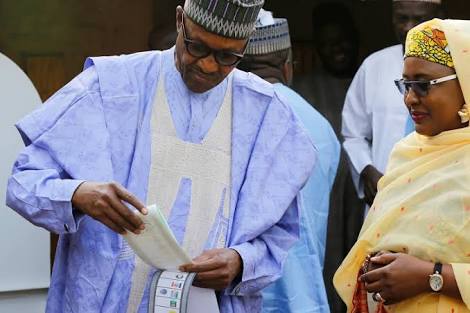 Pictures abound of Nigeria's president, Muhammadu Buhari laughing heartily or causing those around him to do so, but that image is not something many Nigerians can relate with. For the better part, he is perceived as a former military ruler who now as a civilian president is high handed and unyielding despite the cult-like following he enjoys, most evident during election campaigns.
READ ALSO: Aisha Buhari Condemns Anomalies At The Concluded APC Primaries, Calls Out Party Leadership
Today February 14th, Nigerians are at the polls nationwide to cast their votes towards an incoming political dispensation come the month of May. Incumbent president, Muhammadu Buhari is contesting under his All Progressives Congress (APC) party for a re-election into the seat of president.
He voted earlier today at his polling unit in Daura, Katsina state alongside his wife, Aisha, which is entirely expected, but it was the president's unexpected gesture towards his wife which was caught on camera in a hilarious video that has gone viral.
READ ALSO: First Lady, Aisha Buhari Clears the Air on Why She Threatened Not to Support the President's Re-election Bid
While waiting for his wife to cast her vote, the president advanced towards her as she was about to drop her ticked ballot paper into the box, peeping to confirm whether she had voted him.
The president had a quirky smile on his face as he did that, causing the people around to laugh. The gesture in itself is an exposure of another side to the president that we only get to see in still photographs in newspapers.
Aisha, had during the course of her husband's four year tenure publicly criticised his style of government and accused members of his cabinet of hijacking the government and standing in the way of Nigerians who voted in her husband and their rights to enjoy the benefits of a democratic government.
While many social media users thought the video was endearing and humorous, the president's political opponents have attributed it to a lack of trust, citing the First lady's many complaints about his administration in the past.
See the viral video below:
Buhari peeping whether Aisha voted for him. Your Daura man crush has trust issues #NigeraDecides2019

— Chemical Boy ? (@Chemicalboyy) February 23, 2019