Gombe Mothers With Babies In Jaws Of Malnutrition Narrate Their Ordeal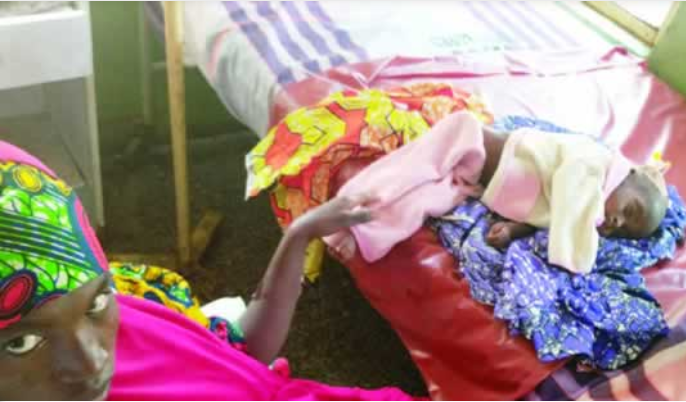 Gombe State helpless mothers have narrated their ordeal as their babies battle malnutrition. With weak feet and frail body, Mariam Musa warmly clutched seven-month-old Habiba to her chest as the malnourished baby continually let out resounding cries.
Habiba's constant cries weren't caused by any ailment, but she was being tortured by hunger which her parents were too indigent to assuage.
Her mother, who sobbed as she narrated how poverty had dealt a devastating blow on the family, said getting rice to feed Habiba was tantamount to selling ice to an Eskimo. Mariam said:
"I feed my daughter only with rice because that is what we have. To even get rice is a tough task. My daughter is weak because she is not well fed. The only sickness worrying her is hunger. Unfortunately, we cannot help the situation because we are poor.

"As it is, unless there is a miracle, we cannot feed her more than what we do. She is a toddler and cannot eat adult food. Worst still, we do not have money to buy baby food."
Malnutrition bares its ugly fangs
Mariam is not the only woman in Gombe who is unable to cater to the feeding of her baby. Aisha Mohammed with a nine-month-old baby, Nasir, is among them. Aisha, who is Nasir's mother, is sad about the poor health of her baby also occasioned by undernourishment.
According to the mother, Nasir has been diagnosed by doctors with suffering from marasmic – undernourishment causing child's weight to be significantly low for their age.
Apart from weight loss, Aisha, who said her son had been admitted in a hospital, noted that he equally had problems relating to dehydration and stomach shrinkage. She stated,
"We were admitted to the hospital but we have no money. What we eat is whatever my husband is able to provide."
PUNCH correspondent saw seven-month-old Arira lying disconsolate in a hospital bed. By his side was his mother, Mrs Adama Mohammadu, whose forlorn figure exposed her powerless state.
Arira, like Nasir, is down with marasmic. He has lost weight, dehydrated with a shrunk stomach. Adama said,
"We are admitted to the facility to cater to the health of my baby. We do not have money; I give my son what I can afford. Most often, what we prepare at home is carbohydrate and there is no money to prepare his meal separately to meet up with his basic needs."
Besides, 13-month-old Adama is another victim of malnutrition. Currently, the toddler is suffering from protein deficiency popularly known as kwashiorkor.
His mother, Fatima Mohammed, noted that there was visible edema (swelling), saying his hands and feet bulged around the body. Fatima said:
"I have not stayed up to a day at the hospital. It takes money and resources to eat balanced diet and we do not have it. I know how to eat balanced diet but it is not free; we need money to buy the items."
The case of Amina Sambo is different from others. For a year and three months, the baby has been in the throes of undernourishment which left her with serious edema.
PUNCH correspondent, who sighted her in the hospital bed, was told that she had swelling with burns and overwhelming complications.
SEE ALSO: How a Total Stranger Changed the Lives of Malnourished Children in Imo State
It was learnt that Sambo displayed an appreciable bulging stomach, a development which has been giving his parents nightmares.
Medical experts worry over marasmic
A family health consultant and Medical Director, State Specialist Hospital, Gombe, Dr. Muazu Ishaq, said malnutrition could either mean under nutrition or over nutrition, prescribing food rich in energy and protein for malnourished patients.
For obese patients, Ishaq urged them to reduce their food content and consume more vegetables. He said,
"It is important to note that over nutrition is associated with the elite – those who can afford junk foods such as ice cream, cakes on a regular basis without recourse to their health. We constantly screen patients to ensure they don't wait until they breakdown.

"The other side of malnutrition, which is under nutrition, is associated with children and it is common in this part of the country. This is not unconnected with the culture, poverty and insurgency."
The Medical Officer, Department of Paediatrics, State Specialist Hospital, Dr. Daniel Timothy, who said malnutrition was a global challenge and not limited to Nigeria, North-East or Gombe State in particular.
He said malnutrition could occur owing to inadequate nutrients to build the body system of an individual, noting that in children, it could be traced to those between six and five years.
Dr Timothy, however, said it was not only associated with non-availability of food, insisting that it was as a result of multi-factorial challenge. He added,
"Commonly, what we see in some of our facilities in managing children with malnutrition involve cultural practices, parents' economic power, mothers' educational level and social status; they are all contributory factors to malnutrition.

"It can also be caused by lack of resources by parents. In cultural practices, we expect that the baby will be introduced to breast after one hour of birth but we see babies being introduced to water and herbal concoctions which affect them.

"There are instances babies have 'kuruga', which is watery stool but most parents will start taking concoction instead of accessing health facilities.

"Some of the women, who are basically housewives, rely on the income of their husbands and sometimes for them to bring their children to the hospitals, they also need some form of clearance from their husbands. Some of these women do not attend antenatal, post-natal care and immunisation appointments."
He further stated that acute malnutrition was on the increase, stressing that the health facility had been stabilising many patients.
Timothy said malnutrition, being one of the commonest causes of mortality in under five children, would manifest some underlining complications like hypoglycemia, sepsis and hypotamia among others.
He said the primary prevention of malnutrition was counselling parents, religious and traditional rulers, adding that at the secondary prevention, doctors encouraged women to breastfeed their babies. The doctor stated,
"Tertiary prevention of babies that suffer from severe malnutrition are usually admitted.  Edema occurs when there is a derangement from extra-cellular fluids involving their faces and most times all parts of the body.

"It takes a specialist to attribute such state to edema because there are other conditions that share same signs. Parents should improve on their hygiene; and for parents, who delight in giving concoction, they should desist. Babies should be presented for immunisation.

"What I have discovered is that most children who suffer from malnutrition are from poor homes with uneducated parents. Children from divorced parents are more.

"But I will like to say that education plays a fundamental role in reducing malnutrition. In Gombe, we have internally displaced persons although not in a settlement but some are ravaged by (lack of) what to eat."
The Head of Nutrition, State Specialist Hospital, Mrs Esther Leka, said malnutrition was bad nutrition whether it was under or over nutrition. The dietician also stressed that under nutrition affects children from six months to five years, while over nutrition was common among adults. Leka said,
"We see such children all year round, but during harvest period, the cases are reduced to a moderate level both in in-patients and in out-patients. A malnourished child's immunity is lower and this gives room for opportunistic infections."
She urged parents not to wait until a child became emaciated before seeking help, saying once a child failed to gain weight, the child should be checked. Mrs Leka said as the child was attended to by the physicians, nutritionists usually did their best to ensure the child's stability.
She added that a marasmic child might get all needed nutrients but not in adequate proportion, noting that instead of the child to grow bigger, the child would start to grow lean.
Disturbing statistics
The acting state Nutrition Officer, Usman Baraya, said Nigeria was one of the 20 countries responsible for 80 per cent of global child malnutrition. He stated that approximately 2.5 million under-five children were affected by malnutrition in the world. Baraya said:
"This (under-five children malnutrition) accounts for one tenth of the global total. Nearly 1,000 Nigerian children die of malnutrition-related causes every day.

"In 2018, Gombe had 11,327 cured cases; defaulters – those who commenced treatment and left – were 68,499; while a total of 13, 655 were admitted in our facilities.

"In 2019, between January and April, the state recorded 1,630 cured cases; 12 death cases; 239 defaulters and 1,732 new admissions.

"Undernourished children have lower resistance to infection and are more likely to die from common childhood illnesses. Forty five per cent of all under-five deaths are attributable to under nutrition."
The state's Ministry of Economic Planning is said to be heading the steering committee on malnutrition. Also, the ministry's Permanent Secretary, Mr Stephen Ayuba, who spoke with newsmen before his retirement, said the government was aware of the crisis in the state. He stated:
"It is a silent crisis because it hampers the growth of children and even women because if a child is under weight or stunted, it will automatically affect his life and cognitive development and we may end up having a dummy population."
Stabilisation centres to the rescue
The state has three stabilisation centres – Mother and Child Hospital, Federal Teaching Hospital and state Specialist Hospital where children with severe acute malnutrition are treated especially those with complications.
The patient are stabilised with the f75 and f100 before they are discharged to continue treatment at the nearest Out-Patients Therapeutic Centres in the various primary health centres where they are administered with plump nuts and other therapeutic food.
But unfortunately in the past weeks, the state had run out of supply of plump nuts usually supplied by UNICEF due to delay in the payment of the Gombe State counterpart funding, which would have allowed the state to access $9.8m from UNICEF. It was learnt that the state paid the counterpart fund recently.
Newsmen  met some of the patients and the babies receiving treatments at the various stabilisation centres, with the babies' mothers looking seemingly helpless about their children' health status.
A worker in one of the centres, who spoke on condition of anonymity, said, "We fear a relapse generally and in order to avert that, there are plans to borrow materials we don't have from neighbouring states and return upon delivery. We can't afford to waste more money treating relapse cases."
Tackling the scourge
The new state governor, Inuwa Yahaya, has yet to appoint a health commissioner. But the immediate past health commissioner, Dr. Kennedy Ishaya, in an earlier interview before the inauguration of a new administration, said the government toured villages, communities and met with traditional rulers and local government chairmen.
He said,
"We organised community outreaches where we told women how to process food, for example processing of millet. In processing millet, we told them not to take it to the mortar to remove the back. They should wash it well and soak it.

"We taught them how to prepare the food and we also advised them on how to wean a child even when the mother is pregnant and what is required is to improve the mother's diet and gradually wean the baby."
He said the past administration also took advantage of the Federal Government's 'Safe a Million Lives' programme to tackle the challenge. He stated,
"Government has also provided trained health workers to win the war. We have infant and young child support group; they serve as volunteers from time to time.

"They teach women how to prepare meals such as top brown with soya beans, millet, groundnuts in the absence of soya beans, and depending on the community, it can be substituted with bambara nut."
On her part, the state Secretary, Universal Basic Education Board, Hajiya Zulaihatu Madugu, said there was a collaborative effort with other agencies in the state to disseminate information on the need for proper intake of food.
She said the government embedded food and nutrition in the state's school curricular, adding that from observation, some of the parents were uneducated. Hajiya stated:
"But we expect their wards to inform them because when you feed your children well, you have avoided retardation and it is not expensive to eat well."
Malnutrition management centres
Gombe State has 18 operating Community Management Acute Malnutrition centres in four LGAs in Gombe, Nafada, Dukku and Kaltungo. After a visit to the Gombe LGA primary health centres, it was noticed that it had five out-patients therapeutic programme centres.
The deputy director, Mallam Umaru Usman, said the ready to use therapeutic food was out of stock. He said,
"There are five out-patients therapeutic centres in Gombe LGA; Kumbiya, PHC Town, PHC Tuduwada, PHC Patami and PHC Nasarawo in the local government."
The Local Government Nutrition Officer, Mr Muhammad Bawa, said Gombe council had been deeply involved in combating malnutrition in the state. He added,
"As a local government, we have been involved in CMAM, Infant and Young Child Support for mothers, supplementing children with vitamin A and we also deworm children and we serve as health education officers on nutrition."
Extensive breastfeeding desirable
Dr Ishaq urged mothers not stop breastfeeding of their babies abruptly. He said,
"It is a fact that when you are weaning a child, mothers should not suddenly stop breast feeding suddenly. Instead, there should be a graded weaning which should be in a gradual process of breast withdrawal to when other food are introduced. As babies are getting used to the food, you will also reduce their breast intake till they finally adjust to the food.

"The manner of preparing such meal is unhygienic which results in continuous purge for the baby. As he loses nutrients and refuses to eat, this will result in complications and as malnutrition occurs, it reduces the immunity of the babies and makes them prone to some infections and diseases.

"It is preventable by eating the right diet at the right time. Government and partners are working assiduously to see that it is stamped out from our environment."
He advised all women to utilise the local food within the environment to prevent malnutrition. Ishaq said religious and traditional rulers should be engaged to help educate parents, especially mothers. He added,
"I advise on the strict adherence to exclusive breastfeeding from birth to six months without water, no matter how poor a family is.

"You don't need to buy anything but just for them to ensure that the mother feeds well and makes breast milk available for her baby. It is cheaper, safer, cost effective and healthier for that child. The government should be encouraged to provide more support in agriculture so that food and vegetables can be readily available at affordable rate."
On his part, Bawa stressed that the CMAM programme was beneficial because it provided people with the opportunity to immunise children as well.
Bawa said the days for immunisation were also days for out-patients therapeutic food, adding that they usually asked mothers if they had commenced immunisation. He said,
"We encourage mothers to continue but if they disagree, we ask them to take their babies for immunisation and then get them ready to use therapeutic food.

"There is ignorance of what to eat and ignorance about whose responsibility it is to take care of the child. We have the ingredients to use food in the communities such as vegetable oil, groundnut, some nutrients and minerals.

"Our people want free services; they don't want to use their time and resources. By research, 65 per cent of mothers that come for Ready to Use Therapeutic food come from outside the local government. They spend N1,000 and above for transportation. They forget that the fares can make up for the ingredients for RTF which will last for weeks."
He said the challenge for infant and young child support in the state was that houses were built in single manner, unlike in rural communities where dwelling was communal.
He said they engaged pregnant women, breast feeding mothers, grandmothers and husbands because of their roles in influencing decisions. Bawa added,
"We always encourage husbands to visit hospitals with their wives to be properly guided. We are worried about the lack of RTF because we are in our lean period — season we await harvesting of crops — it has a way of affecting the number of malnutrition cases."