Veteran Musician, Tunde Obe Doles Out Simple Advice To Intending Couples As He Marks Incredible Milestone With Wife, Wunmi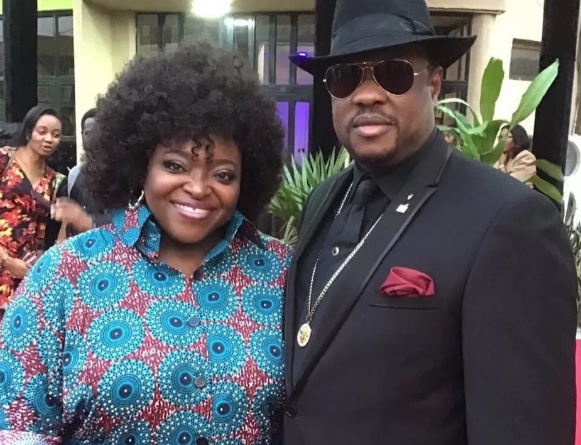 It is always a joyful feeling to witness successful celebrity marriages. One of such few celebrity marriage is that of Tunde and Wunmi Obe, popularly referred to as T.W.O.
Tunde and Wunmi Obe have kept their love and marriage going for more than two decades now and still counting. They are also musical partners – two halves of T.W.O. The duo met in 1988, dated for 10 years before tying the knot in 1998, and they have been going strong ever since.
Every June 26 is a day worth remembering for the celebrity couple. This day marks their wedding anniversary. In light of this, the duo who met during their undergraduate years celebrated their 31 years of friendship and 21st wedding anniversary recently.
This couple whose marriage has stood the test of time gushed about themselves on the memorable occasion of their anniversary.
Wunmi shared lovely photos of herself and her hubby, then she wrote short but very romantic captions to mark the occasion. One of her captions read thus:
"21 years thru the highs & lows, the ups & downs, rain & shine, thick & thin – and we still on the grind. And we keep goin'."
READ ALSO: "Don't put your private affairs on Social Media"- Celebrity Couple Tunde and Wunmi Obe Advice Couples – WATCH
Tunde who does not take for granted that he has been friends with his wife for about 31 years also shared a very emotional post on his Twitter page. In this tweet, he showered praises on Wunmi and also lent a piece of advice to the singles. He particularly adviced them to marry their friends so they could experience a blissful union as theirs.
"If I was to give just one advice to intending couples, it would be: Marry your friends!.. Let me introduce you to @WunmiObe , my friend of 31 years… Wife of 21 years today.. Mother of all of my children.. The best decision I ever made in my life.. Happy Anniversary, sweetheart!"
The Nigerian show business couple, entertainers, TV personalities, entrepreneurs, and parents to three children recently revealed the secret of their being together for so many years. According to the music duo, they started out on a professional note.
But they soon found out that they had a connection with each other which stemmed from the fact that they both lost their fathers at nearly the same time. It is this and the genuine friendship they cultivated that has sustained their relationship all these years.
READ ALSO: Watch: Tiwa Savage Seeks Marital Advice From Celebrity Couple With 20-Years Marital Experience, Tunde and Wunmi Obe
"When we first came together, it was more like a professional relationship; later we found out that we had a connection. I think the point of attraction then was that we both recently lost our fathers. And our fathers were like the main breadwinners in our families, and a lot of people could not understand this. When you are used to a certain lifestyle and then you lose a parent, things change.

We both understood that and connected at that level, and then we realized that we had more common interest other than music; we started finding excuses to rehearse vocally on our own, which is professional.

But half of the time, we were talking our own things and things progressed from there. Why I am giving you this background is to let you know that we didn't purposely juggle anything. The friendship happened naturally and this was due to the talent we shared.

If we have been together for thirty years, which means that I was 20 when we met, that means I have known her almost half of my life. So, for me being with her is beyond reason; there is a genuine friendship and I think that is what it is.

Our marriage is based on friendship first before any infatuation or love. Love is important but friendship and the respect we have for each other is what has kept us together for these years."
READ ALSO: "Going Through My Husband's Phone Is Not Necessary" – Wunmi Obe
Love, they say is sweeter than honey. This amazing music duo is proof of this popular saying.