COZA Pastor, Biodun Fatoyinbo Finally Reacts To Allegation Of Rape Levied Against Him By Timi Dakolo's Wife, Busola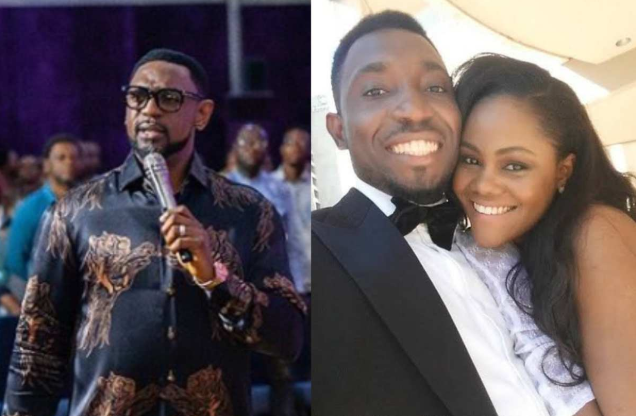 Biodun Fatoyinbo, the senior pastor of Commonwealth Of Zion Assembly, COZA has finally reacted to the allegation of rape levied against by Busola Dakolo, wife of singer, Timi Dakolo.
According to the controversial clergyman and married dad who spoke via a statement he released, it is against the practice of his ministry to react to social media allegations before going on to add that he only found this one necessary because his name was directly mentioned in the now viral video.
Pastor Fatoyinbo went on to label the allegation as false and also added that he has never raped or abused anyone sexually during his entire life even as an unbeliever.
The cleric admitted that Mrs Dakolo and her family "attended the church during the early start of the church in 1999", but claims he "never had any private interactions with her beyond my pastoral duties."
He went on to accuse Timi Dakolo and his wife of trying to extort him, threatening legal action against the Dakolos and RED Media, owners of Y! naija who released the video of Busola's interview.
"My lawyers have been briefed to commence criminal and civil actions against all individuals making such false allegations whether directly or by proxies," the pastor warned.
In his words, "this has always been intended to attack the church; this is the intent of the adversary."
READ ALSO: "You Should Be in Jail for Taking Away their Innocence": Is Timi Dakolo Shading COZA's Pastor Biodun Fatoyinbo?
Read the full statement below…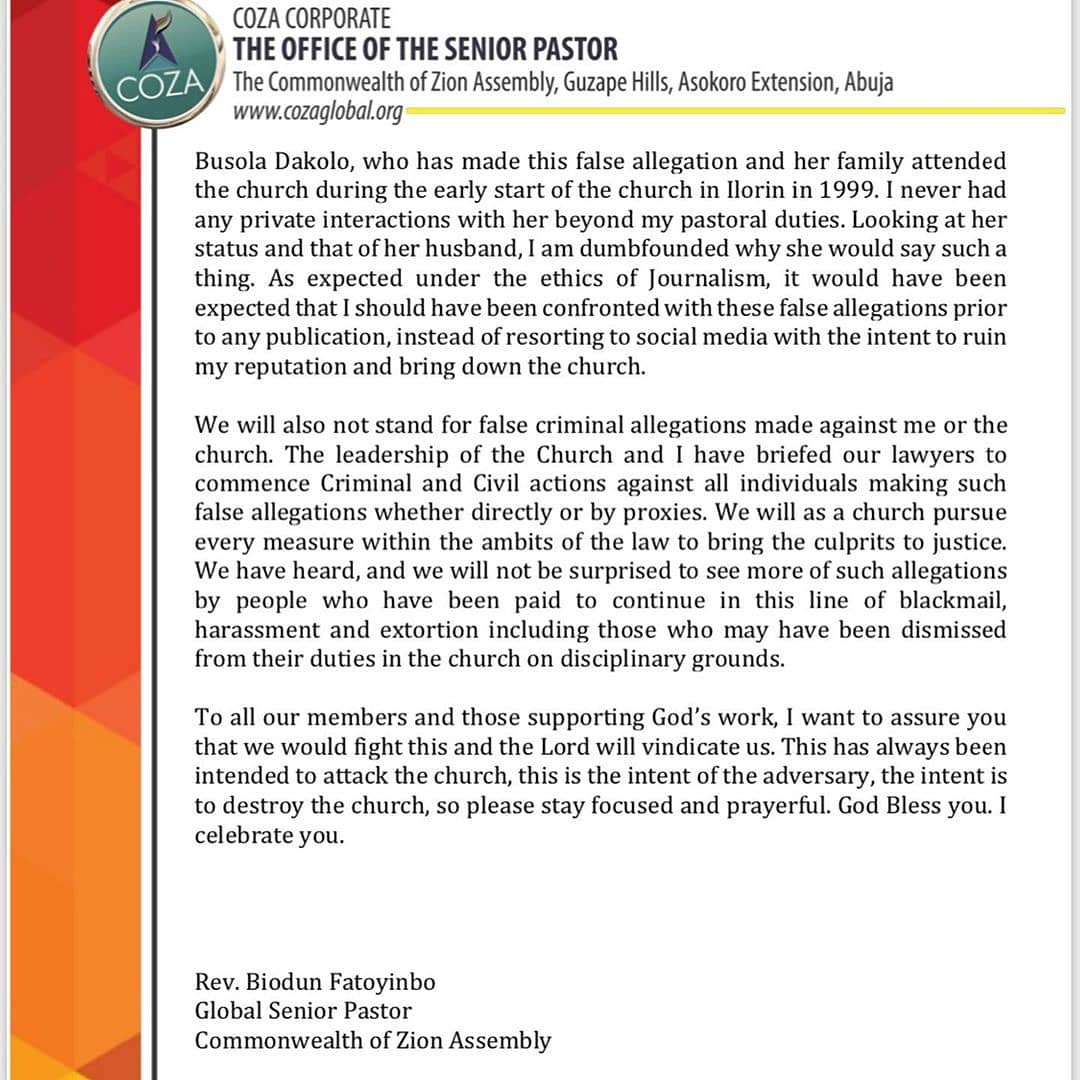 The clergyman is not new to controversies and has been embroiled in a series of sexual assault-related cases, that of Ese Walter being the most prominent.
In the explosive interview with YNaija, Busola, recounted how pastor Fatoyinbo, allegedly raped her in her mom's house while she was still in secondary school.
A distraught Busola also recounted how the clergyman allegedly tried having sex with her inside his matrimonial home when she came in to help his wife, Modele, when she had their first child.
Busola, mom-of-three said she's speaking up now because of a social media post which accused her of promiscuity when she was a teenager, saying she was having sex with pastors while growing up in Ilorin, the Kwara State capital.
Busola's husband recently carried out a social media campaign accusing the Pastor of taking advantage of women in his ministry and leaving them broken emotionally.
Read more from the explosive interview HERE.