COZA Pastor Biodun Fatoyinbo's Rape Scandal: Nigerian Women, Celebrities React To Busola Dakolo's Story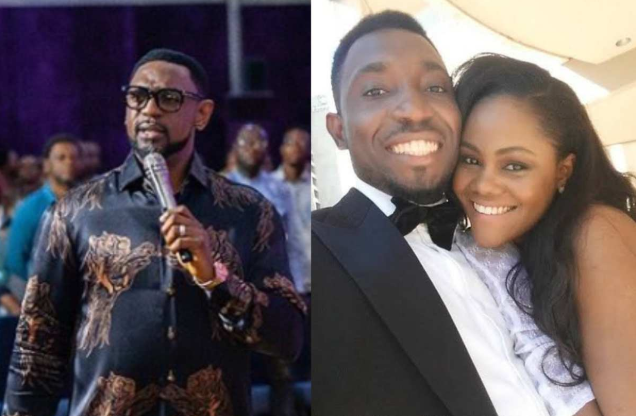 Busola Dakolo, the beautiful wife of popular R&B singer, Timi Dakolo made headlines yesterday when she revealed in an explosive interview that she was raped twice by the founder of the Commonwealth of Zion  Assembly COZA, Biodun Fatoyinbo when she was fresh out of secondary school (read Here).
In the tell-it-all interview with Ynaija, the mom-of-three added that after raping her, the married dad told her she should be happy it was a man of God who disvirgined her.
Busola's revelation generated massive reactions from social media users, celebrities and other concerned Nigerians. While she received massive support from some, others doubted her story.
Taking to social media, respected media personality and mom, Funmi Iyanda said she believes every word Busola Dakola said in the explosive interview.
Miss Iyanda also commended her for her courage and strength saying:
"There are many layers of power, politics, manipulation and crime woven through her brave revelations. I expect that Pastor Biodun will go to jail or whatever the equivalent of that is in Nigeria now."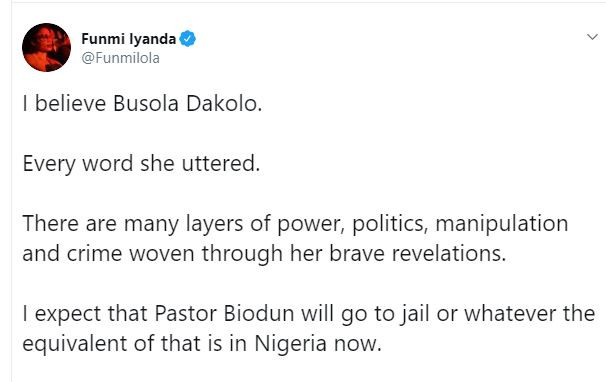 Abike Dabiri, the Chairman of the Nigerian Diaspora Commission also took to social media to air her opinion on the matter, charging women to 'rise up and demand justice'.
According to Abike who is a former member of the Nigeria Federal House of Representatives,
" Timi Dakolo, what can I say about your wife! A woman of strength and courage. We all, as women, must rise up and demand justice. I sponsored the violence against persons bill which prescribes life imprisonment for rape! Busola, you've got my back."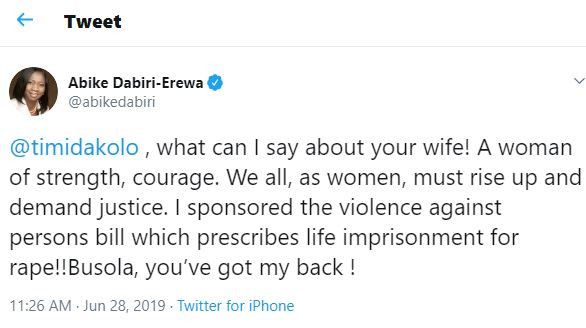 This isn't the first time Pastor Fatoyinbo is being accused of sexual misconduct. Another woman, Ese Walters accused him years ago and he promised to give a "robust reply" which never came. His members stood by him after the accusations. Now that Busola has accused him of the same misconduct, members of his church are demanding a reply.
While Wale Aladejana of Sapphire perfumes is defending his Pastor, other COZA church members like actors Akah Nnani and Sharo Ojong are demanding a reply from their pastor while promising not to remain silent this time.
Media personality, Akah, who is very close to Pastor Biodun and is a member of his church, took to Instagram to demand an explanation from the flamboyant pastor. Fashion consultant, Sharon, also a member of COZA, demanded a reply from her pastor.
Akah, who recently got married to his boo wrote:
"I woke up to several missed calls, and text messages. My friends know my relationship with @cozaglobal. Let me say this. COZA is my church. I love my pastor… But rape, is a serious issue.

My stomach churns as I write this. I spoke with @timidakolo a week ago and tried to understand why he had taken a stance against my pastor. I had just come back from honeymoon when all my friends sent me his attacks to my pastor a few weeks ago.

I sought to understand, not to attack. I was under so much turmoil too because this is my church, my pastor, and I cannot go around like nothing is happening and the church isn't addressing anything or re-assuring the members.

We must not see evil and cover it. We must not see evil and turn the other way. You all know me. I attack and speak out against corrupt political leaders every time. Well, this has hit home. Our leaders and our fathers must be held accountable. And they must deem us worthy to be answerable to.

If we cannot clean the church, forget it. We cannot clean the country. I am tired of hearing so much, so much rubbish about my church and leadership over the years especially cos of the industry I belong to, nothing passes our ears behind the scene.

My pastor @biodunfatoyinbo has to say something this time. If the rest of the church does not need it, I need it. For my sake, sir… Speak on this. I stand with @busoladakolo as she has spoken her truth. I stand with the body of Christ also. I ask that my pastor come out and speak his own truth.

I am praying for the church. Please let us pray for both the Dakolo and the Fatoyinbo families. (wife and kids). In the end, if we need to, let us scatter the place… Then the truth will stand up."
Commenting on Akah's post, Sharon wrote:
"Yes Akah! Yes Pastor @biodunfatoyinbo for our sakes, speak your own truth. No robust answers. As a member of COZA and a victim of pastors molestation, please make us understand."
Wale Aladejana, the CEO of Sapphire Group called out Timi Dakolo and wife, while defending alleged rapist Pastor Fatoyinbo.
Wale said Timi and Busola have a lot of skeletons and they are busy throwing stones. He went further to say Busola was a choir member and Timi was a choir leader in COZA when she got pregnant with her first baby but  Timi denied that they weren't having an affair and then she got pregnant the second time and that was when the church forced them to get married.
Read Wale's post, which has received massive criticisms, below.
"I just watched @busoladakolo video I know the world gets emotional the moment a woman mentions that she was raped but if you will take a minute to think objectively; the oldest way a woman can try to destroy a man is to accuse him of rape.

Any man is guilty of this offence in the eyes of the public until otherwise and if she has a little social status like the wife of a struggling musician like @timidakolo it makes it look credible.

Why is she doing this? Timi and wife are a pawn in a conspiracy and also because it will help him sell some records which he desperately needs to sell, they will also trend for a while, she has already opened unbroken.ng an online platform to cash in on the drama just like @esewalter and then its over!

I am a proud COZA member and @biodunfatoyinbo is my father and he has been a blessing to millions of people all over the world. This time there will be no silence and since you want war, you will have it. If @biodunfatoyinbo has been a blessing to you, its time to speak up, don't keep quiet!

@timidakolo and @busoladakolo are not saints, she was a choir member and Timi was a choir leader in church when she got pregnant with her first baby, Timi denied that they weren't having an affair and then she got pregnant the second time and that was when the church forced them to get married.

This chorister was sleeping with her choir master and was a baby mama with two kids before they got married. These are morally bankrupt people and all that talk in the video will not hold water under cross examination.

Another thing that bothers me is why all the people troubling the body of christ @daddyfreeze @timidakolo@busoladakolo @chudeity all attend a particular church

Timi and Busola have a LOT of skeletons and they both live in glass houses and they are busy throwing stones. Its time to shatter this house of cards these people have built, its time to deal with cyber bullying and vague social media allegations and this couple will be the scape goats."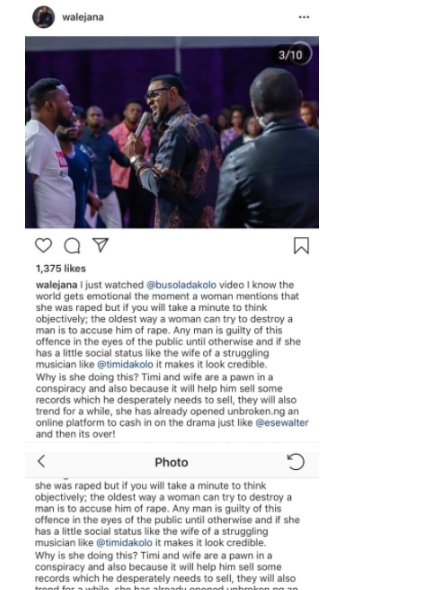 One other insensitive comment that caught our attention is that of Reno Omokri, a married dad-of-three. Reno stated that even though he isn't a fan of Fatoyinbo, Busola's story doesn't add up and cannot stand up in court or in the light of cross examination.
READ ALSO: "You Should Be in Jail for Taking Away their Innocence": Is Timi Dakolo Shading COZA's Pastor Biodun Fatoyinbo?
He further said Nigerians are too gullible and are easily manipulated. Read his post below.
"For The Body of Christ, Not For Pastor Fatoyinbo
I have NEVER liked Pastor Biodun Fatoyinbo of COZA for reasons that I will not say publicly. However, I am mature enough to divorce my emotions and be led by logic. And I counsel those now condemning him to do the same.

The average Black African is easily moved to hysteria by excitable emotions. This is why it is RIDICULOUSLY easy to manipulate Africans with the media Satan does his best work with such people, who can't suppress emotion in preference to logic.

Think. Don't emote. A pastor comes to your house early in the morning. He does not know who will open when he knocks, or who is at home. He knocks and immediately you open he pushed you to a chair and raped you in your pyjamas. Do people think?

Even the most USELESS movie director wont accept such a plot in a B rated. Hollywood/Nollywood/Bollywood movie. A movie has to have PLAUSIBILITY. I don't like pastor Fatoyinbo, but I won't suspend my intellect because of my dislike of the fellow.

After he allegedly raped her, she kept quiet for enough time for him to go to his car and get a soda drink for her? It does not ADD UP. My dislike for Biofun Fatoyinbo won't make me become a SLANDERER by default. This story rings very FALSE.

I am an advocate of morality. For years, I publicly preach against premarital and extramarital sex. I pastored a congregation in Abuja for years. I will NEVER, EVER, support RAPE. But satan is going about like a roaring lion seeking whom to consume!

Pastor Biodun Fatoyinbo is SLEEK. Too sleek for my liking. What type of sleek man will rape an underaged girl in HER PARENTS HOUSE. While HER SIBLINGS are AT HOME. And then leave her to go get a drink from his car. Is this mass HYPNOSIS.

Do we Black African of the Nigerian variety think at all? Do we only exist in the soulish realm? I have a Masters in Law from England. The story CANNOT stand up in court. The story CANNOT stand up in the light of cross examination. I give you my word that if you gave satan 10 minutes to manipulate the minds of Nigerians, he will get a sizeable number of Nigerians to believe that Jesus is evil and he satan is good. We are too gullible, excitable."