ALLEGED RAPE: Nigerians Storm COZA Church To Protest Against Pastor Biodun Fatoyinbo (Photos)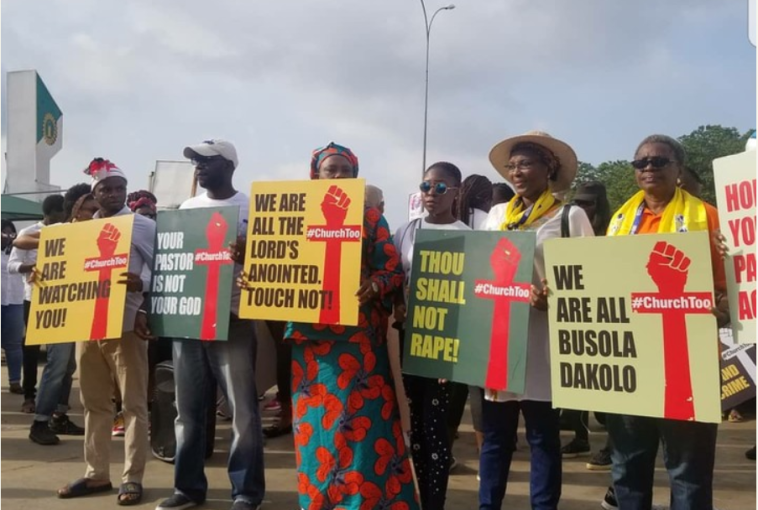 It gets even more tumultuous for the embattled pastor Bodun Fatoyinbo who was accused by celebrity mum, Busola Dakolo of rape, read the story here. The allegations against the pastor have since gathered momentum with many more women taking to different platforms to say they were victims of grooming and perverted innuendos from the clergyman who they all agree is very inappropriate with women when in private.  A protest tagged "Church Too Movement" is currently ongoing at COZA church as a result of the overwhelming public outcry against the pastor who is not new to controversies.
READ ALSO: Pastor Tony Rapu, Explains Why Church Leaders Are Unable To Address Sexual Abuse, Outlines 4 Useful Steps The Church Can Use To Combat The Malaise
Having first made headlines a few years back, when a member of his church, Ese Walter came public with how the pastor groomed and manipulated her into sleeping with him. The new rape allegation leveled against the COZA Pastor by Busola Dakolo, singer Timi Dakolo's Wife, has sparked a protest planned by online users who trended different hashtags including, #IStandWithBusolaDakolo  and #stepdownpastor.
READ ALSO: "I married him to stop being the girl everyone called an evil mistress." Ese Walters Speaks On Fighting Her Demons
The protesters have gathered in the church's vicinity and started the widely publicised protest around 9am this morning after obtaining a police notification. The protests are ongoing in the Abuja and Lagos branches of the church but the roads are said to be fully armed with Soldiers, Mopol and Police engaged by the church to keep the protesters at bay.
Photos showing protesters with placards carrying messages as; "Pastor Step Down", "God Can Forgive You Behind Bars" are all over the internet.
Meanwhile Protocol members of the church formed a human barricade against the protesters:
COZA protocol members form barricade. Attempt to stop protesters from getting close to the church. #StepDownPastor #BiodunFatoyinbo #COZA #PastorStepDown pic.twitter.com/DPk9qrr60Y

— Oak TV (@OakTVOnline) June 30, 2019