Man, Echezona Enebeli Gives Reasons Why A Woman Should Not Aspire To Be More Successful Than Her Hubby
While today's society is heavily influenced by the need for gender equality, it appears there are still some people who believe women are made strictly to be subservient and nothing more than helpers of men. One of such is Facebook user, Echezona Enebeli, who took to the platform to give reasons why he believes a woman should never strive to be more successful than her husband.
According to Enebeli who in April advised men to ensure that women never become more successful than them, it is okay for a woman to be more successful than her husband if it is merely by providence but it is wrong for a woman to strive to be more successful than her spouse as women were made to be helpmates and not competitors.
He wrote:
"But…. why would a woman aspire to be richer than her husband sef… ?? Yes.. agreed. Some women are more successful than their spouses.. but being more successful than your spouse by Providence is different from intentionally aspiring to be richer or more successful than your spouse Mbanu…

E no go work Biko…  Women were created as help meet/helpers to their husbands…. not competitors.. Aspire to be successful…. but never aspire to be more successful than your man."
READ ALSO: Why "Men Are Not The Head Of The Home"- Eniola Hu Reasons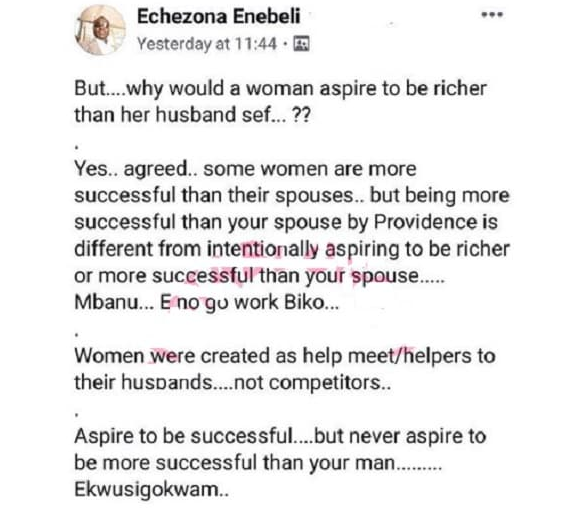 READ ALSO: Successful African Single Woman Who Will Not Compromise Her Viewpoint Just to Get Married Is a Real Woman
Earlier this year, Echezona, who described himself as a "family man, loving husband, dotting father, jovial and generous" said he is unable to fathom how "women of nowadays" ditch culture and attempt to emasculate men by expecting them to help with domestic chores and particularly kitchen related ones.
The aggrieved man alleged that a woman's character is never truly known until she begins to earn more than her man. He continued to say the word "submission" does not exist in the dictionary of successful women and called on his fellow men to remedy the situation by ensuring they block their women from ever becoming more successful than them.
Echezona did encourage men to support the women in their lives but warned against doing so to the point that the woman becomes richer than the man.
His comments were met with severe attack from women who think he's simply old-fashion. See some comments below:
READ ALSO: South African Man, Bonisile Hanibun Explains Why Men Must Dump The Women Who Helped Them Become Successful
jayonyeka: My annoyance is that this guy writes well which shows he's very educated, do we say this one is a waste of education? Do we now see that good education doesn't translate to sense , I'm disappointed
ms.maureenirish: You can aspire to be rich & successful but once you start doing it to be better than someone else, you've lost it. Spouse or not.
b_lacream: He has a point, but no one reads to understand anymore
abiodun.website.developer: Dear God, if is the girl I will marry that will remove me from poverty and I will have a good life, bless her abundantly.
houseofstun: These kind of men that bring shame to other men. Na una dey make women yab us. Marriage is a partnership not a contest!!!
dayoice: Dear wife, if you want to be richer and more successful, Nne I can't wait go ahead.
wageesther2: It's not a crime to have money than your husband but d character u wear wen u do determines If it is bad or not