Expecting Mom, Anne Hathaway Gets Real About 'Painful' Struggle To Conceive Second Baby
Celebrity mom, Anne Hathaway is opening up about her infertility struggles. The famous American actress and singer, who announced last week she was expecting her second child, also hinted she struggled with infertility before her first and second pregnancies.
During a recent interview at the Television Critics Association press tour in Beverly Hills, California on Saturday, Anne excitedly discussed how she and husband, Adam Shulman were looking forward to welcoming a sibling for their three-year-old son, Jonathan. Anne and Adam were married in 2012, and their first child was born in March 2016.
The Oscar-winning actress gushed to Entertainment Tonight:
"I am really happy. This is something I've been wanting for a while and I'm really happy it's happening."
After being commended for her honest pregnancy announcement, Anne explained the process of trying for a baby was "not all happy". Speaking further, she disclosed that she came forward about her struggles with getting pregnant because infertility can be deeply isolating. The expectant mom shared:
READ ALSO: Rapper Eve Opens Up About Her Fertility Struggles & How It Made Her Feel Inadequate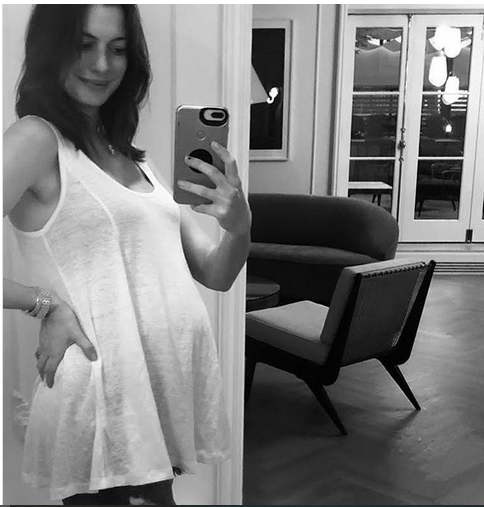 "There is a one-sided narrative to this, and of course it's wonderful that we celebrate the happy moment when it's ready to share.

I think there is a silence around the moments before that and they are not all happy, and in fact a lot of them are quite painful. I think that pain is that these women feel like we're the only ones going through it."
READ ALSO: New Mom Who Had Two Divorces Over Infertility Issues Shares Her Message Of Victory After Welcoming Quintuplets
The "Les Miserables" star also feared her happy news would be a mental setback to other women struggling to fall pregnant, adding:
"I just knew that somewhere my announcement was going to make somebody feel worse about themselves because — and it wouldn't be their fault that that happened — you just can't help it when you want something so bad and it feels like it's happening to everyone else but you.

I just wanted that person to know that they're included in my story, too, and that my story didn't just have happy moments, too."
READ ALSO: Visionary Of BeiBei Foundation, Omotade Alalade Talks About The Agony Of Infertility And How She Found Succour
Along with the social stigmas surrounding pregnancy and children, especially for women who are regularly expected to enter and embrace motherhood without issue, fertility is a widely misunderstood concept.
A person's journey to pregnancy hinges on a multitude of health factors, often extremely unique to them, and it can be a stressful process with negative mental health effects. It's also worth noting that there are many ways besides pregnancy to become a parent — as 36-year-old Anne said, it's never a straight line.
Congratulations to Anne and her growing family!