Ned Nwoko, Regina and I – Regina Daniels Ex-Boyfriend, Somadina Adinma Speaks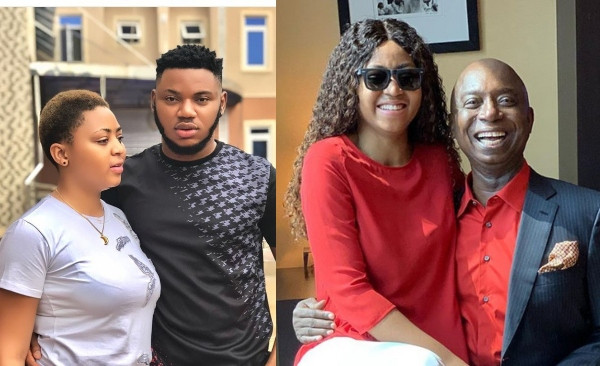 Popular teen actress, Regina Daniels sparked a lot of controversy few months back when news filtered in that the 17-year-old got married to 59-year-old billionaire, Ned Nwoko. The 17-year-old's fellow Nollywood actor and now ex-boyfriend, Somadina Adinma who was dragged into the whole marriage saga finally opened up about the love triangle in a new interview with SunNewsOnline.
The actor revealed in the interview that he started off his relationship with Regina Daniels on set. Also telling trolls to mind their business because it would be unfair of anyone to tell the other person to not go ahead and marry while they themselves aren't ready.
READ ALSO: CONFIRMED: Teen Actress, Regina Daniels Inducted Into Womanhood | DETAILS
Here are excerpts from the interview with SunNewsOnline:
What was the chemistry like between you and Regina?
We met at a location, we were both young and we bonded. We were meant to be friends and when you are cool with the characters on set, interpretation of the story becomes normal. So, it just happened. It's like when Genevieve (Nnaji) and Ramsey (Nouah) were doing their thing. Yeah, we were able to connect.
Looking at the whole scenario, would you say meeting Regina Daniels added a kind of vibe to your career? 
Yes, it did. But I was the vibe before I met her. Then, she added more vibe and that's it. After the movies, we became friends, colleagues and close friends.
What do you have to say about the reports that she dumped you for another man and you became angry?
No, no, no, I got angry because people were coming to say stuff they didn't know anything about. They were trolling me. All I know is that people need to mind their business. It's not everything you inquire about. At times, people should just be like 'this is none of my business, let me just allow this slide'. Regina and I were very close friends. She didn't dump me for anybody. Nobody dumped anybody. Nobody is feeling bad about anything.
READ ALSO: Regina Daniels' Marriage To Billionaire Ned Nwoko Proves Only One Thing- Reno Omokri
What's your take on her marriage to Ned Nwoko? 
I don't have a take on someone's personal life. Whatever anyone has chosen to do with his or her life, that's his or her personal life. My opinion is not even needed. My stand won't change anything.
Many people thought that though you felt sad, you've moved on?
But why should people feel like that. When you are not ready to marry, would you tell the other person not to marry because you are not ready? That's wickedness. Even when you are ready, you may decide not to marry the person. I am not saying that's the case, but Regina and I were close friends.
Are you in a relationship now?
Yes, I have always been in a relationship.
READ ALSO: Facebook User, Onuh Chisom Highlights The Implications Of Actress, Regina Daniels Marriage Induction Ritual To Ned Nwoko 
The teenager actress got married to the wealthy billionaire in May this year but public reaction was largely against the union which many believed was one of convenience owing to the age gap and the obvious difference of economic class.