Elated New Mum, @Miracletwinjj Tells What It Felt Like Battling Fibroid And Childlessness For 7 Years
A Nigerian woman has become a mum for the first time after battling fibroid and childlessness for the first seven years of her marriage. The unnamed new mum is beside herself with joy and has taken to her Instagram handle @Miracletwinjj to express the boundless joy that she feels at being doubly blessed as she has just welcomed her twin sons.
The elated first-time mum took to her social media page to share her travails during the harrowing wait including having to contend with friends and family who never failed to ask her embarrassing questions about her sex life, whether she was still married to her husband as well as reminded her that her peers had two or more children already.
READ ALSO: "I Was Barren For 16 Years, Used My Sister's Kids To Cover My Shame"- New Mum, Amara
The emotional mum who appears to be soaking in the bliss of motherhood said at no time did she conceive throughout the seven years and that she had given up hope of doing so after doctors told her severally that fibroids were responsible for her inability to conceive.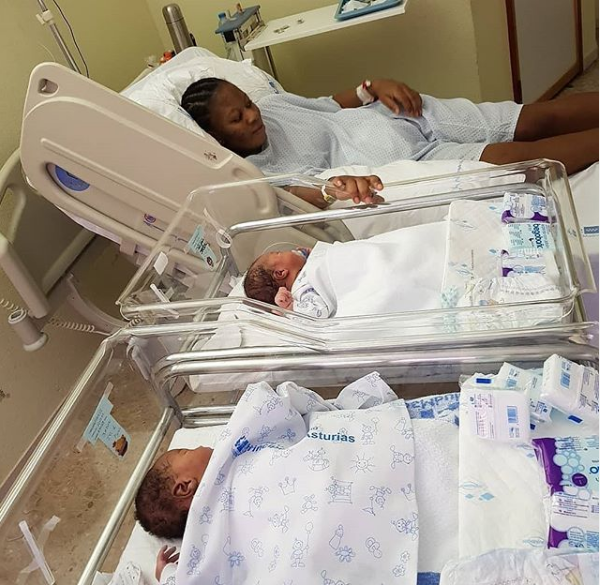 When she eventually booked to be operated upon at the hospital, she said she developed cold feet and cancelled but it was the very week of her scheduled fibroid operation that she received the good news of a positive pregnancy test.
The grateful mum did not mince words expressing what it felt like and what it now feels like.
Read her emotional caption:
My Miracle Twins has Arrived
My Miracle Testimony (God of Genesis 30:22)
After 7years of Marriage, God shut mouths of those asking:U never born?
E don Enter?

People calling you on phone just to ask, what is happening? Comparing u with those u got married with same year, they have 2 or 3 kids already ?

Is being long ur hubby visited, what is keeping him over there?
How do u cope with ur sex life, u dey try ooo?

How do u sleep at night alone?
Are u sure u are still married to him? WHILE:

I was praying, fasting and believing on God to change my story some day. I have taken different kinds of Herbal Medications, Visiting several Hospitals for solution, taking diff types of English Fertility Treatments but no result, not even one positive pregnancy let alone miscarriaging it, all these years.

BUT:
When I thought all hope was lost, God visited (God of Ecclesiastes 3:11). After series of tests, I was told, I had fibroid which was blocking my womb and has to be removed first, before they will know if there will be any chance of me getting pregnant at all.

I couldn't bear it, I had to report the case to God because the case was bigger than me but not bigger than my God, I kept praying, believing on God to do something, cried, couldn't sleep, wondering where the fibroid came from? asking God why?

I was booked for a date for the operation of the fibroid, I filled the form and signed it. But at a point I told my husband am not operating the fibroid again that am scared, that God will bless me with a child like that, with or without fibroid, that am going back to hospital to cancel the appointment.

That week am supposed to go for the operation was same week i found out I was pregnant, God of Jeremiah 32: 27, We were surprised, we did 3 pregnancy tests just to be sure, dancing and celebrating the marvellous work of God.

" What a Miracle God". After some weeks, we went for check up, that was when the doctor told us, they were two babies in my womb.What???

A womb with fibroid carrying two babies!! When we were asking God to bless us even if is only one child but He doubled the Miracle"
See her original post:
https://www.instagram.com/p/B2Kp-_nAMGa/