Here's What Hilary Clinton Believes Is The Reason British Tabloids Target The Duchess of Sussex, Meghan Markle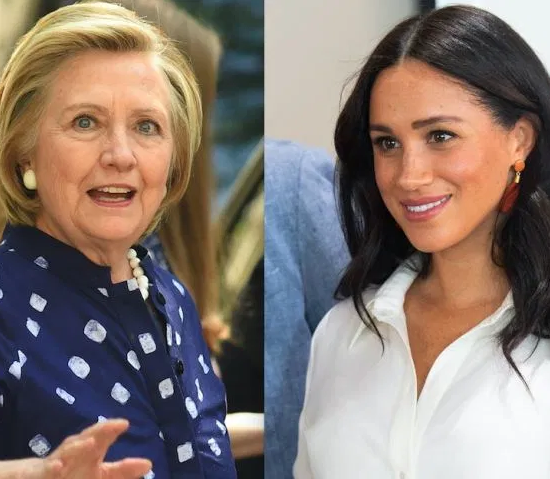 The Duchess of Sussex and mum-of-one, Meghan Markle has obviously being targeted by British tabloids since her marriage to Prince Harry. The 38-year-old has suffered many stings at the hands of British dailies who find blame with almost every of her move.  In a new interview for The Sunday Times of London, the former US Secretary of State Hillary Clinton, 71, defended Meghan Markle, saying her biracial background "certainly" played a role in the harsh treatment from British tabloids. Hillary Clinton said in the interview that she believes racism has something to do with the way Meghan Markle is being targeted by the British tabloids.
Clinton said this in response to a question about Prince Harry's latest move to sue three British tabloids. Clinton said during the interview:
"I do want to say that the way she's been treated is inexplicable."
READ ALSO: "I lost my mother and now I watch my wife falling victim to the same powerful forces"- Prince Harry Sues British Tabloid For Constantly 'Bullying' Meghan
Hillary pointed out that race is "certainly part of it."
"If the explanation is that she's biracial, then shame on everybody,"
Clinton added.
Clinton's daughter Chelsea was also asked the same question and she said that the way the British press treats Meghan is likely because she is super bold and "has a voice."
"She proudly had a career first and has a voice that she thankfully continues to use," 
Chelsea said when asked about the Royal family's decision to sue multiple tabloids.
"Anyone who has the temerity to break the mold of what has previously been established and expected often, unfortunately, receives criticism and bile that I don't understand," 
she added.
Prince Harry announced the decision to sue multiple news outlets at the beginning of October. He also shared a letter condemning the behaviour of the media.
"Unfortunately, my wife has become one of the latest victims of a British tabloid press that wages campaigns against individuals with no thought to the consequences – a ruthless campaign that has escalated over the past year, throughout her pregnancy and while raising our newborn son,"
he wrote in the statement.
He continued:
"There is a human cost to this relentless propaganda, specifically when it is knowingly false and malicious, and though we have continued to put on a brave face – as so many of you can relate to – I cannot begin to describe how painful it has been.

Because in today's digital age, press fabrications are repurposed as truth across the globe. One day's coverage is no longer tomorrow's chip-paper."