Celebrity Mum, Monica Denise Arnold Discusses Successfully Upholding Her Blended Family In A Recent Interview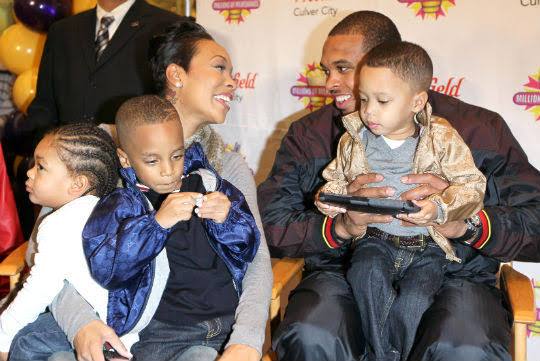 American R&B artiste and mum-of three, Monica Denise Arnold  has shared in an interview how she and her husband make their blended family work.
In an interview with ESSENCE Now,  the mum-of-three famous for her 'The boy is mine' duet with American songstress, Brandy  shared on her blended family and raising her children, two sons Romelo and Rodney "Rocko" Hill with husband Shannon Brown and their daughter, Laiyah Shannon.
"I'm very no-nonsense so if it doesn't make sense then I don't participate,"
the 38-year-old Atlanta native said.
According to Monica, putting the children first is always tops on the priority list, if it's not about them, it's not up for discussion, she says.
READ ALSO: Hollywood Actress & Mum-Of-Two, Tatyana Ali Words Her Thoughts On The Mixed-Joy Circumstances Of Her Journey To Motherhood In Heartfelt Essay She Titled 'Birthright'
"You have to think of the children first at all times and the reality is, if it's not about them it's not up for discussion. We have to tuck our feeling in as a blended family and say 'okay what would be best' and what's the best way,"
she continued.
On how easy it was for her sons to accept Shannon coming into their lives earlier on, the proud mum says, it was not much of a problem because her sons were very young at the time and were grateful to have a dad show them love.
"We were very fortunate because my boys were very young, two and four. They looked at it like 'oh my God, he treats me amazing, he so good to us.' He enjoys teaching them about sports and my middle son is very, very active in sports, he plays every sport—so it was easier for us because they were younger and they were able to get a chance to just to know him and not have all these other feelings."
The singer and the former NBA star married in 2010. In 2013, the two welcomed their daughter Laiyah together. Brown also has a son from a prior relationship.
Watch the video below: