Celebrity Single Mom, Tonto Dikeh Dishes Out Secrets Of A Single Mother's Success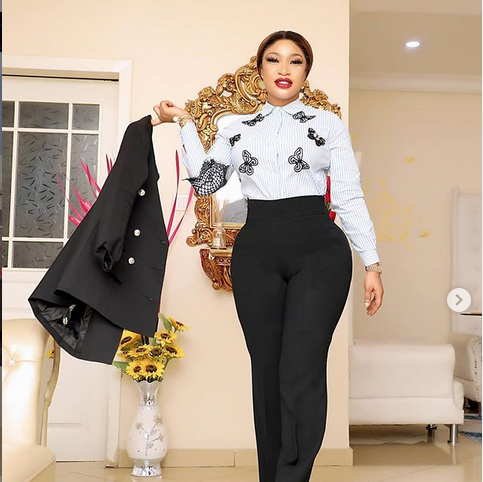 https://www.instagram.com/p/B4vD8qqnusx/
Recently, Tonto Dikeh got an award at the African leading women conference award 2019 and she gave a speech on the secret of a single mother's success.
In her speech, the TV goddess and businesswoman who recently announced she's into fishing business, encouraged single mothers to firstly RISE ABOVE THE STIGMA in the society they find themselves, adding 'there is stigmatization of single moms; they are seen as lonely, unpopular and associated with shame.'
Tonto, who is also a single mom, went on to advice that a single mom should NOT RAISE THEIR CHILD WITH RESENTMENT. They shouldn't not direct whatever happened between them and their ex partner to their child (ren).
She took to her Instagram handle to post the speech and share awesome photographs from the event.
"THE SECRET OF A SINGLE MOTHERS SUCCESS…

First of all, RISE ABOVE THE STIGMA.

In the society we find ourselves, there's A stigmatization of single moms; they are seen as bitter, lonely and popularly associated with shame because the cultural norms has it that a woman's with a failed marriage and kids is a failure to herself and to womanhood, but you must realize that you didn't fail, the marriage or relationship might have failed, but you protected your sanity, and your peace was restored.

It's easy for anyone to wag their tongues and rattle, but you know what you weren't through. All that matters is your peace and sanity. Society will always shame a woman for making decisions that serve her interest. Rise above the stigma. You are beautiful, confident, and strong.

Many times, I hear people say that single moms are used items all in the bid to shame and make us feel that we'd never have a partner, and some single mothers hide their kids just to attract men. It is ridiculous.

You have to own your identity a single mother, you are not a used item, you are a human being and your worth cannot be reduced to your failed marriage or the fact that you have a child outside wedlock. Wasn't it a man that impregnated you?
READ ALSO: Toyin Lawani Admonishes Single Moms In New Post: 'Never let your kids suffer the sins of their father'
Secondly, DO NOT RAISE YOUR CHILDREN WITH RESENTMENT.

Do not direct whatever happened between you and your ex partner to your children. Let them enjoy their innocence and grow up; you can open up to them when they are old enough to handle it but till then, train and groom them in a better way even.

I mean, everything you hated in your spouse should be a motivation to make you groom them to be better. If your ex was abusive, groom your boys to never be abusive. If your ex was selfish, groom your boys to learn the place of compassion and selflessness.

If your ex was lazy, groom your kids to be hardworking. Your children should a reflection of every good thing your ex lacked. I repeat, YOUR CHILDREN SHOULD BE A REFLECTION OF EVERY GOOD THING YOUR EX LACKED.
READ ALSO: "Single 'mom-hood' is not a disability" : Tonto Dikeh Charges Single Moms
BUILD A RELATIONSHIP WITH YOUR CHILDREN.

You must be intentional with building a relationship with your children. Their dad is absent, and you must make sure you build a friendship with them; an atmosphere of vulnerability and openness where they can talk to you about anything at all. Parenting is like a war between you and the world and you have to win by spending time with your kids or else the world will snatch them from you and instill bad values in them.

EXPOSE THEM TO CREDIBLE MALE MENTORS

If you know men who share same values with you; values you'd love your children to imbibe and cultivate, expose them to these men; could be a friend, uncle, pastor, coach, but please make sure they are trustworthy to avoid sexual abuse because a lot is happening. If you must expose them to male mentors as female children, please teach about abuse, let them know what it means to be touched inappropriately, and make them feel safe to open up to you.

READ ALSO: Stigmatisation Of Single Motherhood: Psychiatrist Reaches Out To Single Parents With A Message Of Hope

SAVING AND EARLY PLANNING.

As a single mom, sometimes it gets overwhelming to cater for the financial and material needs of your children, and you must adopt the system for saving. Open an account for them where you periodically drop some amount there.

It doesn't always have to be for a particular purpose but for unforeseen dry days. Plan! Don't leave things to chance. If I I want to go on a vacation with them, start planning early enough. This way you don't put so much pressure on yourself."