Olu Jacobs & Wife, Joke Silva Share Amazing Insights On Their 30+ Years Of Marriage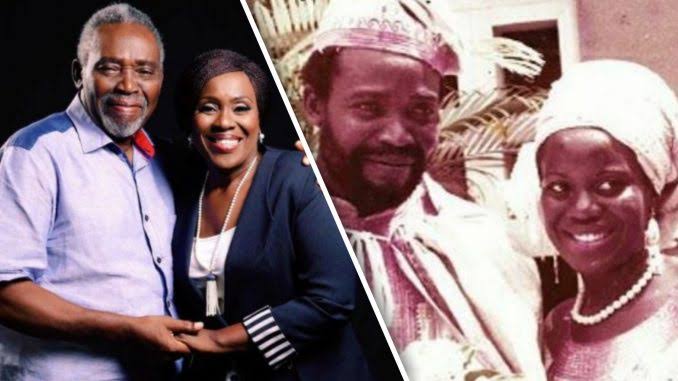 Veteran actors, Olu Jacobs and Joke Silva are definitely in a class of their own when it comes to the movie industry in Nigeria. With a combined total of about 78 years of experience between them, the duo undoubtedly fit the bill for a Nollywood power couple but that's not where the attraction peaks with their fans.
These Nollywood favourites have endeared themselves to Nigerians, not only for their prowess at acting but the couple have also had their reputations untainted despite being in show business. Their scandal-free marriage of over thirty years is deemed to be a shining example within and outside the entertainment sphere, and now, in a new interview with PUNCH's Tofarati Ige, the inspirational couple tell about their careers, Nollywood and did not hold back one bit on their amazing love story and marriage.
Read excerpts from the interview on their marriage and love story:
PART ONE (Olu Jacobs)
It is widely believed that marriage between entertainers cannot work but you have put a lie to that. How were you able to make your marriage stand the test of time?
When one is thinking for oneself alone, one has nobody to worry about. But the moment one has a partner, one's thoughts change because everything one does from that point has to be done for two.

Until one understands that, one cannot be said to be truly married. You have to factor in your partner in your thoughts at all times.

Also, you have to come to an agreement (over certain issues) because there is no point in disagreeing.

You must be able to talk to each other calmly, politely and respectfully, without shouting. If you have a tight schedule, you have to make sure you still find time for your partner.

In any relationship, both partners must be open and frank with each other. If you disagree, you can take some time to calm down and come back to deal with the issue.
The first time you met your wife, you told her that you were going to marry her. What gave you the confidence to say that?
There are things one does that one cannot explain. Prior to the time we met, I had never seen her before in my life.

But when I saw her that day, I didn't even think about it– the words just came out.
READ ALSO: Veteran Actress, Joke Silva Gives Practical Advice To Childless Couples On Adoption As She Reveals She Was Adopted
What were the qualities that endeared you to her?
She goes straight to the point and doesn't mince words. I find that to be a very good quality. She is strong and polite. She is indeed a good girl.
Some people believe that African men are not romantic. What's your take on that?
What do they know? Didn't God know what he was doing before he brought the Caucasians.

We are the (real) romantics, the white people are just followers. And that is what they have always been doing– following us.
What romantic things do you do to keep the fire of love burning in your marriage?
It is nothing defined. If I see something she likes, I would get it for her and she also reciprocates. We do things for each other and it is very difficult to fight with each other.
Do you engage in any house chores?
If I am in the house, I do. I enjoy cooking and sometimes, I join her (Joke) to talk and get things done around the house.
READ ALSO: Michelle And Barack Obama Celebrate 27th Wedding Anniversary With Moving Words To Each Other
PART TWO: (Joke Silva-Jacobs)
Many entertainers have said that marriage between two entertainers can't work. Do you think your 30-year (and still counting) marriage to an actor puts a lie to that 'theory'?
"I honestly do not agree that there are more marriage crashes in Nollywood than in any other industry.

This is happening because the lives of the people in the entertainment industry are out there. Divorces happen in every industry– whether it's medicine, law or engineering.

That being said, I think one of the challenges we have in our industry is that sometimes, people get married to an 'idea' of a person, not the real person. Someone could be so in love with Joke Silva because he sees her on the screen.

But, that you see Joke Silva in films does not mean that you know her. Sadly, there are a lot of marriages (built on that premise) in our industry today.

Sometimes you see people who worked (in a movie) together getting married. That is because there is something called the 'energy' of a play because one must connect (with one's co-actor) when one is working.

It is that connection that some people assume to be love but it's really not.

Once you leave the location, the 'energy' goes to the next project. One needs to understand that so as not to get carried away."
What went through your mind the first time you met your husband?
The first time I met him, he said I was the woman he would get married to. I looked at him and thought,

Who says that to a lady he's just meeting for the first time?" but we became very good friends as time went on.
When he said he wanted to marry you, what was your immediate reaction?
I felt put off. He later apologised and said he didn't know where that came from. We got closer after that.
Do you discuss work at home?
We discuss movies, and our other works a lot at home.
What are some of the things you do to add spice to the marriage over the years?
I don't know (Laughs). I just…I don't know.