Social Media Agog As The Controversial Francis Van Lare Finally Chooses A Winner For His 'Trip To Venice Indecent Proposal'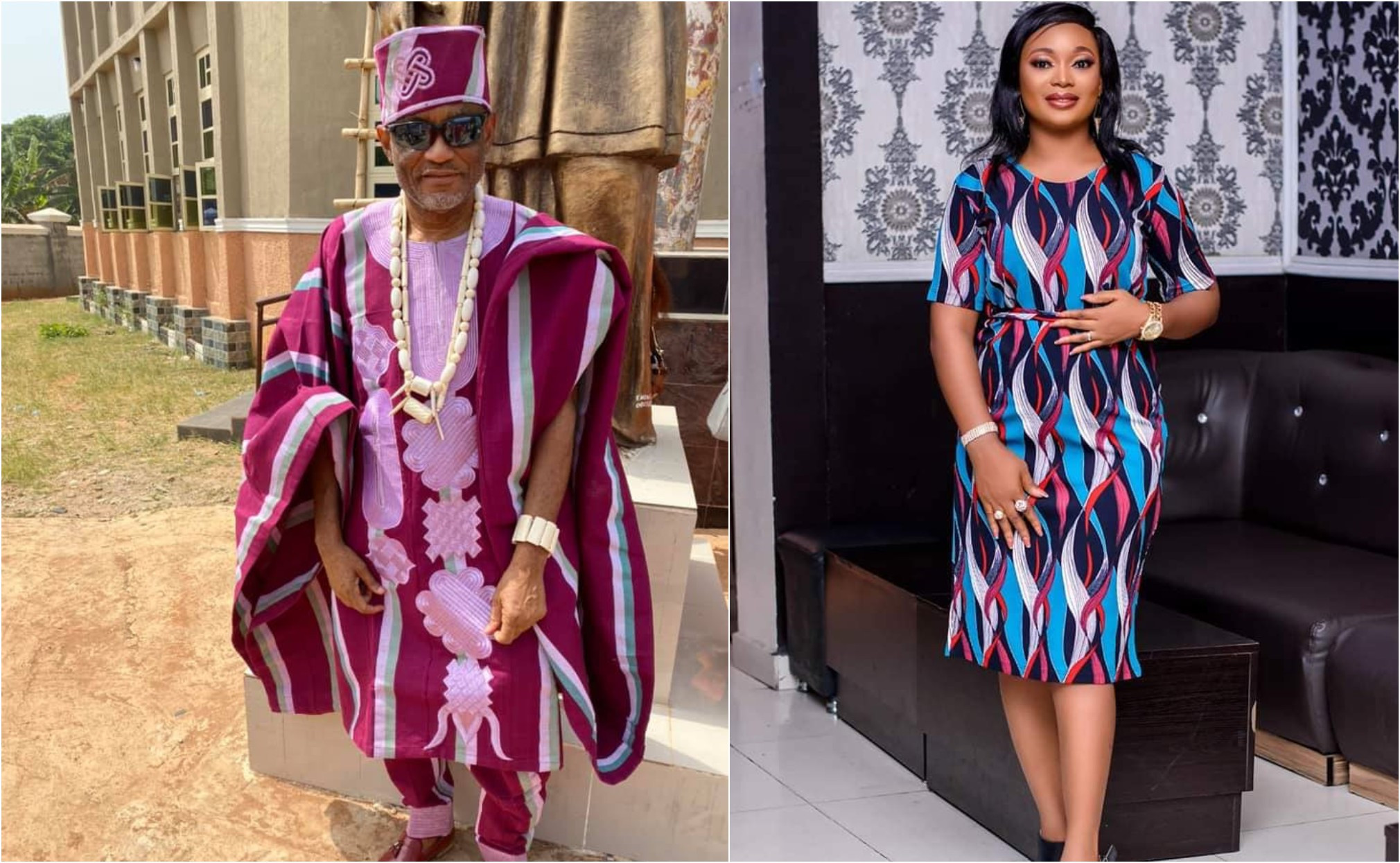 Oluwapelumi Wonder, said to be the wife of a Pastor has won Francis Van-Lare's 'indecent proposal' of spending one week with him in Italy. Francis, a serial divorcee and US-based pastor was also married to relationship blogger Amara Nwosu  between 2014 and 2017.
The happy-go-lucky man sparked controversy on social media a few days back when he offered to give the sum of $2000 to any married Nigerian man who would agree to let him spend one week with their wife in Venice, Italy.
Francis who claimed that the aim of the offer is to spice up marriages, also promised the women a gondola ride, breakfast in bed every morning, spa and massage, Italian fine wine and shopping.
He wrote;
"Will you accept my proposal ?
If you are married for less than 10 years and you need some spice in your life and willing to spend a week with me in Venice ITALY this summer and we go on a gondola ride together , breakfast for you in bed every morning , spa and massage , Italian fine wine, dancing , shopping etc .

When you get back , you will be given $2,000 to give to your loving husband to thank him . Please post your best photo here and tell me why you should be chosen for this trip . Entry closes January 11, 2020 at 5pm GMT
Don't advertise on this post or you will be blocked"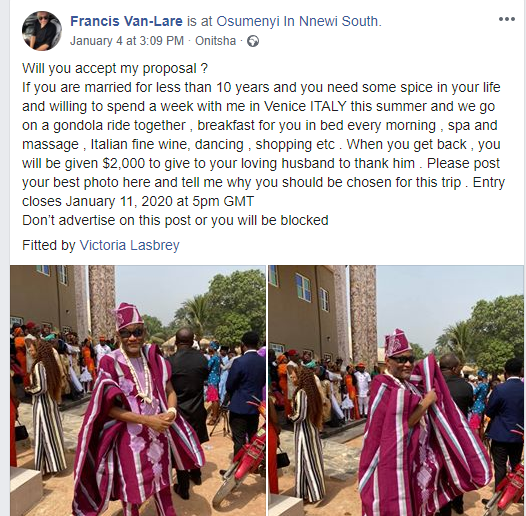 Quite surprisingly, not a few married Nigerian women or mums took him up on his offer and sent pitches on social media as to why they are most deserving of the experience to leave their families behind and enjoy a get-away in Europe.
Well, Oluwapelumi, a pastor's wife has emerged the winner of the awkward challenge but there's a twist. Mr Van-Lare has said he was prompting his followers to think outside the box and that the $2000 is for the husband of the lucky winner to join his wife on her trip where they can bond even better and spice up their marriage.
READ ALSO: South African Man Shares Unbelievable Reason Why He Cheated On His Ex As He Apologises To His Ex
He wrote;
"The Indecent Proposal . I have to close the thread early as contestants are being bullied . We have a winner . The Pastor's wife Oluwapelumi Wonder.

I keep telling all of you to think as if there is no box but you will not listen . The husband will be given $2,000 as promised but he must use it to buy a ticket to Venice ITALY and be thought how to spice his wife by my Italian friends who are experts in romance .

While there, take her on a gondola ride , give her breakfast in bed , wine and dine her , go dancing , shopping etc and my expectation is that this trip will take their marriage to the next level .

I never said I will do all these for her myself , I said she will get all those spice but did not say by who .
If I had posted a free trip for couples everyone who thinks inside the box will jump in .

Oluwapelumi has her own business and happily married and not hungry but she and her husband do not think in the box .

To quote her she participated because someone who wants to sleep with a married woman will not post it on facebook so she thought as if there is no box .

Of course I will travel with them and pay all expenses and bring my Cinderella along too .

Congrats Oluwapelumi ."
See screenshots below: