Duchess Of Sussex, Meghan Markle's Father Is Set To Testify Against Her In Court, Shares Text Exchanges With Meghan To Suggest She Is An Insensitive Daughter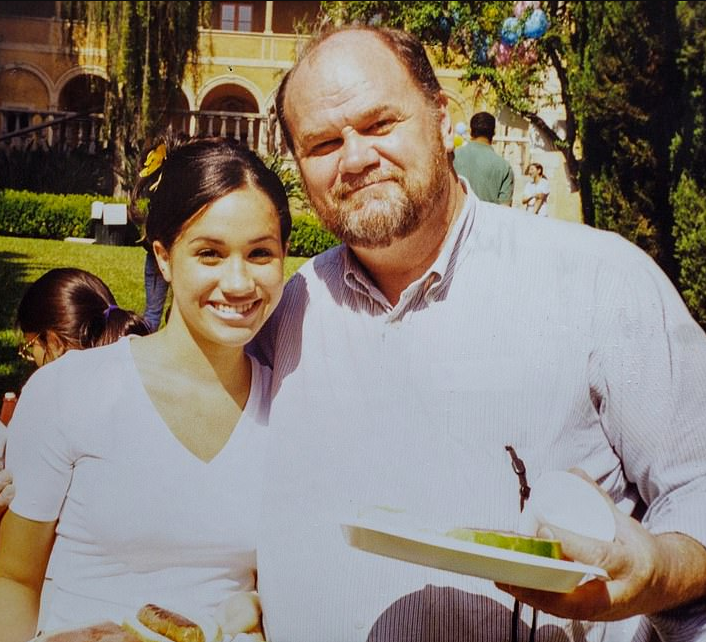 The Duchess of Sussex, Meghan Markle's father, Thomas Markle Sr. is prepared to give evidence against his own daughter in an extraordinary legal case. Meghan's estranged father is expected to be called as a key witness for the defense in a court case she has brought against a newspaper. Mr Markle, 75, has given lawyers previously unseen text messages and letters sent in the build-up to Meghan's wedding to Prince Harry that reveal the breakdown of the relationship between father and daughter.
The messages set out how he made desperate attempts to mend their relationship after heart surgery forced him to miss her wedding. Some of the messages were detailed yesterday, January 14, in defense papers filed at the High Court in London.
READ ALSO: Queen Elizabeth, Thomas Markle, Oprah Winfrey And Others React To The Shocking Announcement Made By New Mum, Meghan Markle & Hubby, Prince Harry
The documents say that after Mr Markle messaged his daughter saying he couldn't come to her wedding because he had been rushed to hospital for emergency heart surgery and told not to fly on health grounds, he received a text that appeared to be from Prince Harry. The message admonished him, accused him of causing hurt to his daughter and did not ask about his health. It left Mr Markle "deeply hurt".
Replying to the text, Thomas Markle wrote:
"I've done nothing to hurt you Meghan or anyone else … I'm sorry my heart attack is … any inconvenience for you."
In another message, Mr Markle said that Meghan had effectively "written me off". The Duchess of Sussex launched legal action against the Mail on Sunday last year after it published extracts of a letter she wrote to her father in August 2018. Meghan, 38, accused Mail on Sunday – the sister paper of the Daily Mail – of breaching her privacy, her data protection rights and her copyright when it published extracts from her letter to her father.
The Mail on Sunday filed its defence to her case at the High Court in London yesterday. It denied her claims and argued there was a "huge and legitimate public interest" in the Royal Family, including its "personal and family relationships".
According to Daily Mail, the defence papers filed by Mail on Sunday also said:
Thomas Markle only released Meghan's letter to the world to show it was not the "loving" plea her friends had been making out;
He had kept her handwritten note private for months, and only revealed it to expose "false" claims that the duchess had been reaching out to repair their relationship;
He only decided to release extracts of the letter to the Press after she had allowed her friends to talk about it first in the US magazine People;
That one of Meghan's best friends, Jessica Mulroney, once intervened to try to fix a "favourable" press article for the duchess;
Mr Markle had insisted he made multiple attempts to contact his daughter by phone call and by text message, but received no response;
That apart from the August 2018 letter, Mr Markle had not heard from his daughter since he told her he was too ill to attend her wedding. He had never been introduced to her husband Prince Harry, nor met his eight-month-old grandson Archie.
READ ALSO: Prince Harry And Wife, Meghan Markle May Be Courting Trouble With Their Latest Announcement
Lawyers for Mail on Sunday said Mr Markle gave the letter to the newspaper after unnamed friends of the duchess told the People magazine that she had written the "loving" letter to her father in an attempt to repair their relationship. So Thomas Markle was forced to release the letter to show that it wasn't "loving" as claimed.
Lawyers for Mail on Sunday alleged that Meghan had "knowingly" allowed her friends to leak details of the letter to the magazine – effectively that she had helped to breach her own privacy.
According to Daily Mail, if the case goes before a judge, Mail on Sunday said it would ask for Meghan to be forced to hand over all communications in which she had
"caused or permitted her friends to provide information about her to the media or to seek to influence what is published about her".
It could lead to the prospect of Meghan coming face-to-face with her father in the High Court.