See Why Nigerian Girl, Praise Chukwumaife Has Taken To Social Media To Disown Her Parents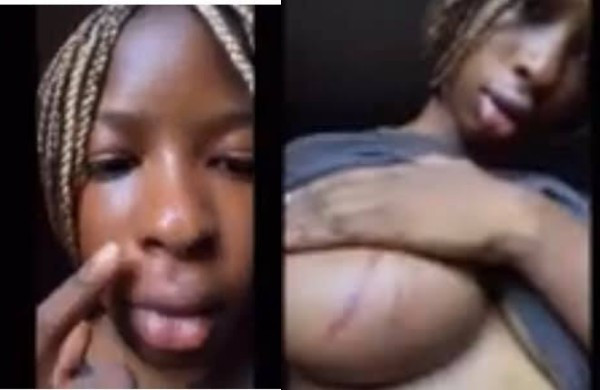 A Nigerian girl who goes by the name Madam Praizzy on social media has accused her parents, Bishop Jude Nkemdilim Chukwumaife and Pastor Favor Agaezi Chukwumaife of abusing her sexually and physically.
Praise otherwise identified as Madam Praizzy who shared a video in which she showed the injuries she sustained after allegedly being assaulted by her father, who she described as Bishop Jude as a former cultist, a lazy, angry and frustrated man who blames her, her mother and her sibling for "bringing him down".
She also described her mother as a narcissist and a nymphomaniac, who ended up leaving her marriage after 22 years of frustrations and abuse.
READ ALSO: Nigerian Man, Emmanuel Egelonu Publicly Gives Reasons Why He Loathes His Mother
Asides recounting the physical abuses she allegedly faced in the hands of her father, Madam Praizzy also accused her mother of forcing her to have sex with an unnamed Pastor, while hoping that she (Madam Praizzy) will become the cleric's wife.
Her lengthy post tells all the horrific details of her story.
Read below:
"March 22nd I was born.

2 years later, udochukwu was born Feb 22nd to the family of Bishop Jude Nkemdilim chukwumaife and pastor favor agaezi Chukwumaife/okoli.

My father and my mother fight every day. In the morning we wake up to fight. As a child, I became a mother of four, and years later, I became the father; everyone looking on to me to provide needs.

My mother would leave the house and come back late in the night, 12 am, on good days 10pm. My dad beat her to stop keeping late nights and fucking men.

She would run out of the house and prophets and maybe her mother would have to bring her back. She fucks multiple men and tells Udochukwu, Jude is not her father; that it's some dead man called Chidi Ike.

Jude is former cultist, an angry man. He hits Favour a lot with all manner of things including pounding moter, AKA, aká odo.

He's a frustrated man – he blames Favour and us his children for bringing him down. He exaggerates, he spreads so many made up stories about how he's failing, meanwhile he's lazy and spends all day on Facebook without even showering (that's how I learned social media and became a public figure).

My mother is not a saint either – she is a narcissist and a nympho. She's another messed up fucker. She ended up leaving after 22 years of frustrations and abuse. She has a lot of stored up anger and she became a witch. Using juju to take revenge on the family that she claims caused her so much pain.

I forced myself to stay in school after years of begging and fighting away from hell to a virtual space. I started getting my own space in year 4, the end of school year. The year my lecturer decided to frustrate the hell out of me.I started having peace of mind and focusing on my life while in school.

After years of disconnecting, I felt I should come back home for the sake of love, family love,
I found myself in my mums house first, because a mother's care is just so ahhhhhh orgasms (you know what I mean yeah)

I stayed with her after a few months of desperately needing a home.
She took me to this weird juju prophetic church in the outskirts of gariki.

My mother is evil; how can a pastor of more than 23 years go to such church where they kill people in real life and rape children. She did charm to bring Udochukwu and I to stay with her.

She kept boasting of how her pastor brought us to her and he's powerful. She collaborated with the pastor to rusticate me, even pushing me to have sex with the man in the hopes I will become his wife. Twisted, right? I was in the spiders web and she was feasting off me. Every Morning she would curse me.

It was hell and we could not even leave the house. She would lock us up and go out to the streets, spreading lies, and fucking multiple men. I even found out she fucked her evil pastor 

The day my intuition led me to break her wardrobe, I discovered a doll tied up and my hair with weird prayers. My mother pastor favor agaezi Okoli IKUKU has been bewitching me and Udochukwu.

At the sight of me finding out, she ran out and reported me to the police and forged fake applications against me. She took the laptop and hid it. Such wickedness. We ran away from her house. We got several accidents when we escaped.

Ah! my own mother snitched to the police.

E pain me o.

I ran away and started hawking. Igbo people threw me to the Hausa community and they cared for me during my days of hawking in the hot sun. Accidents were constantly projected towards me. Accidents where the two drivers didn't know what was happening, and how they lost control of their steering.

Omoh, I so was scared. I ran to my dad THE BISHOP of a Pentecostal church in Enugu for spiritual covering. But it was still hell staying with a woman beater; even though he's a pastor. On youtube you'd find out that he didn't really care for me nor udochukwu.

Every night I cried from the cruel mean things he told me. Cursed me all the time like I'm the reason for his church failure? I continued self hurting and turning so toxic. I became rebellious and did things that hurt myself. The booze would help me for a few minutes. I promised jude I won't smoke anymore.

Yesterday I received the beating of my life, I ran on the streets of new haven out for safety. But there's no safety on the streets, found out after he dragged me by my hair ready to kill me on the spot.

Everyone is saying to put the post down cos people are laughing at me. But who ever laughs would receive double portion. Amen Amen Amen. Praise Mariya!

I got serious beating for saying No to abuse. I'm tired of this abuse Abeg. I ran for my life. On march 22nd my birthday I say No to the name chukwumaife.

My mother is a witch and my father is the king of wickedness. And I no want. I'm choosing a fresh start today. Goodbye hell!"
She also wrote on her YouTube page;
"From physical abuse to sexual abuse. I've lived in hell. Waking up to curses every morning. what is wickedness? Toxic house? I'm so sad. I've been depressed for years. How do you get out of depression? Have you ever said no to abuse? Do you take any substance to fight depression? Have you ever hurt yourself? Everywhere hurts.

My back hurts, Pure wickedness My hair was yanked off my head I am your father, it is my right I have no tears left to cry Everywhere hurts from my neck to my back Eventually when I beat her, She put it on WhatsApp Telling the whole world.

Playing the guitar singing This pain I feel would it every end Would it ever end Let me die Let me die die I disown you.

I don't want you to ever say my name My father is a monster Worse than coronavirus I get bruises on my body And my back is sore I wanna die Were adults I'm sure you people are asking people for help

Looking dorehere to run to Udochukwu according to you You are looking for where to run to They would give you Relax they would give you I'm really sorry for bothering you guys Coming on this live camera just made me feel better And playing on the guitar made me feel better.

 If you have anyone around you going through some kind of abuse Just hold them close and tell them some nice words Cos this works is just really a bad place And to be fighting with the person you love Is just the worst I'd just go back to crying and not bother any of you So bye"
See the screenshot below:
Watch the video below
https://www.youtube.com/watch?v=Nl1pHsRMVNc