President Trump Gives Strong Terms To Meghan Markle & Prince Harry As The Couple Decide To Now Live In Los Angeles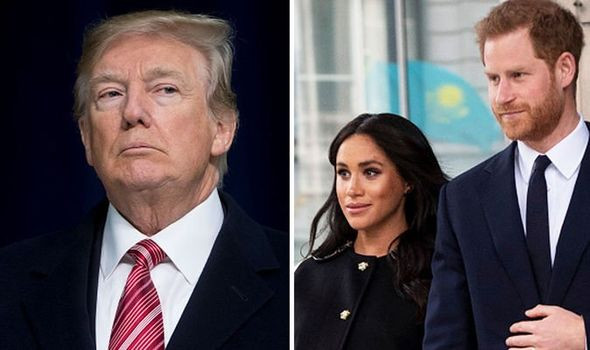 After their exit from the United Kingdom for Canada, Meghan and Harry took their 10-month-old son, Archie across the border from Canada to the US to start a new life in Los Angeles as they both hope to profit off merchandising while Meghan plans to restart her Hollywood career, DailyMail reported.
In response to this, US President, Donald Trump has announced that the United States government will not pay for the security of British Royals Prince Harry and his wife, Meghan Markle if they decide to leave Canada and relocate to the United States.
Harry and Meghan are set to complete the final stage of 'Megxit' next week meaning they won't be classified legally as British Royals.
READ ALSO: Meghan Markle's Father, Thomas Markle, Disappointed In Her For Doing This
A royal source said the pair's stepping down removes any obligation on the US government to pay for their security. The United Kingdom and the United States have a long-standing reciprocal agreement when it comes to bodyguards protecting US diplomats and members of the Royal family.
Trump, who is disliked by Meghan, has the final say as president over whether Meghan and Harry can have diplomatic protection in the US, but dashed hopes of the couple, revealing on Twitter that they would have to pay for special protection if they need it.
In a tweet on Sunday, Trump said:
'I am a great friend and admirer of the Queen & the United Kingdom. It was reported that Harry and Meghan, who left the Kingdom, would reside permanently in Canada.

Now they have left Canada for the U.S. however, the U.S. will not pay for their security protection. They must pay!'
https://twitter.com/realDonaldTrump/status/1244338645198352386?s=20
A Royal Palace source speaking to Daily Mail UK said:
"The couple would have had to rely on President Trump to make an exception to cover the costs",

It will be down to Harry or his Met Police protection officers to ask for help,' the source said.

There is a reciprocal agreement between the US that allows protection officers to carry their weapons. But Harry is no longer a serving royal and that is why his protection in Canada from the Mounties was withdrawn.

Someone is going to have to ask the State Department, and ultimately the decision rests with Donald Trump, for assistance. Harry cannot live in the US without armed protection.'