COVID-19: Jigawa State Government Receives Hundreds Of Almajiris Deported From Kano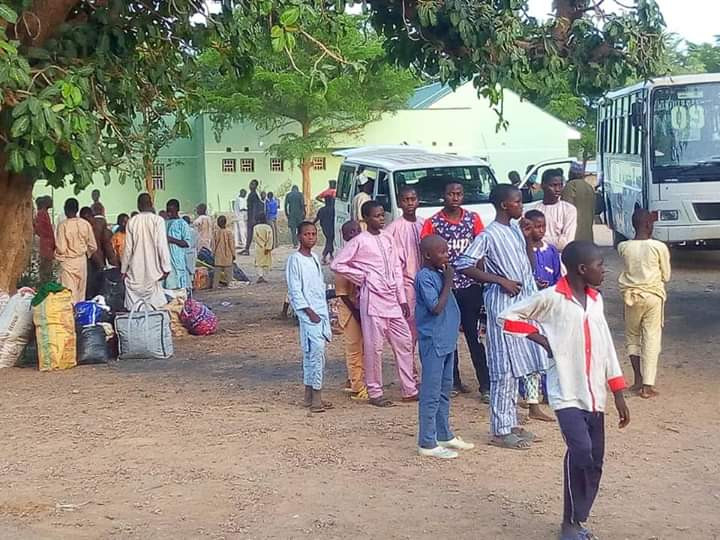 By the time the COVID-19 pandemic is over, it is certain that people and systems will not operate as they always have, just as the almajiri system that operates in the northern part of Nigeria where many vulnerable children roam uncatered for in the name of seeking knowledge is now witnessing some change. It appears that what discussions have failed to achieve over the years will finally be addressed by the need for change that the COVID-19 pandemic has thrust upon everyone. On Wednesday, April 22, 2020, the Kano State Government said it had deported 524 Almajiri children roaming the streets of Kano to their state of origin- Jigawa. The Jigawa state Government has now acknowledged that it received 524 almajiris deported from Kano state.
The state Governor Alhaji Muhammad Badaru Abubakar who received the almajiri at the NYSC camp in Jigawa on Thursday, said they would undergo medical screening before they are allowed back to their homes.
According to the Governor, the children would be provided with beds and food until they are declared safe to be safe to mingle with other people in the society.
READ ALSO: COVID-19: Kano State Government Begins Deportation Of Almajiris
While responding to journalists, the Governor said Jigawa has no intention to evacuate non-indigene almajiri to their states as this would pose more danger in the spread of covid-19.
The commissioner of Education, Mr Sunusi Kiru, who led the team that brought the almajiri to Jigawa said the children went through medical screening before they boarded for Jigawa.
More photos below…