Sex During Menopause: Read How Funsho & Chidinma's Story Changed After 23 Years Of Marriage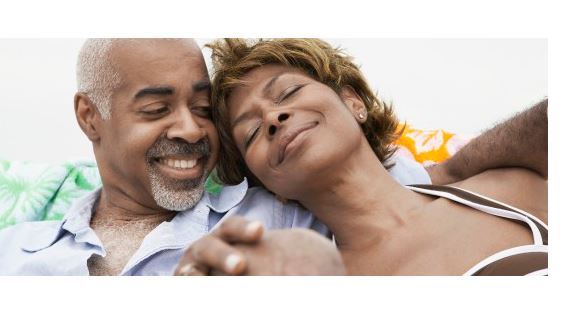 It was like heaven on earth in the first 12 years of Funsho and Chidinma's marriage, particularly during the first five years. Every day after work, the couple looked forward to going home to spend quality time with themselves.
At some weekdays, they attended movies and ate at choice restaurants, while at weekends found comfort at beaches and hotel swimming pools. And then, at those lovely moments, the couple usually rounded off their romantic getaways with amazing sex. Life was good and they knew how to enjoy it.
However, the story changed after 23 years of marriage. Funsho was stunned to find out his wife had lost the desire for sex like she used to do. He neither offended her nor refused to cater to her needs again. Funsho, a worker in a commercial bank in Lagos, said during a chat with PUNCH:
"My wife later told me, after several complaints from me, that it wasn't her fault, that she just wasn't enjoying sex like she used to do. I was shocked."
Meanwhile, after a while, they both realised they were no longer young. Chidinma had reached menopause, the period in a woman's life when menstruation ceases.
Funsho confessed that he almost started cheating on his wife with women younger than her until they both consulted a gynaecologist who gave them certain tips to enjoy sex again. He added:
"Today, my wife is on a new level in the bedroom. From my new experience, menopause shouldn't stop couples from enjoying sex."
According to Mayo Clinic, menopause is diagnosed after a woman has gone 12 months without a menstrual period and it typically occurs between age 40 and 50, although some women experience it in their late 30s.
In the months or years leading to menopause, women might experience irregular periods, vaginal dryness, hot flashes, chills, night sweats and sleep problems.
Other symptoms indicating menopause are mood changes, weight gain and slow metabolism, thinning hair and dry skin, and loss of breast fullness.
Truth be told, a woman may never know what happens to her sex life when she reaches menopause, according to Dr Morayo Alabi, a gynaecologist at one of the private hospitals in Ibadan, Oyo State.
"While some women experience higher sexual drive when they reach menopause, some experience lower drive," Dr. Alabi said via a telephone interview, adding, "You just don't know what will happen to your body."
SEE ALSO: Women Who Have More Sex Have Lower Risk Of Early Menopause- Study
The Medical Director of Oasis Women's Sexual Function Centre, California, United States of America, Lisa Valle, also said "menopause and sex don't always go hand in hand."
She said at menopause, a woman's ovaries stop making oestrogen, the main female sex hormone, noting that this could be a tough adjustment because oestrogen is responsible for many bodily functions including keeping the vagina lining elastic and moisturised.
Valle also said oestrogen helps to power women's libido, hence without it, vagina tissues grow weak, leading to vagina dryness and making arousal more difficult.
"When you have penetrative sex, it can hurt and even cause tearing inside the vagina," she said.
However, Valle said not all women usually experienced painful sex after menopause. In fact, she said without the fear of pregnancy, some women could be more relaxed during intercourse. She added:
"And at this point in life, they typically don't have young kids to take up all their time, so there's more opportunity to enjoy the action."
But for women who have uncomfortable or downright painful sex because they have reached menopause, gynaecologists suggest the following ways to regain their sex lives again.
Invest in a good lubricant
One of the realities of menopause is vaginal dryness during menopause and it happens to almost every woman, according to a sex therapist, Sari Locker. Locker wrote on womansday.com:
"For a healthy, comfortable sex life after menopause, lubrication is key. If you've never had to use lubricant before, don't be shy about starting. Too many women are intimidated about using lubricant because they think that they will have to use a sticky tube of old-fashioned, medical-style lubricant.

"In fact, today's modern, sensual, water-based lubricants can actually enhance sex in addition to making it more comfortable. Some lubricants provide women with a smooth, slick feeling that is not sticky and feels natural."
A clinical professor of obstetrics and gynaecology at the Yale School of Medicine, US, Mary Minkin, also advised women who have reached menopause that when they were ready to hit the bedroom, they should apply a water- or silicone-based lubricant.
"If you've never checked out lubricants before, you'll be amazed at all the varieties including natural, additive-free versions and some that come in single-use packets for a quickie on the go," she wrote on health.com.
SEE ALSO: How An Apple A Day May Keep Bothersome Menopausal Symptoms Away
Although this seems counterintuitive, but medical experts said having more penetrative sex could actually help prevent vagina tissue from thinning and becoming irritated.
That's because arousal causes increased blood flow to your genitals, which keeps vagina tissues healthy," Minkin said.
Engage in prolonged foreplay
A psychologist and sex educator in Washington DC, Dr Dorree Lynn, recommended prolonged foreplay to arouse sexual drive. Lynn wrote on WomansDay:
"Foreplay should start in the morning with wake-up kisses, gentle pats on the butt, hand holding and whispering sweet words during the day.

"It's all part of heightening the desire, pushing the sex drive, both partners taking more time and care to enjoy their sexual experience to the fullest."
Also, Valle said women at menopause might have to work a little harder than usual to get out of their state of panic and be in the mood. She also suggested the use of sex toys. Valle further stated,
"Don't think your sex life ends once you go through menopause. I know an 80-year-old woman who still has sex with her partner. It's a different stage of life, but a good sex life is still possible."
A gynaecologist who teaches at the Harvard Medical School, US, Dr Hope Ricciotti, said one of the best ways for a woman who has reached menopause to increase her libido is to work on her health first, which means increasing how much exercise she's getting. She also wrote on WomansDay magazine:
"I think of sex drive and function as part of holistic health. If you are unhealthy physically or emotionally, sex drive will certainly suffer. Having energy from a healthy diet and regular exercise, along with good sleep and mental health, are key ingredients for a healthy sex drive."
Boost your self-confidence
A sexual expert for about.com, Dr Elizabeth Boskey, said "a lot of the changes that happen during menopause aren't just physical, they're mental as well."
She said menopause could change the way some women think about their bodies and sexuality, which consequently affect their self-esteem and sexual drive.
Boskey encouraged women who feel awkward about themselves because they've reached menopause to change their perspective and try stuffs like reading self-motivation books and playing sexy music to boost their sexual self-confidence.
Minkin stated that if women had tried over-the-counter options and still experiencing vagina dryness affecting their sex drive, they could try low-dose oestrogen vaginal creams containing the anti-aging hormone, docosahexaenoic acid, simply called DHA. She said,
"A cream isn't your only option. Tablets and rings that go into the vagina and are absorbed via skin are also available. Also, a once-a-day, hormone-free drug, Osphena, has been approved by the FDA (Food and Drug Administration, US) that helps thicken vagina tissue so that pain and tearing are less likely."
Minkin, however, said Osphena wasn't for everyone, "so if you're considering it, check in with your ob-gyn and find out if you're a candidate to take it."
Talk it out with your partner
Discussing with your partner can help alleviate the stress and anxiety associated with sex at menopause. Minkin said:
"If your partner isn't the talky type, your ob-gyn is available to lend an ear. I always encourage women to have a good, trusted gynaecological health care provider to speak with. A doctor, nurse midwife, or nurse practitioner can be a valuable source of advice.

"You may also want to talk to a sex therapist, who can help you be more open about what you need and want from your partner as well as reminding you that the changes you're experiencing are perfectly normal."