Hausa Woman Gets Divorced By Her Husband Of 19 Years Over What Many Would Consider Flimsy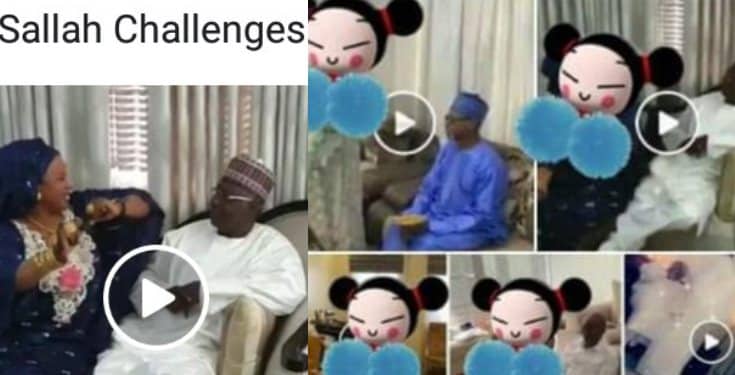 A mum-of-three from the conservative Northern part of Nigeria has allegedly lost her marriage of 19 years over what many would term flimsy. Over the Eid-al-Fitr holiday, Arewa women engaged in a challenge which involved dancing for their husbands and sharing the video with the hashtag #DancingForHusbands Challenge.
The Dancing For Husbands challenge gained popularity among northern wives, with their husbands appearing in the videos -typically about 40 seconds long.  While most of the men sat conservatively and watch their wives advance towards them with modest dance steps, a few of the husbands got up to participate in the shenanigans.
READ ALSO: Regina Askia On The Lessons To Be Learnt From Sharing About Her Marriage & Divorce Publicly
As much as the challenge provided beautiful content that was enjoyed by social media users, one woman's marriage is in rue over the matter as her conservative Arewa husband found it to be in bad taste that such video of them made its way to the public.
A Facebook user took to the platform today to reveal that one of the women who engaged in the challenge has been divorced by her husband. The woman according to Bature who shared the news is his only wife and they've been married for 19 years but he allegedly divorced her for sharing an intimate family video online.
Sharing the news, Sanusi Bature wrote:
"I just realized that one of my former bosses divorced his wife for releasing to the public, the #Dancingforhusbands challenge last night.

The most unfortunate thing, it's a marriage of 19 years with 3 kids, she has been the only wife in the house."
Most of the videos have been taken down but for context watch this one below where it is the husband doing the dance for his wife:
Meanwhile, anyi U-turn?#Dancingforhusbands pic.twitter.com/gZZGgXxSVy

— Usman Kafarati (@kafarati006) May 27, 2020