Actress, Bimbo Oshin Speaks On The Staying Power Of Her Marriage Of 17 Years To Hubby, Ola Ibironke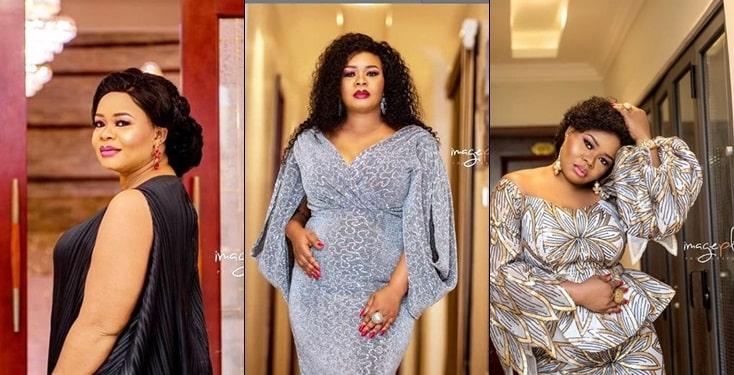 Business woman and actress Bimbo Oshin is one of the most highly respected movie veterans in the Nigerian movie industry today. Besides being a successful actress, the mum-of-two is happily married to popular music promoter based in America Ola Ibironke popularly known as Dudu Heritage.
Opening up on how she has successfully kept her home for 17 years now, Bimbo Oshin told City People thus:
I give almighty God, all the glory. It is not by my might. When you marry your friend, that is what you get. One thing about me is that I balance everything.

I know when to go work, when to have time for family, so I balance everything in my life perfectly. I know when to go to work, when to take care of my family, so no aspect is lagging behind, I try as much as possible to balance it.

I give God all the glory.
READ ALSO: Read This Powerful Post Shared By New Dad, Actor, Brown Igboegbu On How People Tore Him & His Wife To Shreds During Their 10 Years Of Childlessness
She continues to say:
Marriage is like a black market. It is only God that help. Like I earlier said, it is not by my might but by his grace that has kept me going.

No one goes into any marriage with plans of breaking up later, there are things involved when you are going into marriage.

As a celebrity, you need to bury that stardom. If you want the marriage to work, because no man will want to marry a woman that won't attend to him, no man will want a woman that will not obey him or be submissive.

Fine, we are not slaves but as a woman, you have to do what your husband wants, and when you need something from your husband, there are ways to go about it and achieve your aim, there are ways to approach him.

For me, if I need something from my husband or I want my husband to do something, there's a way I go about it, I beg if need be at least, he is my husband.

I don't do things against his wish because he is the head of the family. I get my husband's approval over anything I do, if he says no, then I relax.
Speaking on being mindful in her conduct and profession, Oshin shares that she tries to put her best foot forward always because she doesn't want her children to read unpleasant news about her in the future.
A very simple and free-spirited person and above all, I always remember what my father told me. He said,

I should always remember the daughter of whom I am, keep a very good name and not tarnish my image

and I should always be myself and all his words and advise has kept me going right from the beginning till date.

So am very careful with what I do, I have kids, and I don't want them to goggle my name on the net, and read rubbish or anything that will affect them tomorrow, so as an upcoming star, keep a good name, so when you finally become a star. It won't hurt you.

Though they still write some rubbish on the net, and I guess that is the price for being famous.