Peter Okoye's Wife, Lola, Speaks On Her Experience After Surviving COVID-19 | WATCH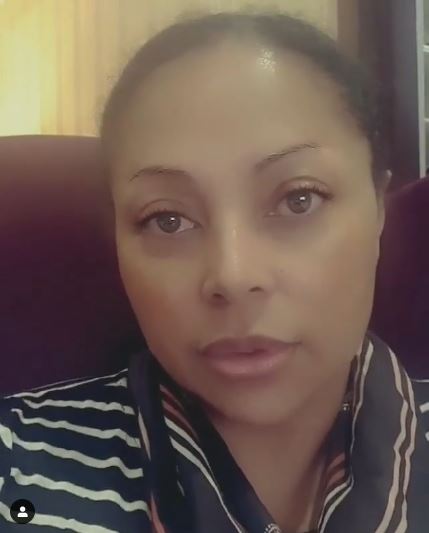 https://www.instagram.com/p/CCHEikgjplZ/
It's always exciting news when we hear stories of people surviving the dreaded coronavirus, it's also sad that many lives have been claimed from this same virus.
Lola Omotayo-Okoye is a survivor and she's got nothing but gratitude for beating the virus. Recall that her husband, Peter Okoye of the defunct Psquare had few days ago revealed that his entire family including his domestic staff tested positive for the virus.
According to the dad-of-two, he was the first to be diagnosed with the virus three weeks ago while his daughter, Aliona, caught the virus a week later. He calls the experience a 'hell.'
He praised his wife, Lola, who did the most courageous thing as a mother when she insisted on not been separated from their daughter, Aliona, who came down with the infection while Lola herself had been negative.
The musician further shared that his wife caught the virus as well whilst taking care of their daughter. At the end of the video, he confirmed that he and other members of his household are now fully recovered and warned people to take the threat of the virus seriously (Read more Here).
READ ALSO: Nigerian Nurse At The Front-line Of The Fight Against COVID-19, Ada Erema, Sets The Record Straight For Nigerians Who Still Think It Is A Hoax
In a new video shared on her Instagram page, Lola shared her own experience with the virus and how she went through so much pain when she battled with the virus. She said:
"I don't wish this upon my worst enemy and I need to let everybody known that COVID is real. I suffered, I went through a lot of pain, I watched my family go through it and I really don't wish this against my worst enemy."
She advised Nigerians to load up on vitamin C, vitamin D, vitamin B, and zinc.
"I am so grateful to God Almighty. My love and prayers are with those currently battling this disease, you are not alone. We need to keep our parents safe. Please encourage older people to stay at home. Please stay home. Load up on your vitamins. Vitamin C, Vitamin D, Vitamin B, Zinc! Covid-19 is real!"
She went on to caption the video with a post letting Nigerians know that the healing from the virus is slow but a hopeful one as she advised Nigerians to be careful as coronavirus is 100% real. She wrote:
"I want to thank my doctor Dr. Ayo who took good care of me, my family and staff. I want to thank everyone who reached out to us during this terrible Covid-19 experience. My dear friends and family, thank you so much for your love. Your phone calls and prayers helped me and my family heal faster.

The grace of God is upon my family and I am so grateful to God Almighty. My love and prayers are with those currently battling this disease, you are not alone. We will continue to pray for your healing. For those who lost loved ones, we pray for you too my heart bleeds for your loss.

We need to keep our parents safe. Please encourage older people to stay home. Please stay home. Load up on your vitamins. Vitamin C, Vitamin D, Vitamin B, Zinc! Covid-19 is real! The healing is slow but hopefully I will be 100% real soon. We need to beat this together. I love you all and I am so grateful to God for life."
SEE ALSO: Nigerian Author & Mum-of-Two, Durosinmi Etti Shares Horrific Details Of Her Recovery From COVID-19
Watch the video below: