Discipline: Parents & Educators Share Their Divergent Views On The Use Of Cane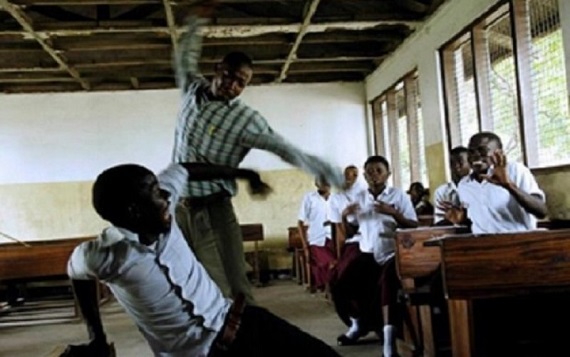 Some parents and education professionals have held divergent views on the use of cane as a means of instilling discipline in erring learners.
The use of cane as corporal punishment in Nigerian schools has been a controversial issue across the country. While some consider as a necessary measure to instill discipline and foster compliance among students, others disagree, describing the act as inhuman.
Director and Parent Coach, Le Poshe School, Ikoyi Lagos, Mrs Ronkeposh Adeniyi explained that beating has been proven to have a long-term psychological effects on children and there was need to stop repeating such a pattern that does not work. She explained:
"Beating has not proven to be effective. Just as I have written in my new book, '101 Tips to curb the beating and shouting', there are several other ways, such as understanding the child's personality and love language and the use of effective communication, amongst others.

"If flogging can change children, why is Nigeria, for example still the way it is? Beating is verbal abuse and it causes a divide between parents and children which leads to a disconnection emotionally. Hence, the child is often unable to approach the parent even when there are pressing issues.

"Parents should understand their triggers and ensure that they do not vent their frustrations or anger on their children. Parents should also not force their opinions on their children neither should they have unrealistic expectations of them. They should parent each unique child with love and understanding," she advised.
READ ALSO: Controversy Ensues As Teachers, Parents Trade Words Over Use Of Corporal Punishment In Schools
However, in a post on an educational Facebook group called, Concerned Parents and Educators Network,  educational practitioners on the platform also had different perspectives on whether children should be flogged or not.
On the thread, a parent, Benedict Nkwocha said,
"For those advocating no beating, if not for the beatings you got from your parents, many of you would have ended up on the streets.

An average child is a rebel, all of us were once children, it is unfortunate that we are denying our children the things that molded us to become what we are today and we still expect them to be better people tomorrow. I read it in the Bible, it says 'spare the rod and spoil the child'."
Another Mrs Wumi Akintayo-Ayodele maintained that discipline with the use of rod isn't wrong but could go wrong when done out of frustration. She explained:
"Every parent, teacher, guardian must be able to set boundaries. Don't beat to vent anger, beat to inculcate right habit into a child. Beating a child with marks, wounds, injury all over his/her body is murderous because it may kill all virtues in the child. Cane a child with wisdom, to instill wisdom, to discipline and to guide."
READ ALSO: "Spare the rod and spoil the child" –   Nollywood Film Maker Fidelis Duker Dishes on Fatherhood & Discipline
Naye Istifanus also said:
"We want to copy the whites' way of disciplining their children but the blacks' society is rugged. The government is always there for the white kids, when they go wayward they rehabilitate them while in our own case, you are left to carry your own cross. The only assistance you get from government is when he commits crime; they help in putting him in jail".
Source: PUNCH