COVID-19: Failure To Wear Face Mask Will Attract Six Months Imprisonment – State Government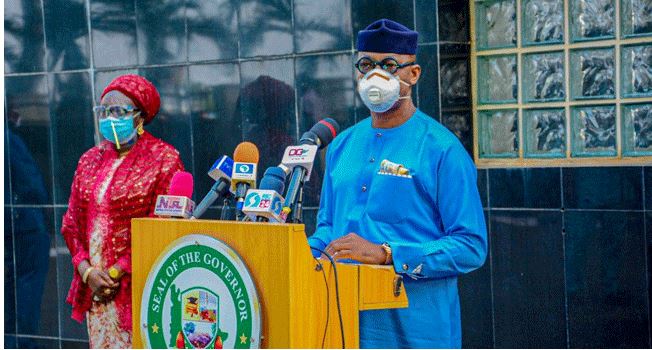 Governor Dapo Abiodun, has announced that anyone who is caught moving about without a face mask, will be severely punished.
According to the Ogun state governor, flouting the order can earn such persons up to six months imprisonment under an extant Regulation and State Law.
The governor said this at a briefing on Wednesday, ahead of the Eid-el-Kabir (Ileya), celebrations. He also noted that the state will not be celebrating owing to Covid-19 restrictions which discourages large gatherings, whether for prayers or partying. In the governor's words:
"We will all therefore have to celebrate solemnly with our families, as the Almighty Allah (SWT) grants us the grace to celebrate more Ileyas in our lifetime. All current measures and restrictions will remain in place for the general public.

These include: 10 pm-4 am daily weekday curfew; total weekend lockdown; transport sector restrictions; decontamination and physical distancing; restaurants' takeaway service allowance; measure compliance by industries; and wearing of face masks, which if flouted is punishable by up to 6 months' imprisonment under an extant Regulation and State Law."
READ ALSO: CDC Offers Friendly Dos And Don'ts Of Wearing Of Cloth Face Masks
In another related news, the World Health Organisation has said COVID-19 infections may rise during the Eid-el-Kabir holidays due to an increase in social and religious gatherings, PUNCH reports.
The global health coordination agency in a statement on Thursday by WHO Regional Director for the Eastern Mediterranean, Dr Ahmed Al-Mandhari, said,
"As we approach the Eid Al Adha feast, there is also increased risk of transmission as a result of social and religious mass gatherings.

"Any decision to restrict, modify, postpone, cancel, or proceed with holding a mass gathering should be based on a standardised risk assessment, and should be part of a comprehensive approach taken by authorities to respond to the pandemic."
WHO remarked that under-reporting of cases is a challenge as testing for COVID-19 in Africa remains low by global benchmarks but capacity has expanded significantly.
It added that about 7.7 million tests had been performed in Africa since February.
"The number of tests performed per 10 000 population as of mid-July was below 100 in 43 countries out of the 54 assessed. This must improve," the organisation said.
READ ALSO: CDC: Why Kids Under 2 Don't Need Face Masks
It noted that although infections are on the rise across the continent, the trend is varied. Nine countries in sub-Saharan Africa have reported a decline in cases over the past three weeks, according to the health body.