How This Woman, Elizabeth Dreyer, Won Back Her Life From PCOS- Induced Weight Problem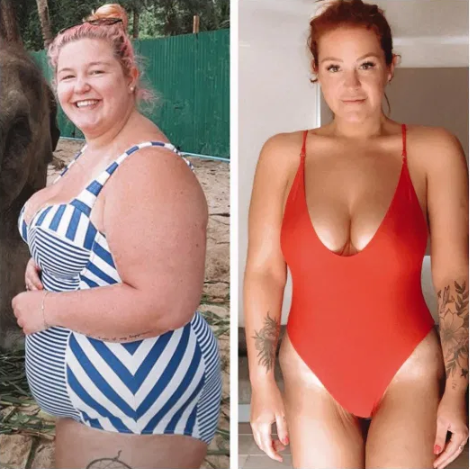 A woman underwent a massive transformation after her toxic relationship ended and she now plans to be in a beauty pageant. Alida Elizabeth Dreyer has suffered a number of issues, including bullying at school, PCOS and a toxic relationship that shattered her self esteem.
PCOS is a hormonal disorder common among women of reproductive age. Women with PCOS may have infrequent or prolonged menstrual periods or excess male hormone (androgen) levels, and having obesity as one of its symptoms.
Alida, who lives in Sydney, Australia, but is originally from South Africa, said she was bullied over her weight from a very young age and began to skip school as her mental health deteriorated.
READ ALSO: Superstar Singer/Mum, Adele Laurie Shows Off Her 44kg Weight Loss Transformation
She would self-harm and suffered from suicidal thoughts for years before being diagnosed with depression at the age of 12, she told Jam Press. She said she gained weight steadily over ages 6 to 23.
She later discovered she was suffering from polycystic ovary syndrome PCOS after struggling to conceive with her then boyfriend.
She said the relationship was "extremely unhealthy" and she eventually left him. Alida has now transformed her life and shed 12 stone and the weight loss helped her regain her confidence.
After her unhealthy relationship, Alida overhauled her diet and exercise routine, and also had gastric sleeve surgery in March 2017 which she says helped her to control her portion size.
Alida now follows a vegan diet and is focused on holistic and conscious eating.
After shedding the weight, Alida says she feels fantastic. She has also signed up to compete in the WBFF (World Beauty Fitness and Fashion) competition next year.