#JusticeForUwa: Shocking Confessions Of Why UNIBEN Student Was Raped & Murdered As Police Parade Suspects | VIDEO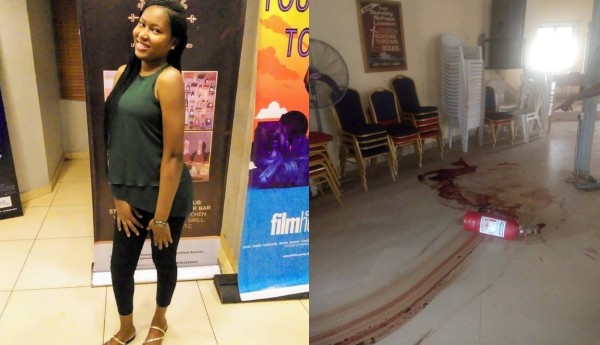 The Edo State Commissioner of Police, Mr. Johnson Kokumo, on Wednesday  paraded the six suspects who allegedly raped and killed a 100-Level Microbiology student of the University of Benin, Uwaila Vera Omozuwa, in a church in Ihovbe quarters in Benin.
The suspects are Nelson Ogbebor, Akato Valentine, Mrs Tina Samuel, Mrs Mary Ade, Nosa Osabohien and Collins Ulegbe. More shocking is the outrageous reason why the suspects snuffed the life out of the 22-year-old.
READ ALSO: #JusticeForUwa: Heart-Rending Story Of UNIBEN Student, Vera Uwaila Omozuwa Who Was Raped And Murdered Inside A Church (Graphic Photos)
Recall, that Uwaila was said to have gone to the church to read in May 2020, when the suspects went into the church, raped and inflicted serious injury on her that eventually led to her death days later in the hospital.
During their parade, the suspected killers revealed that a lady, Mrs. Mary Ade, offered them N1million to carry out the killing for ritual purpose.
One of the suspected killers, Collins Ulegbe, from Agbor in Ika North East Local Government Area of Delta State, disclosed while being paraded that her landlady, Mrs Mary Ade, gave them N1 million to kill the undergraduate.
Collins who said he attends the same church the student attended, said that he was asked by the landlady to wipe Uwaila's private part with an handkerchief so that she could use it for ritual purposes and prosper in her business.
After the act, they allegedly cleaned the deceased's blood with a white handkerchief and handed it over to Mary.
The CP said,
The matter is of great concern to the Inspector General of Police,  Muhammed Adamu, who sent homicide experts to work with our policemen in Benin.

What we are seeing today is a result of the efforts of the police to get at the root of the crime, and today, I announce to you that the perpetrators have been arrested.
Kokumo said the post-mortem confirmed that the deceased was raped.
See the faces of the paraded suspects in the video below