How Homeless Pregnant Woman, Blessing Emmanuel Found Help Delivering Her Baby Under A Bridge In Lagos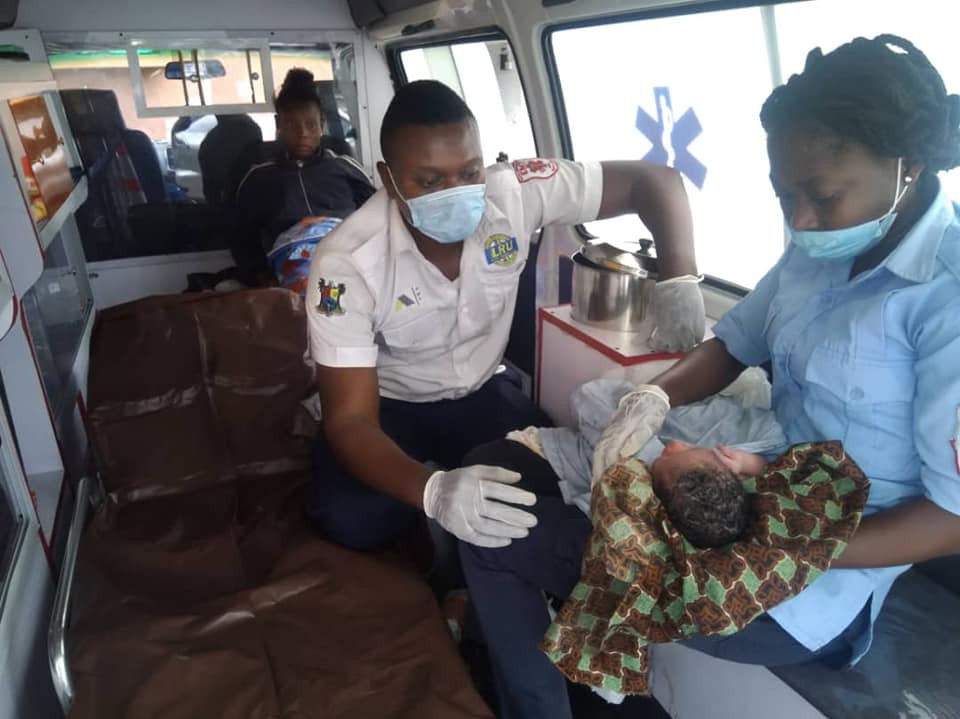 A homeless pregnant woman was saved on Saturday when she fell into labour and was delivered of a baby boy under the flyover bridge in the Ajah area of Lagos by a good Samaritan.
35-year-old Ms. Blessing Emmanuel who reportedly hails from Cross River State and said to be homeless got help from personnel of Lagos State Ambulance Services from Eti-Osa who spotted her in distress as they went about an official duty at about 4:30 pm on Saturday.
Both mother and baby are said to be fine and have been taken to Island Maternity. Confirming the incident, Director-General, Lagos State Emergency Management Agency, LASEMA, appreciated the Ambulance Services' intervention, adding that mother and child were responding fine to treatment.
READ ALSO: LUTH Doctors Deliver Young Mum Battling COVID-19 Of Healthy Twin Babies
In a post shared on Facebook, after she fell into labour, LASEMA's 'Operation Storm' Response Team was the only available medical option. The team helped her deliver her baby boy safely before taking them to Island Maternity Hospital for continued expert medical care.
The post read;
… Amidst Several Other Operations Under Ajah Bridge in Eti-Osa

While LASEMA Response Team on Saturday 19th September, 2020 was evacuating carcas of burnt tanker, 40ft containerized truck loaded with generator sets and the burnt lowbed conveying an excavator from the 'Tanker on Fire' incident of Friday 18th September, the Agency was also blanketing another fallen oil Tanker yesterday morning to avoid another fire, a few metres from the Friday night incident scene at Anthony inward Gbagada.

Amidst all of these operations, LASEMA's 'Operation Storm' Response Team stationed at Eti-Osa, under Ajah bridge as part of the proactive measures of the Agency to mitigate against harzards that may trail gridlock following closure of Third Mainland Bridge, has taken delivery of a life baby boy.

35 year-old indigene of Cross Rivers State, Ms. Blessing Emmanuel, a semi-destitute, with no home, nor family in Lagos, and fond of roaming around under the Ajah bridge, fell in labour and LASEMA's 'Operation Storm' Response Team was the only available medical option.

As a complete medical team with an Ambulance at its disposal, presence of LASEMA's 'Operation Storm' Response Team under the Ajah bridge in Eti-osa was timely and made delivery of Ms. Blessing of a life and healthy baby boy safe and easy.

In line with its responsibility of saving lives, after successfully completing the task of delivering Ms. Blessing of the life, male neonate under the Bridge in record time, mother and child were taken to the Island Maternity Hospital in stable condition, for continued, expert medical care.
See a screenshot of LASEMA's post and more photos: