So Much Single Women & Men Can Learn From How RSI President, Mrs. Funmilayo Banire Narrowly Escaped Becoming Childless & Choosing The Wrong Life Partner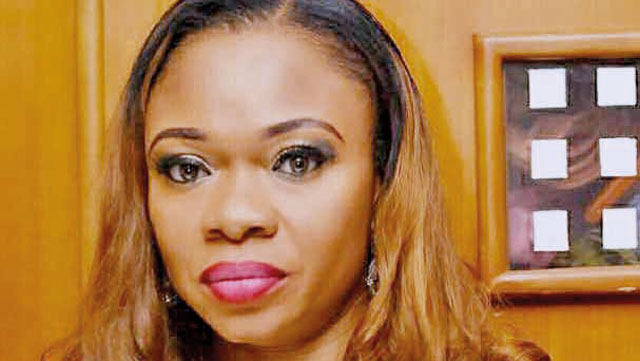 About 2.7 million Nigerian women are Rhesus negative, Rhesus Solution Initiative, a non-governmental organisation that sensitises teenagers and pregnant women about rhesus disease, President, Mrs. Olufunmilayo Banire has said. The statistic, she said, amounted to 5.9 per cent of Nigerian women population being Rhesus negative.
Mrs. Banire has a demeanour that veils her struggle with Rhesus Disease. And just like other women that also battled the medical condition, she has had her fair share of unpleasant experiences.
However, being aware of her rhesus factor early in life helped her to narrowly escape becoming childless, and to manage medical issues that crept up along the line.
The founder of RSI said being well informed of her Rh-Negative status significantly guided her choice of a life partner and in taking critical decisions with respect to childbearing.
"It saved me from what could have resulted in the perpetual sorrow of an inability to carry a healthy pregnancy to term and also from experiencing death of babies,"
she added.
Banire, a lawyer, in an exclusive interview with PUNCH HealthWise, said she withheld the aspect of her life that revolved around rhesus disease from the public, but was spurred to speak about her ordeal in order to encourage other women who might be facing similar dilemma.
Rhesus factor explained
According to the American College of Obstetrician and Gynecologists, rhesus factor is a protein that can be found on the surface of red blood cells.
If the protein is present in a person's blood cells, the individual is rhesus positive; while the absence of it means the person is rhesus negative.
The United Kingdom National Health Service warns that the disease, also known as haemolytic disease of the foetus and newborn, is a condition where antibodies in a pregnant woman's blood destroy the baby's blood cells, adding that it poses some risks to both unborn and newborn babies.
Also, a Consultant Haematologist at the Department of Haematology and Blood Transfusion, Lagos University Teaching Hospital, Idi-Araba, Prof. Titi Adeyemo, said as prevalent as rhesus disease is in Nigeria, 19 out of every 20 Nigerians have it.
She said it was one of the major causes of stillbirths and miscarriages in the country, robbing couples of the joy of parenthood, adding that it is a common but serious health condition fuelled by ignorance and myth.
Adeyemo noted that many children have died due to complications, especially jaundice, arising from rhesus incompatibility because their parents are ignorant of their rhesus statuses.
She went on to advise every young lady and women of childbearing age to submit to blood test to know their rhesus factor in order to avoid lifelong complications during pregnancy.
Becoming aware
Banire recalled getting to know of her Rh-Negative status through a chief matron that worked at her family hospital, Union Medical Centre in Marina, Lagos.
"I must have been nine years old then, and in Primary Five. I had a feverish condition and my blood sample was taken for malaria test. The matron unequivocally told me that I had a very scarce blood type and must look out for a rhesus compatible husband to marry.

"The revelation scared me, but even at that, I couldn't appreciate the matron's statement at the time. I became quite inquisitive when I turned 18 and started visiting the CMS public library to access books on rhesus factor.

"It was through reading medical publications that I discovered the role my Rh-Negative status would play in my life choices

"During my dating years, the first question I always asked my dates was about their Rhesus factor. However, none of them (including my husband) understood the relevance of the inquiry,"
she said.
SEE ALSO: Your Spontaneous Miscarriages Might Be As A Result Of RF: Pharmacist, Adanma Doreen Gives Us Insight Into This Situation & How It Can Be Tackled
Reality of rhesus disease
Banire said despite knowing basic facts about rhesus factor, the grave dangers remained unknown to her until her husband's friend spoke about it during their courtship.
"I remember sitting in the car one day, listening to an older colleague of my fiancé (now my husband) talk about some women that must never get married aside those with sickle cell anaemia.

"He vividly described complications arising from rhesus incompatibility and I distinctly recall feeling very uncomfortable and entertaining slight fear.

"Thankfully, my inquisitive nature made me to explore and discover, in my late teens, that scientists in the western world had found a solution for rhesus disease — the Anti-D Immunoglobulin Injection.

"This became the definitive solution to my lifelong fear of supposed complications during pregnancies,"
she said.
Banire said despite being well informed, she still associated her five years of delayed conception to rhesus factor.
"I often wrote down long lists of questions from researches to bombard my [now] late gynaecologist, Dr. Rotimi Ola, but he would often respond with a smile and gently assuage my unwarranted self-inflicted anxiety,"
she said.
The lawyer further said when she finally started having children, tips gained from the early awareness saved her from complications often faced by Rh-Negative women.
"During all my four pregnancies, I would always have Anti-D immunoglobulin injections purchased months ahead of my due date, to be administered immediately after birth.

"In fact, because I have short cervix, cervical cerclage (tying of the womb to prevent miscarriage) was usually done around 16 weeks, and this was usually followed with the administration of the Anti-D immunoglobulin injections,"
she explained.
Birth of a life-saving initiative
Banire's stint with rhesus disease and seeing other Rh-Negative women's ugly battles with the medical condition, she noted, led to the birth of Rhesus Solution Initiative.
"It started with one of my female staff members back in 2000. She emotionally narrated to me how repeated miscarriages made people tag her an ogbanje — a spirit child that repeatedly dies and returns.

"Subsequent loss of pregnancies led to the loss of her marriage. She couldn't withstand the stigma and pain of childlessness, and had to relocate.

"Another encounter was when I visited Ayinke House, the maternity section of the then Ikeja General Hospital.

"I was accosted by a gentleman who appealed for monetary assistance to buy an injection to treat what he described as his wife's 'unfortunate blood type.'

"My first reaction was to mistrust him, but hesitantly, I accompanied him to the ward and saw the woman.

"I assisted in buying the Anti D immunoglobulin injection for her, and left my number with the nurses to contact me should any case come up again,"
she said.
Banire said, surprisingly, within days, she got several calls from the nurses, adding, "That made me to fully appreciate how fortunate I was to possess the knowledge and resources that saved me from what could have been a life of trauma.
"That realisation ignited the flame that made me decide to assist women struggling with rhesus disease by founding the RSI on May 12, 2007.

"Aside creating awareness for young people to become aware of their Rhesus status earlier in life, I wanted to demystify the belief that women who experience premature pregnancies or loss of infants are abiku or ogbanje.

"Unfortunately, in Nigeria, the myth is still very much in existence and is fuelled by ignorance and low level of enlightenment,"
Banire noted.
The lawyer said though constrained by fund, the foundation regularly donates Anti-D Immunoglobulin injection to hospitals; hold awareness lectures in secondary schools, religious places, markets and traditional birthing centres.
"Free blood group testing is carried out and individuals are issued cards with their full information, blood group and Rhesus factor.

"We, likewise, mobilise voluntary blood donation, which usually serves as intervention to needy rhesus negative women.

"We also keep a register of Rhesus negative people to serve as a ready source of blood donation to anyone in need because of the scarce nature of the blood type,"
she explained.
ALSO SEE: Consultant Haematologist On How Rhesus Incompatibility Can Rob Couples Of The Joy Of Parenthood 
Banire said prevalence of rhesus disease can be linked to high poverty level, noting that despite being aware of the grave danger of not taking the Anti D immunoglobulin injection after childbirth, some women would still want to sell the one given to them free.
"Anti-D Immunoglobulin injection costs about N65,000, but how much is that amount compared to the consequences that would trail not taking it?"
she queried.
On the role of awareness creation in helping to reduce rhesus disease and its negative impact on infant mortality, she said attention should shift to the grassroots, especially to all primary health centres that are regularly visited by indigent women.
"Aside creating awareness, free injection should be made available and immediate testing of neonates born by rhesus negative women.

"Now, not less than five per cent of our estimated 100 million female population, which translates to about five million women, potentially suffers from this affliction.

"Unfortunately, a greater percentage of them are totally ignorant or poor. The resultant effect is that they end up experiencing repeated miscarriages, stillbirths, and neonatal deaths.

"Eradicating this disease in Nigeria would have to take collective will, but more must come from the government at all levels,"
Banire said.