Babies Health ALERT! Paediatrician Harps On The Deadly Implications Of Breastfeeding Lying Down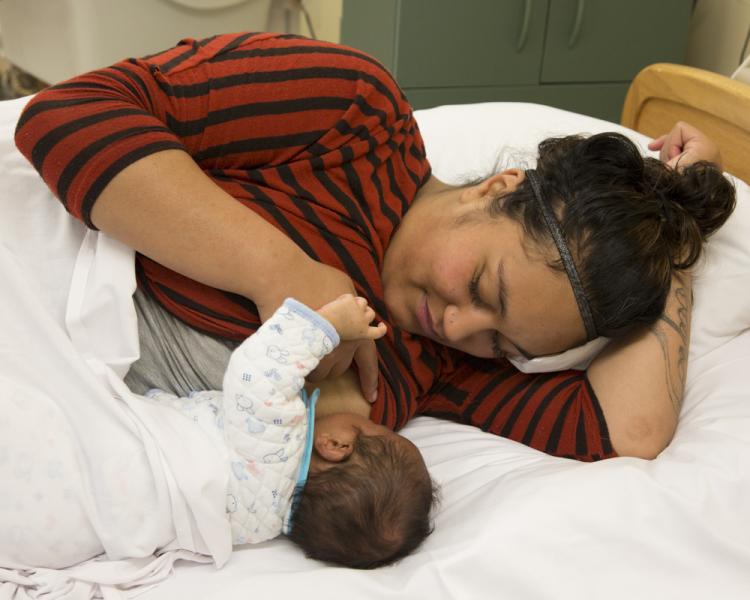 Breastfeeding lying down. Just saying those words sounds wonderful. Being able to nourish and nurture your baby, and relax and rest at the same time. Indeed, many breastfeeding mothers enjoy breastfeeding lying down. However, many mothers are unsure if it's safe for their babies.
According to a Consultant Paediatrician at the Federal Medical Centre, Umuahia, Dr. Odochi Ewurum, the practice of breastfeeding babies while lying down can cause serious health issues in babies. 
Dr Ewurum disclosed this in an interview with the News Agency of Nigeria in Umuahia on Tuesday. The expert said that the practice could lead to infections and other complications in the child.
He said that a mother was not supposed to be lying down while breastfeeding her baby. According to her, the mother should rather sit comfortably, carry the child up and make sure the child relaxes properly to the breast. Ewurum said:
"One of the disadvantages of lying down is that as the child sucks, it could aspirate. This breast milk can leave the child's stomach and enter into the lungs and this can cause lung infection.

Also, as the child is sucking, some of the breast milk might drip out of the mouth into the ear. It becomes a foreign body in the ear and with that, an ear infection can occur.

If the breast enters the nose, ear or eye, it is a foreign body. Breast milk should get to the stomach where it should be digested and become nutritive to the child."
READ ALSO: Study: Not All Moms Are Following Safe Sleep Practices For Their Babies | Find Out The Recommended Safe Sleep For Your Baby
Ewurum added that the stress of breastfeeding at night by nursing mothers made it imperative for relations to come around to help out whenever a woman put to bed.
"So we encourage the tradition of relations coming to help out because it helps to reduce the stress experienced by nursing mothers,"
she said.
Ewurum also warned against the practice of putting breast milk in a child's eyes as a cure for an eye problem, describing it as harmful.
She advised mothers to take their babies to health facilities for an appropriate medication in the case of any eye infection.
 "That practice is very wrong and should be discouraged," said Ewurum, who is the President of Medical Women Association of Nigeria, Abia chapter.