What 38-Year-Old Mom, Beth Who Discovered A Lump While Breastfeeding Wants Other Women To Know
Beth O'Brien, 38, of Bennington, Nebraska, was breastfeeding her 9-month-old daughter in 2017, she came across what she thought at the time was a clogged milk duct in her breast.
But after seeing doctors and undergoing examinations, the 38-year-old mom-of-three would soon realize that her discovery was much more serious.
O'Brien, who works in a hospital, said she asked the lactation nurses at her job for tips to clear her clogged milk duct, but nothing worked. She then went for an ultrasound and, later, a biopsy which determined she had triple-negative breast cancer stage 2. O'Brien of Bennington, Nebraska, told "Good Morning America":
"Hearing cancer itself is pretty scary. Researching it on the internet and seeing it was triple negative, which is an aggressive cancer that comes back, is an even bigger blow.

"[I had] more fear for my kids that I wouldn't be there for them. My kids are my number one. They were a blessing helping me through, and my two older boys were awesome and helping with their sister. We stepped up as a family and conquered it."
With the support of her husband and her three children, O'Brien underwent chemotherapy, a double mastectomy, more chemo and then 28 doses of radiation treatment.
O'Brien said she's now showing no signs of cancer and has a preventative hysterectomy scheduled.
Now, she's sharing her story in hopes women will perform more self-checks — even if they're under 40 when rates of breast cancer are lower. O'Brien added:
"I did breast exams every other month… not extensively. It's [a] blessing that I had my daughter and she was nursing at the time. I don't know [if] I would've discovered it if I wasn't nursing."
SEE ALSO: New Study Associates Consumption Of Milk To Significant Risk Of Breast Cancer In Women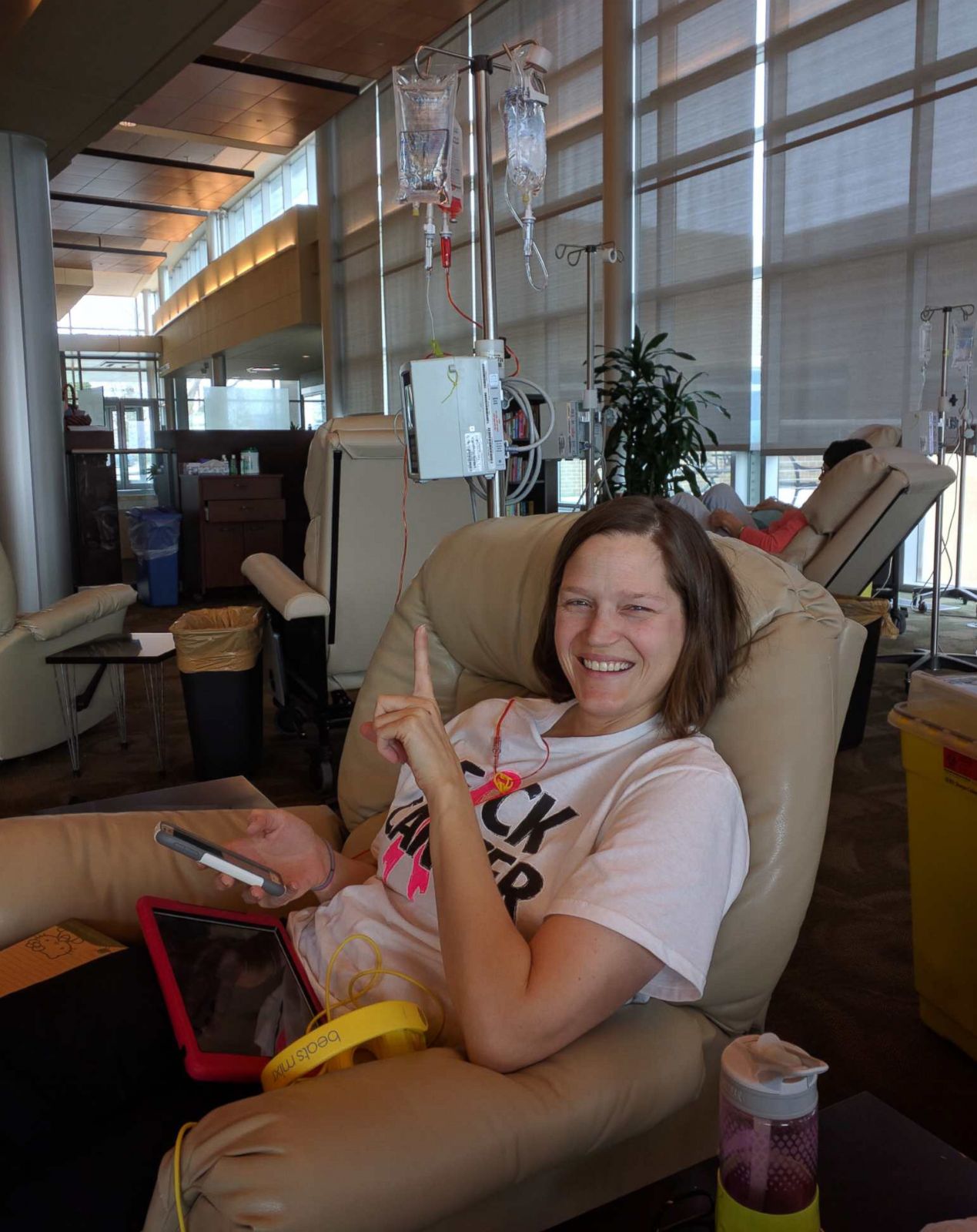 An undated photo of Beth O'Brien, 38, as she receives treatment for her breast cancer diagnosis.
According to the chief of breast surgery at New York-Presbyterian/Columbia University Irving Medical Center, Dr. Roshni Rao, it's common for women under 40 to find their own cancerous tumors during self-exams since patients in that age group do not receive routine mammography.
Here are Dr Rao's tips for self-examining your breasts.
How to self examine
Rao said to lie down on your back with one hand behind your head.
Move two fingers in a clockwise fashion starting around the nipple and continue around the entire breast area, one breast at a time and then the armpit area. Lead with one finger and follow with the other.
ALSO SEE: Must Read Piece On The Emotional Roots Of Cancer & How Repressing Anger Particularly Puts You At Risk
What you're feeling for
Really hard, fixed lumps that don't hurt.
"Things that hurt are almost always cysts and are benign, but things that don't hurt are almost always concerning,"
Rao said, adding that you will feel lumps and bumps no matter what.
"The main thing is to feel something different and you won't know that unless you intermittently examine your breasts,"
she added.
When to self-exam and how often
Rao recommends performing self-checks right after your period is over because that's when your breast tissue is going to be very calm and won't show nodularities due to hormone changes.
Rao suggests that starting at age 25, women should begin practicing self-exams. Women closer to the age of 40 should self-exam every two to three months and every month starting at the age of 40 is reasonable, she said.
"If you find something, watch it for one or two more weeks," Rao said. "If you're worried about it, we can check with an ultrasound."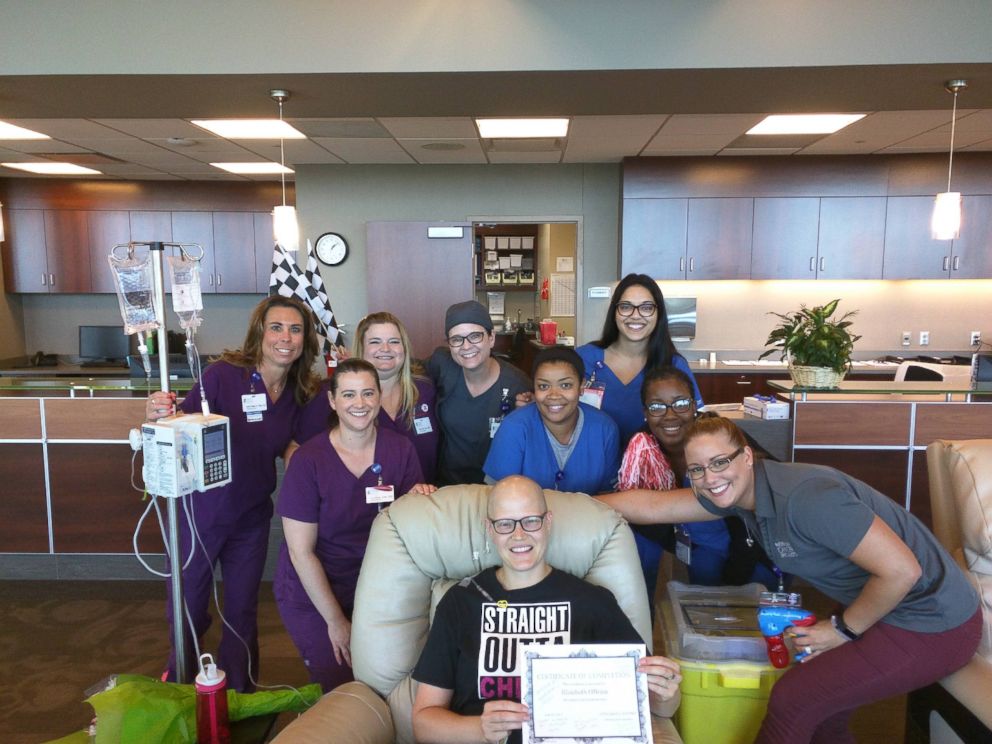 Beth O'Brien, 38, of Bennington, Nebraska, is seen in an undated photo after she completed cancer treatment.
Dr. Jennifer Ashton, ABC News' chief health and medical correspondent, said that skin changes in non-breastfeeding women like dimpling or indentation, abnormal nipple discharge, firm lumps, a sudden change in the nipple should all be discussed with a doctor.
For a breastfeeding woman, there are frequent changes in the breast — the vast majority of which are not cancer. The bottom line is, "know your body," Ashton said.
"If you notice anything different, call your doctor [or] health care provider," Ashton added, noting that breast cancer is less common in young women but can occur and it's "better to be safe than sorry."
SEE ALSO: Cancer Survivor, Gloria Chinyere Okwu Recounts How Herbal Treatment Almost Killed Her
O'Brien agreed that women should be aware of their bodies and never be afraid to ask your doctor questions.
"If I can save somebody else or make them do something different in their lives then, by all means, I'll be out there to talk about it,"
she said.
Source: GMA