Mum, Angela Primachenko, Who Gave Birth While In Coma & Fighting Coronavirus Celebrates Holding Her Baby For The First Time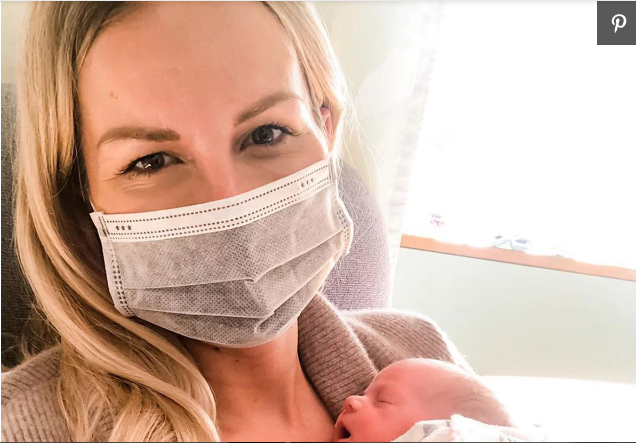 A 27-year-old woman who was diagnosed with coronavirus and placed in a medically-induced coma a week before giving birth to her second child has recovered and held her newborn daughter for the first time. Angela Primachenko, a respiratory therapist from Vancouver, Washington, was 33 weeks pregnant when she began to show signs of coronavirus.
After testing positive for the potentially deadly disease on March 24, she was admitted to the intensive care unit at Legacy Salmon Creek Medical Center, according to Today.
READ ALSO: Pregnant Women Who Test Positive For COVID-19 Have A Higher Risk Of Complications & Death- CDC | Recommends Ways To Stay Safe
As her symptoms continued to worsen, Primachenko was put into a medically induced coma — where she would remain even as she gave birth to her daughter, Ava, on April 1. Because she was unconscious, she has no memory of the life-changing event, she told the outlet.
Almost as soon as Ava came into the world, Primachenko's condition began to improve and she was taken off the ventilator five days later. After waiting more than a week and testing negative for coronavirus twice, Primachenko was finally able to hold baby Ava on April 16.
"Crying right now!"
Primachenko wrote in a post to Instagram on the emotional day.
"IM COVA FREE! And holding my baby girl in my hands!"
A follow-up picture of the two showed Primachenko wearing a medical mask while holding Ava to her chest.
"Such a testimony to be able to hold my little Ava,"
she wrote in a caption that included a heart emoji.
"The reason I'm wearing a mask is that everybody has to wear a mask now when visiting the NICU," "Ava is doing amazing and gaining weight every day like a champ!

Another week or so and we will be able to take her HOME!"
According to Today, Primachenko's husband and their 11-month-old daughter did not test positive for coronavirus and they were able to hold Ava as she recovered.
Ava was cleared to go home last weekend, and the family has since enjoyed many photoshoots with their new bundle of joy.
"The last few weeks have been filled with so much unexpected change in my life,"
Primachenko wrote in a recent Instagram update showing Ava wrapped up in a white blanket.
"I feel like I can write a novel, but for tonight I'll just write that life is good, and let's find the good in every day."
Source: people.com