Distraught Mom, Deborah Okezie, Cries Out About Her Son's Abuse At Deeper Life High School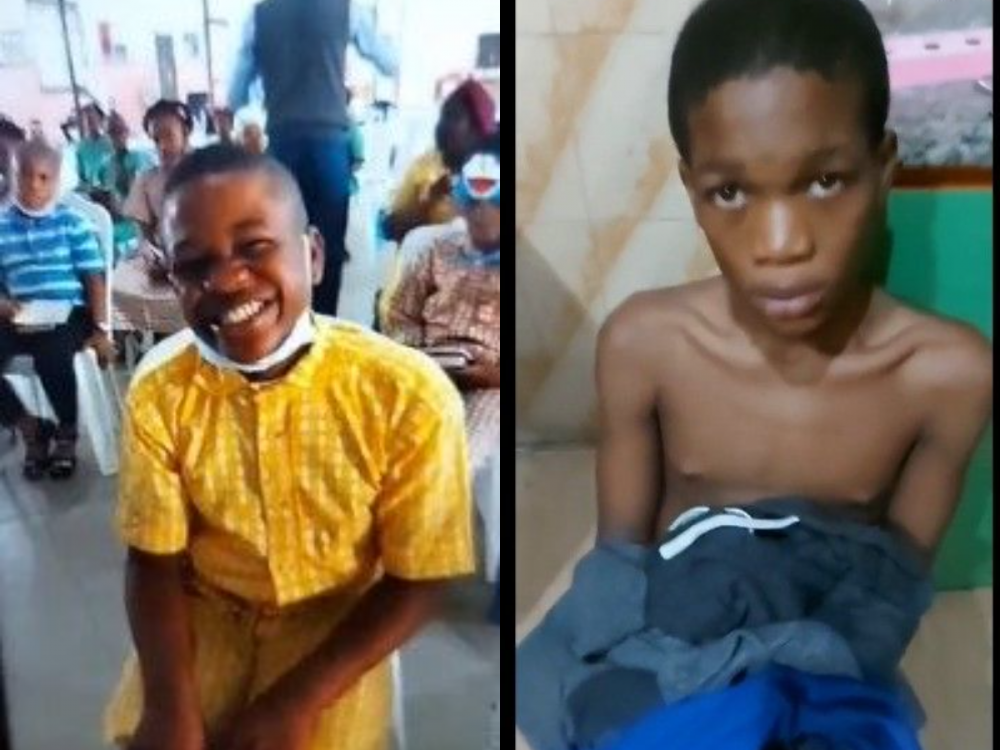 A distraught Nigerian mother identified as Deborah Okezie has called out the management of Deeper Life High School, Uyo, Akwa Ibom, the state capital, over abuses her son was allegedly subjected to.
A lot of depressing stories of proprietors, teachers, students, and other school staff sexually abusing innocent young boys and girls within the school premises are reported on a regular basis and the bad part of it is the management trying to cover up.
The mom who interviewed her 11-year-old son in a Facebook live video that went viral alleged that her son was well-fed before being sent off to the boarding school, but he returned home skinny and malnourished.
In the heartbreaking video, Okezie stated she had a terrible dream about her son and decided to pay him a visit to the school but the school authorities didn't allow her to see him.
Okezie's son who recounted some of the abuses he was subjected to, alleged that he was forced to starve for days.
The victim further said he was moved by the school's principal from a hostel where other junior students stayed to another hostel filled with senior students where he was also dealt with because he was bed-wetting  He also told his mom that some senior students in the college "habitually inserted their fingers and toes in his anus."
The victim's mother prodded him to speak up about his ordeal.
"They said if he complained he will be a dead man," Mrs. Okezie said. "Please, help me share this (video) until it gets to the appropriate authorities."
"They will remove his boxer and push their legs and hands into his anus," the woman said.
SEE ALSO: A Mother's Agony: Nigerian Mom Seeks Justice Over Death of Her Daughter at Boarding School
The victim said the senior students threatened to kill him if he reported the matter to the school principal identified as, Ndidi Solomon.
Okezie said she reported her son's ordeal to the school principal who assured her that the boy would be returned to the junior hostel.
"Look at a child I sent to school, he came back with a broken anus. People who have children in boarding school don't know what these children go through, boarding school of these days is not like the boarding school of those days,"
she said.
Meanwhile, Akwa Ibom State Governor, Udom Emmanuel, has mandated his Commissioner for Education, Enobong Mboho, to commence an investigation into the alleged case of child abuse at Deeper Life High School in the state.
The governor's order was contained in a statement made available to journalists. The statement reads in part:
"The state government has noted with great concern the complaints by a parent, whose child is a student of the Deeper Life College, Uyo.

"The complaint gleaned from social and traditional media related to the maltreatment and abuse of the complainant's child, which occurred at the said school.

"Consequently, the Governor of Akwa Ibom State, Mr. Udom Emmanuel, has directed the Commissioner for Education to immediately investigate these complaints and take necessary action.

"The state government is committed to the protection of children wherever they may be within its jurisdiction".
READ ALSO: Sad! How School Management Contributed To The Death of JSS 1 Boarding Student, Emmanuel Chukwuebuka
Deeper Life High School, with 21 campuses across Nigeria, is owned by a foremost Pentecostal church, The Deeper Christian Life Ministry. The school has its headquarters in Lagos, South-west Nigeria.
Watch the heartbreaking video below…