Rahma Indimi, Ex Wife Of Mohammed Babangida Gives Wise Counsel To Divorcees As She Gets A Very Happy Ending After Years Of Court Tussle Over Children Custody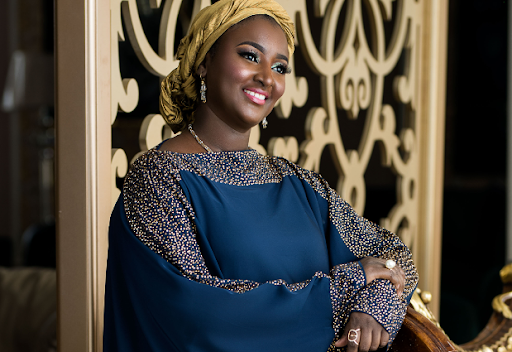 Sometimes, it takes adversity to bring out the greatness hidden within a man or woman. Just like iron must pass through the fire to become steel, many a man or woman must be tried and tested by trials that strip away the baser aspects, leaving only a being full of determination and resolve behind.
Such is the case with Rahma Indimi, daughter of billionaire Borno businessman Muhammed Indimi. After so many years of uneventful marriage with Muhammed Babangida, son of former military president Ibrahim Badamosi Babangida (IBB), Rahama's world fell apart.
She and her estranged husband engaged in multiple rounds of public mudslinging as their union teetered inexorably towards the cliff's edge before it crashed down.
Even then, the last was not heard of the matter as they tussled in court for custody of their four kids for over 5 years, a battle finally won by the mother-of-four.
According to Rahma in a recent post on her social media page, she was sued three times by her ex-husband for custody of their children and she won.
READ ALSO: Custody Battle Between Mohammed Babaginda And Rahama Indimi Gets Messier, New Report Claims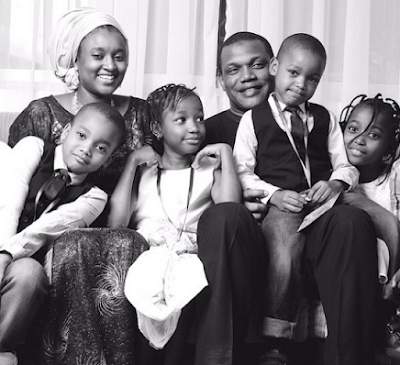 "My ex-husband took me to court for custody. I won. Alhamdulliah. 3rd time," she said in response to an Instagram user's question.
READ ALSO: Ibrahim Babangida's Ex-daughter in-law Rahma Indimi Pens Emotional Note to Daughter who was Taken Away from Her
Taking to her story, the excited mom shared a comment she made on an Instagram post, thanking everyone for their support and advised divorcees to sue for the sake of their children. She wrote:
"Thank you so much. I really appreciate the support. People need to understand that there is peace after divorce. Not everything is a fight.

Yes, when you marry another, I understand they instigate a lot of issues between the divorcee only for their own selfish interests not to give any room for reconciliation between them."

Men /women, there can be peace and tolerance  ooo. Do everything you can for the kids' sake. Simple. Do not fight, just get along. Drop the hatred and animosity. Let peace reign jorrr."
READ ALSO: Rahma Indimi Cries Out As Ex-Husband, Muhammed Babangida Allegedly Manipulates Court Judgment
A few days ago, Rahma took to Instagram to share footage showing the moment she got news that she won her court case. As at the time, she didn't mention which case she won not until now.
Last year, Rahma and Mohammed reconciled after years of animosity. Just last week, she celebrated him on his birthday.
She has now revealed in her recent post that in addition to the reconciliation, she has a wonderful fiancé that dotes on her.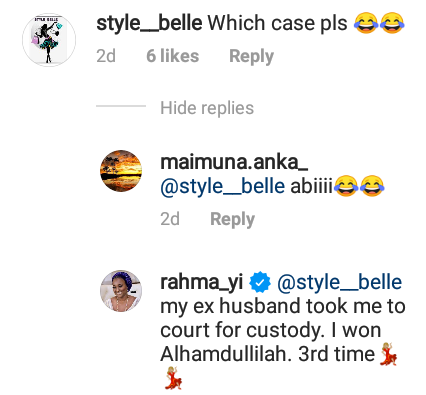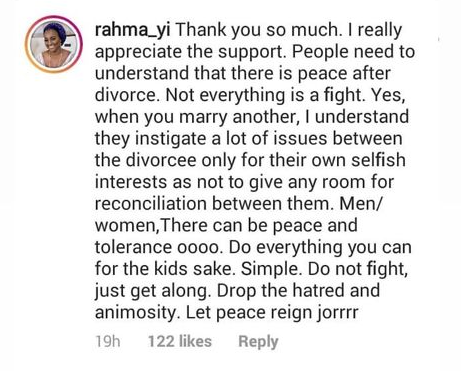 SEE ALSO: Is Ex-Wife Of Mohammed Babangida, Rahma Indimi's Definition of A Selfish Man Apt?