Pioneer VC Of Wesley University, Prof. Tola Badejo, Draws Lessons From His Fatherhood Experience Of 35 Years In Advice To African Fathers Who Are Gender Specific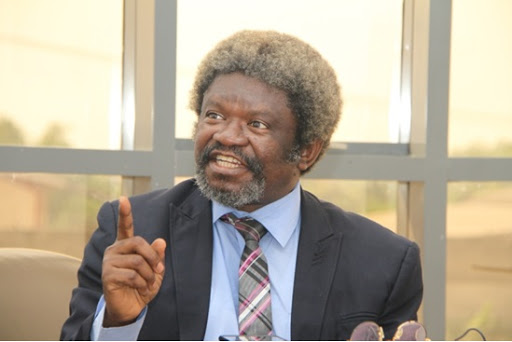 The pioneer Vice-Chancellor of Wesley University, Ondo, Prof. Tola Badejo, narrates his journey into fatherhood with PUNCH. The proud dad-of-four who became a first-time dad in 1985 also shares some lessons from his experience of 35 years to advice African parents who are so particular about the male child.
What does fatherhood mean to you?
Fatherhood is the state of being a father. How do you become a father? You become a father by embarking on procreation first. After procreation, you start nurturing the child up to adulthood and beyond till you expire.
Would you say you prepared for fatherhood?
Yes I did. I had wanted to be a father a few years before but I had to wait for my wife to graduate.
What fear did you nurse before you became a father?
Absolutely no fear at all until the moment my wife entered the labour ward. I was scared because she was in the labour room for over 24 hours. I almost broke down due to anxiety.
When did you become a father?
I became a father March 1985.
How would you describe your first-time experience as a father?
It was marvelous. I saw myself as the happiest man on earth. I saw it as a transformation from being a big boy to a man. The boy was also a replica. I remember my wife saying that he was a reduced photocopy of me.
What discipline mechanism did you employ to correct any misdemeanor of your children?
Honestly, I cannot remember when I caned them last. My grandfather and father were great disciplinarians who never spared the rod. My father was the first to cane my son when we went visiting on a Christmas holiday. He was barely five years old then.
Caning is no longer in vogue today. I remember one of my twins told me when he was barely six years old that he would report me to the police if I canned him and I would be jailed for child abuse. We were living in Germany then. He must have been influenced by his teachers and peers at school. So the milder persuasive method took over and it worked before they all left home.
How did you guide your kids in their career choices?
As a lecturer, you should trust me on this. My wife is also a lecturer. We never imposed anything on them. Career choices started from the schools they attended. The role we played was to offer a back-up. By back-up I mean guiding them in having a second choice if the first fails. The first two were lucky. They got their first choice. The last two are twins. They got their back-up. They graduated last year.
I made all of them know that the academic profession is the best in the world. It didn't work with my first son who trained as a lawyer. He prefers the hustle and bustle life of the business community.
However, it appears to be working with my daughter who trained as a medical doctor and whose ambition is to be a consultant in a teaching hospital. The twins also are youth corps members now having graduated in microbiology from Bowen University last year. They are warming up for higher degrees in their field of study.
How do you think your values influenced your children in becoming responsible kids?
It did to a large extent. We lived a quiet life in Obafemi Awolowo University Staff quarters where the next neigbhour may be a friend from a great distance. We never dressed flamboyantly. Only our place of work, the church and a few occasional social gatherings took us out of the home. I spent more time in my study at home than in the sitting room and 'the other room.'
I remember there was a day my first son came to join me in the study, drawing his cartoons. He was below 10 years old then. When my wife called us for dinner, my son said, 'We are busy!' Up till the time they left home, all my children spent more time in their rooms doing one thing or the other. I believe that habit hasn't changed in their various homes now.
READ ALSO: Proud Dad, Timi Dakolo, Describes What Fatherhood Means To Him, In Glowing Terms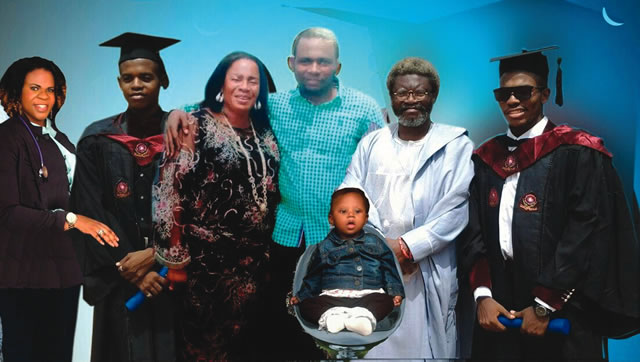 What challenges did you face as a father?
I never faced any extraordinary challenge. The challenges I faced are the normal challenges of any father: School fees, levies, etc. All my children lived in the boarding house in the secondary schools they attended. There was no adverse report on any of them.
What are the things you learnt from fatherhood?
I learnt cool-headedness and patience. I remember my daughter used to walk away from the lesson teacher at home without taking permission, on the flimsy excuse that she wanted snacks. The day I first noticed this, I was furious but the young lesson teacher told me not to get upset at that.
She went to the corner where she was and used biscuits to persuade her to join her and her elder brother. It worked. The lesson I learnt from that is that a father should restrain from scolding his child at the slightest sign of misdemeanor. A child must be studied with patience for adequate understanding and effective correction.
Did you give your children gifts because of outstanding academic performances?
Never. All I did was to hold on to their head and start praising them with rendition of the family panegyrics (oríkì). My daughter enjoyed the panegyrics so much that she never wanted me to stop.
I also remember asking my wife to prepare their favourite meals (e.g. vegetable salad with various tasty ingredients) to celebrate their success. Gifts were meant for birthdays only and they are modest gifts that started with toys and ended with story books, novels, etc. as they grew up.
How did you assist your wife in domestic chores?
My wife belongs to the old school. She would have cleaned the whole house before anybody woke up, most especially on weekends. As the children grew up, my wife assigned house cleaning work to them in turns. I remember there was a timetable that indicated who cleans what and when. The opportunity of joining them in domestic chores never presented itself.
Are there things you would have preferred to do differently as a father?
No.
What was the hardest part of being a father figure to many students when you served as vice-chancellor?
No hard part to it. My church (Methodist Church, Nigeria) gave me the mandate of moral regeneration which I carried out to the last letter. I addressed the students every Monday morning at the weekly devotions. It was christened 'VC's Charge' by the university chaplain. Each message was on moral regeneration without quoting from any holy book.
It was filled with philosophical messages from credible personalities in past and recent history. At the first graduation in October 2013, a compilation of the VC's Charge' was given free to every graduating student. Copies were dropped in the university's bookshop for every student to possess. The students didn't see me only as father figure; they saw me as a role model.
I have chaired the wedding of two of them and I will chair another one this month. I have served as referee (and still continue to serve) to many of them who are now undergoing their postgraduate studies in the country and abroad.
Right now, I am editing a book on moral regeneration written by one of them. She is a postgraduate student in the University of Ibadan. I remain in touch with a lot of them on telephone and email, exchanging pleasantries, mentoring and offering parental advice.
How were you able to contain youthful exuberance and student restiveness?
That was very simple. Being a new university, they were not many in number. So, I was able to handle them. The school's anthem was composed before they resumed and it was handed over to them on their first day of resumption. The contents of the anthem helped in influencing their thinking.
The students' handbook too spelt out the rules and regulations as well as punitive measures for every offence. I made sure that disciplinary measures were applied to the letter without fear or favour. The problem I had was with certain parents, guardians and staff who felt that concessions should be given to their wards. I dealt with them decisively.
The positive thing about being an unrepentant disciplinarian is that compliance with rules increased among the students with time. By my fourth year in office, offences that attracted capital punishment (i.e. expulsion) had decreased significantly. On restiveness, regular quarterly meetings with the Students' Assembly as well as a very effective proactive security unit took care of this. Problems were nipped in the bud.
SEE ALSO: After Having A Child With Sickle Cell Despite Compatibility Test, Muda Yusuf, Shares Lessons On Fatherhood | Advices Intending Couples
What advice did you give your children about life?
Life is not a bed of roses. Many obstacles are not real. They exist only in the imagination of cowards. At the beginning of each year, they should pray that their roads are rough. This means praying for challenges and the wherewithal to surmount them.
How best have you appreciated your wife?
I have always praised her for her moderating influence in my life. She is a fantastic gift to me from God Almighty. I suspect I would not have been successful in marriage if I had married another person because most women don't know how to cope with workaholics.
How have your children rewarded your sacrifices over them?
The first two have been trying as young people to find their feet and settle down. The other day I saw one of the twins with an android phone which his sister bought for him. I was so happy that she relieved me of the burden of buying the phone.
Each time my first son, my daughter and my son-in-law travel home from Lagos to greet us in Ibadan or Ife, they bring along with them foodstuffs etc. I have started eating from my children but I thank God that I don't depend on them for food.
How would you advise fathers especially some African fathers who are gender specific in having children?
They should be tutored on the notion that a child is a child irrespective of the gender. Many people don't realise that their son-in-laws and daughter-in-laws are their children too. I have a friend in Ife whose children are all girls. All the girls are now married. He is one of the happiest fathers on earth.
His son-in-laws are fantastic. I also know people with all boys who are not as happy as fathers should be. My advice to gender specific African fathers is to discard this chauvinistic notion and see every child as a gift from God irrespective of the gender.
What is your best form of relaxation?
After a heavy schedule at work, I rest for about one to two hours. Resting means stretching my body in the horizontal plane without any visible movement. My senses of sight and sound however remain active as I listen to and watch programmes passively on television.
One of this is Pastor Ashimolowo's 'Winning Ways' on Channels TV. After this, I eat light food such as blended paste of plantain or fried crayfish from Àsejìré and cooked or fried fresh cheese (wààrà) from Ede Junction.  On top of this light food, I pour a few glasses of red wine to take care of my heart that has been beating non-stop for more than 60 years.