Woman Who Was Told She Could Never Have A Child Finally Gets A Lifetime Surprise After 10 Years Of Trying
A woman got the surprise of a lifetime after having been childless for years. The woman who was told she could never have a child of her own recently took to Twitter to reveal she's finally pregnant after 10 years of trying.
She tweeted:
"After I was told I could never have children of my own. I'M PREGNANT GUYS!"
The woman, Phumz @maphum8711 went on to encourage women hoping for a child, adding:
"I struggled for 10 years and God did it for me. He can do it for you too. Don't loose hope. Believe in Him."

"I want to encourage every woman who is going through fertility problems… It Is Possible. I share my blessing with you. I speak life into the womb that must carry the blessing. I speak life to the seed that is planted into the womb. May the Lord do for you as you desire,"
she wrote in another post.
READ ALSO: For How Long Should You Try To Conceive Before Seeking Medical Help?- Fertility Doctor, Abayomi Ajayi Explains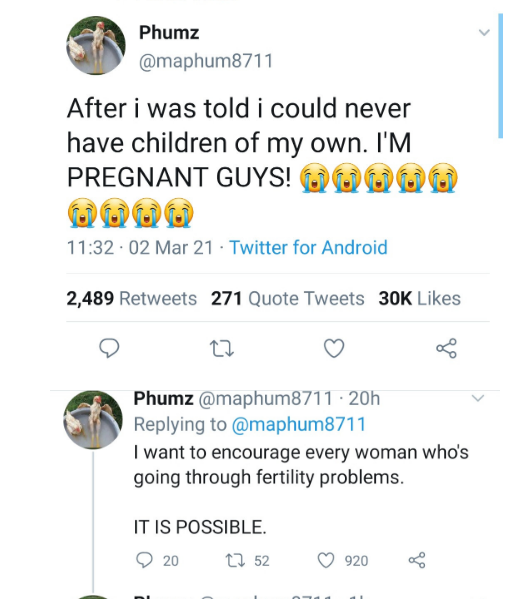 READ ALSO: On Welcoming Two Babies In The Space Of 22 Months; New Mum, Sunmbo Adeoye, Shares What She Has Learnt After She Couldn't Conceive For 5 Years Prior