Nigerian Mum And Wife, Offiong Bassey Who Sat For Exams While Heavily Pregnant Breaks 44-Year Record To Become An Inspiration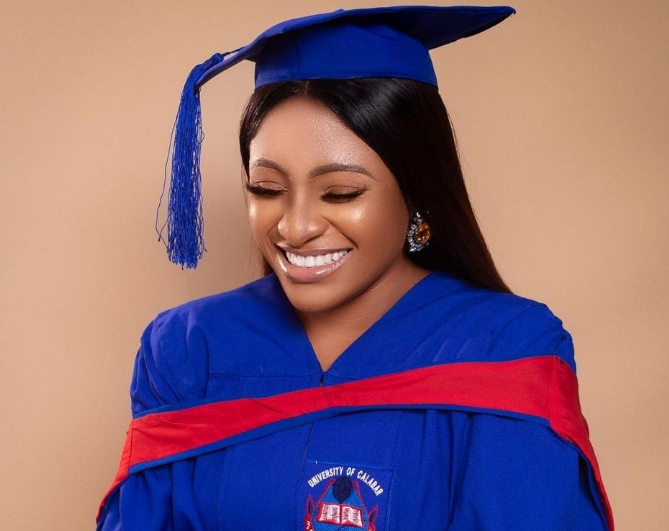 A Nigerian woman has braved odds and persevered to achieve huge academic success. The mom-of-one identified as Colette Offiong Bassey in celebration mood took to her Instagram page to announce that she has bagged a first class honours degree from the department of linguistics and Nigerian languages, University of Calabar.
Success is no accident. It is the result of preparation, hard work and learning from failure.
Her huge feat, according to a release by the university breaks a record that had stood since 1977.
While sharing a sheet that confirmed her degree on her Instagram handle, Colette, who is also a wife recounted how she had written her final examinations  heavily pregnant with her child.
She revealed that it wasn't easy as she wrote her exams just days before her due date, yet she not only succeeded, but also set a record. According to the stylish hot mama, there was a certain day she had exams on Wednesday and put to bed on the following Saturday.
READ ALSO: OAU's Graduating Medical Student Breaks 28-Year Record | Her Success Story Will Inspire You
Her Instagram post reads:
"My testimony is on the next slide

"To God be the glory!

"I remember finishing exams on a certain Wednesday and giving birth that Saturday. It was one hell of a ride but it ended in praise.

"After God, my gratitude goes to my husband who Pushed me hard and gave me great support. I have a great support system, the rest of family included.

"Thank you "Thank You everyone. I'm super thankful for the show of love.

"It's never too late to achieve excellence, you just have to start. Take the step, whatever it is.

"The journey to greatness goes on.

"My name is Colette Offiong Bassey, First Class honors degree holder."
SEE ALSO: Inspirational: How A Nigerian Grandma Bagged Her PhD After Having Four Kids