Comedian And Mom, Warri Pikin Gets Real About A Dark Moment Early In Her Marriage Leading To A Suicide Attempt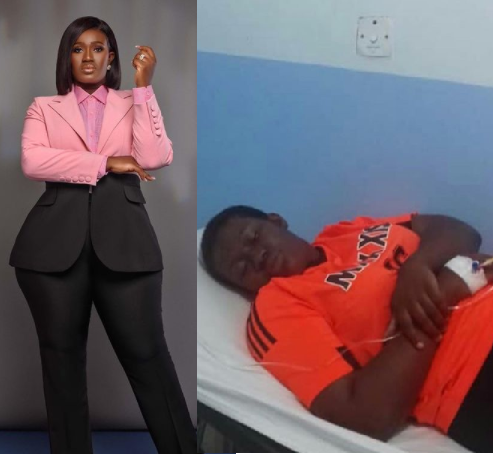 Nigerian comedienne, Warri Pikin has narrated the series of setbacks she experienced in the early stage of her marriage that led her to a suicide attempt.
The 30-year-old, mother-of-two, whose real name is Anita Alaire Afoke Asuoha revealed that she attempted suicide three years ago because things were hard financially for her family and she was in so much debt.
The comedian has spoken in the past about how people mocked her for marrying her husband who wasn't wealthy in the initial stage of their marriage.
On Sunday, June 6, 2021, she took to Instagram to reveal that after some times, things got so bad for her and this led her to think the best way out was to end it, on June 6, 2018.
She said her family was in debt to the tune of N22m and she felt hopeless. Today, June 7, she returned to Instagram to disclose that prior to the suicide attempt, people suggested other means for her to make money, including someone who invited her to "play" in a hotel in exchange for money.
She said another offered to introduce her to a wealthy lesbian woman who would give her money in exchange for sexual favours.
When she was in hospital after attempting suicide, she said people mocked her and said even if she dies, her husband must pay their money.
READ ALSO: OAP, 'Warri Pikin' Recounts How Friends Told Her Not To Marry Her Husband Because He Was Earning 30k
According to her, little did she know that her breakthrough was near, and God was just preparing her for where he was taking her.
Stating unequivocally that suicide is never an option, she offered some words of advice on how to overcome trying times.
She wrote:
"On the 6th of June 2018, The Only Words I was Hearing in my head was…
-End it Now!
-Give up Already!
-No Hope!
-You and Ikechukwu will never pay up the 22million Naira debt!
-The suffering will never end!
-End it!
-End it!
-You will beg all the days of your life!
-Help will never come!
-Rent, School Fees, Bills are Due you can't pay!
-You and Ikechukwu salary put together in 5years can't pay back the debt End it!
-The banks, Friends etc you owe won't stop calling and Embarrassing you End it!
-The Shame and pain is tooo much and it will get worse
-End it
-End it Now! God will Never come truuuuuuuuu for you!
READ ALSO: 'Hearing Strange Voices, Seeing Unusual Things 'Not Madness" –Mental Health Experts Shed More Light
And Because I was Excusted I believed the Voices in my head. I Made An Attempt to take my own Life?
(Dear God, Thank you for giving me a 2nd chance)
.
.
Little did I knw that my breakthrough was Near and God was just preparing me for where e was taking me…
.
.
Las las na who Give up Lose
SAY NO TO SUICIDE
BUILD CAPACITY
NOBODY OWES YOU ANYTHING
HOPE IN GOD ALONE
TAKE ONLY CALCULATED RISK
PROBLEM NOR DEY FINISH
BALANCE YOUR CIRCLE
ALWAYS CHECK ON YOUR MENTAL HEALTH
DONT BE HARD ON YOU."
READ ALSO: Motherhood, Keeping Romance Alive In Her Marriage & Teaching Her Daughter Self-Defence, Nigerian OAP, 'Warri Pikin' Bares It All In New Interview
Below are screenshots of some of the things she said she was told at the time.