Celebrity Mom, Etinosa Idemudia Tackles Cheating Married Men, Tips Single Men Who Want To Get It Right With Marriage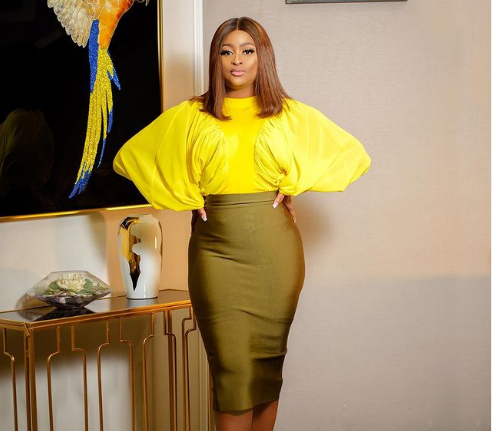 In an apparent reaction to the murder of Super TV CEO, Michael Usifo Ataga who was stabbed to death by his 21-year-old lover, Chidinma Adaora Ojukwu, Nollywood star, Etinosa Idemudia took to her Instagram page to tackle cheating married men.
According to the mum of one, the issue of cheating comes when men refused to marry their spec to please their family and to get validation from the society which in most times leads to broken homes and death.
The comedienne went further to say after these men marry society spec or God-fearing women, he will then keep the innocent woman at home as a baby making machine or home maker and go rent Airbnb for their real spec, their kind, soul mate, fellow drug addict asking whether they aren't deceiving themselves.
Etinosa then averred that men should be true to themselves, marry for themselves and not for family or society validations, just the way they want it.
READ ALSO: OAP Osi Suave Preaches Faithfulness To Men, As He Breaks Down The Cost Implications Of Womanizing
See her full post below…
"After you marry 'society spec' 'God fearing' to please the innocent woman at home as 'baby making machine' 'home maker' and go rent Airbnb for your real spec, your kind, your soul mate, your fellow drug and alcohol addict that truly makes you happy. Are you not deceiving yourself?

Why don't you just marry your spec, build your home in love and happiness? Why can't you just be true to yourself and marry for yourself not for society validation???

A lot of pretenders and hypocrites causing themselves and their partners grief. Same goes to men who marry model coke bottle but their true spec is plus size fat. Same for men who marry women when their true spec is men. All of you Continue deceiving yourself."
READ ALSO: Nigerian Lawyer Turned Writer, Eketi Edima Ette Lends Her Voice Against Marital Pressure In The Society And It Is Liberating
Screenshot Below;