Actress, Ada Ameh Shares Candid Details About How She Was Introduced To Sex By Her Peers, Became A Mum At Age 13 And More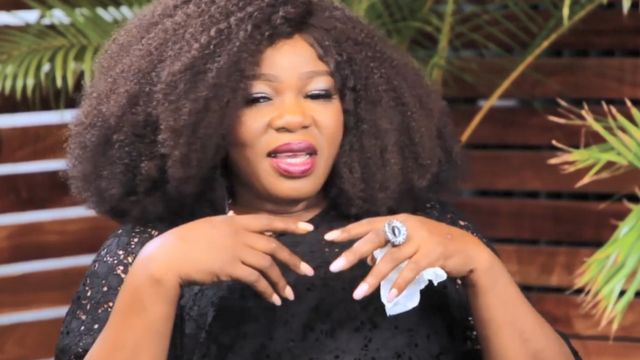 It is no longer news that veteran actress, Ada Ameh had a child as a teenager.
In a recent interview, the Nollywood star who is mourning the death of her only child revealed that she got pregnant at 13 years old and had her daughter at 13+ because her peers introduced her to sex at an early age.
The actress in a recent interview with Chude Jideonwo also recounted how she was "marched" out of the barracks where she lived with her parents, when her daughter was just five months old.
She added that this pushed her into drinking because she thought she had gotten her independence. She narrated:
"It wasn't my parents. I was influenced by my peers. They introduced me to 'early sex'. One thing led to another and I got pregnant. I got pregnant in March and I had my baby in December same year. That means I got pregnant when I was 13+.

The most beautiful part is that, on my 15th birthday, my baby was barely five months old. I was marched out of the Barracks. I was lost already. I had stepped my leg one way in the world.
READ ALSO: Veteran Actress, Ada Ameh Reflects On How Her Late Daughter Impacted Her Life
There's no need for lies, I had gotten my independence. One of the things that has not been easy for me was the fact that I allowed my daughter to leave for Abuja. The day I made that mistake was the day I left her to leave the house. I've lived with that guilt all my life."
Meanwhile Ada, popularly known for her 'Emu Johnson' role in the family Sitcom, The Johnsons, has earlier said she never regrets having her daughter, although now late.
"I can never regret having my child. God forbid! The truth is that the ways of God is so different from the ways of man. Just imagine me as this age and I am not married and don't have a child. I am not saying marriage is the ultimate but we both know what I am talking about.

I am a feminist but not that type that would not love to have a man. Being a feminist, doesn't mean that there should be a man. If you are Christian you should that submitting yourself to your man doesn't make you a fool. I doesn't mean, I don't have my own mind."
READ ALSO: Nigerian Porn Star, 'Savage Trap Queen' Quits, Shares How Peer Pressure Lured Her In The First Place
Ada Ameh was heartbroken in October 2020 when she lost her only daughter, Aladi Godgift Ameh. Aladi was over 30 years old when she passed away.