Court Declares Marriages Conducted At Federal Marriage Registries Invalid | Nigerians React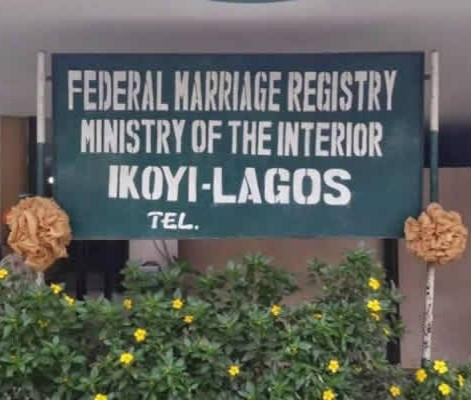 A Federal High Court sitting in Lagos, has ruled that it is unconstitutional for the federal government to conduct marriages.
The court, presided over by Justice D. E. Osiagor, held that only the local government marriage registries are empowered to do such by the provisions of the 1999 Constitution (as amended).
He submitted that the conduct of marriages and issuance of certificates are statutorily the job of the local governments as provided by the law.
The judge added that the acts of the federal government through the Ministry of Interior, operating marriage registries is beyond their powers and held that all marriages conducted by federal marriage registries or through their agents are illegal and invalid.
He consequently ordered the closure of all federal marriage registries opened by the ministry, including that of Ikoyi marriage registry, with immediate effect.
There has been a legal battle between some local government areas in Nigeria against the federal government over who has the power to operate marriage registries, conduct marriages and issue marriage certificates.
The LGAs had insisted that their power to register marriages was being taken over by the federal government through the Ministry of Interior.
This prompted the Eti-Osa Local Government Area of Lagos State to go to court, where it sought an order to take over the popular Ikoyi Marriage Registry being operated by the Ministry of Interior, on the grounds that the federal government, through the ministry, had no business operating a marriage registry.
READ ALSO: The Inside Story Of The Sharp And Corrupt Practices At Abuja Marriage Registries
Reacting to this report, singer Banky W, who legally tied the knot with his actress wife, Adesua, at the popular Ikoyi registry in 2017, teased his wife, calling her Baby Mama.
He shared below…
Also reacting is Nigerian singer, Simi, who years back, got married to her husband, Adekunle Gold at Ikoyi registry, questioning her husband on where their marriage stands following the development.
In reaction to the update, the mother of one took to her Twitter page to ask her husband if the development means that their three-year-old marriage is void and they've been "fornicating" since then.
"Ngbor, Adekunle Gold we have been fornicating?" Simi asked.
In response, her husband wrote, "My own na make them do refund."
Are you telling me all pending divorce cases currently at court, for those that registered their marriage at ikoyi is null and void?? That's such a big call. And this will affect the proceedings of so many pending divorce cases.
FM
Understood, but it doesn't matter. The Federal government has the habit of taking over powers assigned to States and Local Authorities in the fraudulent Constitution. Unitary system of governance is outdated.
Ghanda
EXACTLY.. It is NULL and VOID. It affects a lot of proceedings negatively or positively. If it affects your pending divorce case negatively, you have no other choice but to endure.. If it affects your case positively, this is your earlier xmas gift from Santa. It is unfortunate that we have a federal ministry that is inept at understanding the constitution, and acts in an overreaching manner at the expense of its citizen. We give our praises to ETI-OSA Local government area of Lagos for their boldness and bravery to take this to court….. The CONSTITUTION is the supreme law of the land.
Paul Dikeh
Yaaaaahhhhhhhhhhhh. Nice nice. Good one. Choi! This woman has been taunting my life, God has answered my prayers. Go divorce yourself or sue federal government for this wonderful development.