Nigerian Woman, @uwacandy1 Who Was Mocked And Openly Called 'Barren' Becomes A Mum 5 Years After Waiting | Amazing Testimony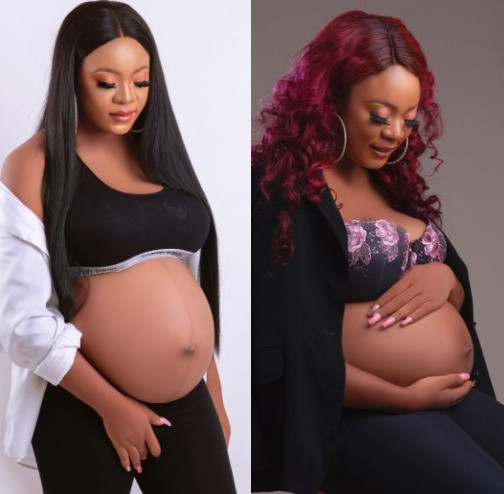 Congratulations are in order for a Nigerian woman who recently welcomed her bundle of joy five years after waiting.
In a post shared on her Instagram page, the woman with the username @uwacandy1 recounted how she was mocked and called barren by some ladies who tried so had to take over her home during her waiting period.
According to Uwa, she suffered multiple miscarriages, two failed IVFs before God finally gave her and her husband their 'RAINBOW' baby 'NATURALLY' without even trying.
The new mom shared a voice note of one of the ladies calling her barren and wrote;
"Please allow me … because I have passed tru everything I never asked for??

It took us 5 solid years , 6weeks, 2days few hours and some seconds to make you …. (PERFECTION AT ITS PEAK ISN'T IT ? )

After multiple early pregnancy lost and 2 times IVF 2nd trimester TWIN pregnancy lost, my RAINBOW  came NATURALLY without us even trying but just a prophetic word from a pastor I never met …(brb lemme GBESE)

I got the most hurtful comments from people, like…..

1) Fair girls are river kids u need to do some sacrifice so they can release ur children …. don't eat fresh fish don't drink Fanta and some other bla bla bla (me wey no dey use fish play, I didn't stop eating it Incase u are wondering)
READ ALSO: After Being Allegedly Mocked By An Admin of A TTC Facebook Group For Being Barren, Friends Celebrate The Birth of Ugo Treasure's Baby
2) You offended someone so the person tied your womb ( ouch lol )

3) The most common of all is A BARREN WOMAN
( the voice u heard at the start is from a despirado girl AISOSA and her supporting partner in crime PRECIOUS who desperately wanted to take over my home "unknowingly to them I was 3months pregnant at the time she sent the voice note "( some men will always stain your white sha) ( full gist on my YouTube channel )

SOOOOO LADIES and GENTLEMEN ?….."coughs" (please don't try to rush me I just had a baby)

….I present to you my heart, my kidneys and some other vital parts of my being in form of "MY" CHILD."
She captioned another picture:
It is official… truly what God can not do does not exist … thank you Mighty King for turning my PAINS into PRAISES ?congratulations to my family and I ?, 5 years is not forever ??
ALSO SEE: Nigerian Woman Called 'Barren' Tells Her Story After Welcoming Quadruplets | See Photos & Videos
Listen to the voicenote Here…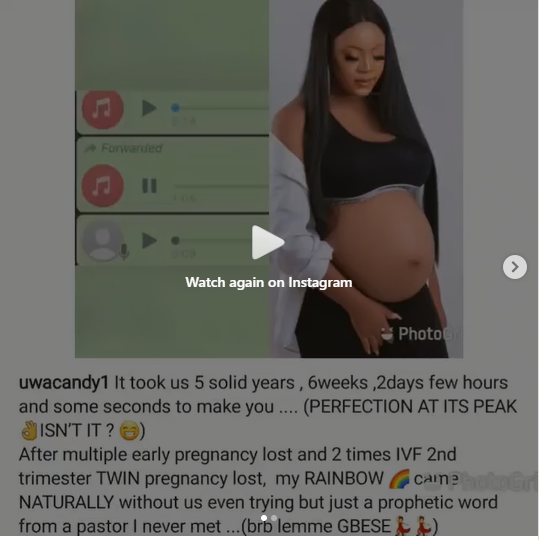 It's funny how some women are their fellow women's greatest enemies in all aspects of life.
Congratulations to you, Uwa!