Wife Of Mercy Aigbe's New Husband, Funsho Adeoti, Finally Breaks Silence 
Funsho Adeoti, the wife of popular movie marketer Kazim Adeoti aka Adekaz, has broken silence on her husband's marriage to Nollywood actress, Mercy Aigbe
Mercy, mother of two had taken to Instagram to share a series of photos of herself and Kazim. She also insinuated that they are married.
A number of Nigerians called Mercy out for this and accused her of breaking a home.
Mercy Aigbe's ex-husband, Lanre Gentry, also reacted by sharing a throwback photo of him and Mercy, when they were still married, posing with Kazim Adeoti and his wife, Funsho.
Lanre, who share a son with Mercy added in the caption: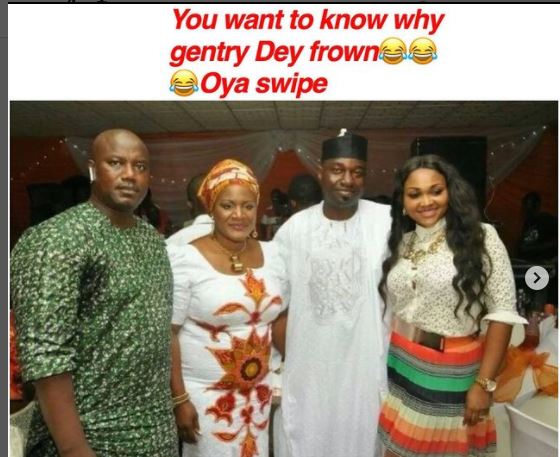 "At last I thank God the truth is out this is just one out of many to God be the glory. I don't need anyone's comment please."
Amidst the backslashes and criticisms, the actress has continued to churn out beautiful wedding photos of herself and her new husband.
Now, Funsho, who share four children with Adekaz has responded. Speaking on the issue, Funsho, in a post shared on her social media page, appreciates everyone stating that losing a person who doesn't respect or appreciate someone is a gain and not a loss.
READ ALSO: Mercy Aigbe Ties The Knot With Ibaka TV Owner, Adekaz | Details
She shared a photo of her and her kids alongside a popular quote that reads:
"Losing someone who doesn't respect or appreciate you is actually a gain not a loss… thank you all."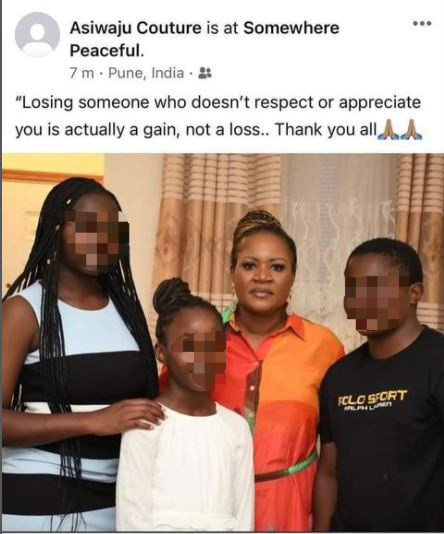 Mercy had separated from Mr. Lanre Gentry, father of her son in 2017.
Though the union crashed irretrievably later, the estranged couple would always throw shades at each other on social media especially on Father's and Mother's Days.
ALSO SEE: 'Mercy Aigbe Has Been Sleeping With Kazim Adeoti For More Than A Decade' -Family Source Makes Shocking Revelations
In September 2021, Gentry got married to another woman amidst pomp. He even granted interviews stating the many courts his former wife dragged him to in order to set a divorce.
Gentry is Mercy Aigbe's second husband.
On the 31st of December, 2021, Adekaz and Mercy had a private Nikkai in Lagos, where she was christened Aminah (which she shortened to Minnah).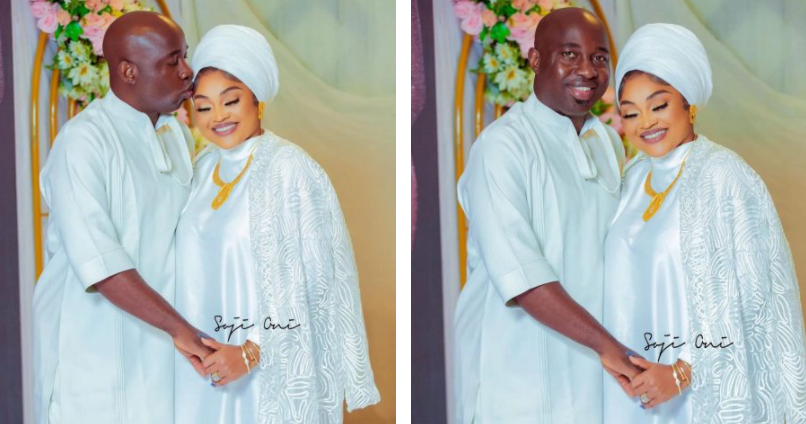 Only a few people were present at the ceremony according to sources. There was also a traditional Engagement ceremony held at the same venue.
Officially Mrs Adeoti, an excited Mercy announced the new name to her followers on social media later that day (which was also her birthday eve) with a video of her outfit of the day flaunting her new wedding band. Many of her friends flooded her timelines to congratulate her.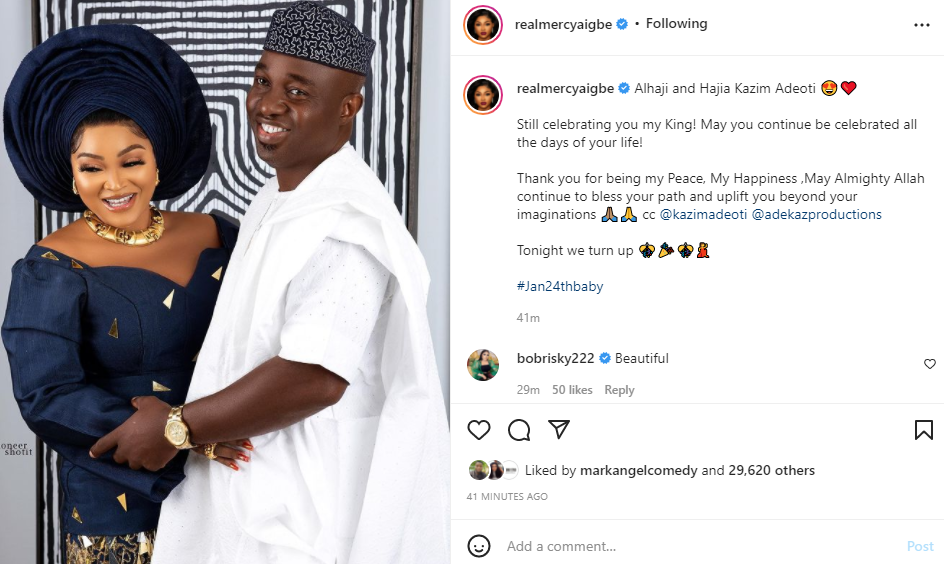 On January 1, 2022 at her house in Ogudu,  Lagos where she hosted friends and family to a soiree, Adeoti aka Adekaz was fully on ground and he played the role of a husband diligently.
He was up and about, ensuring that guests had a good time. Also, on January 3, at the New Year dance party headlined by King Wasiu Ayinde Marshall in Lekki, the newlyweds were an item all through the event.